After the financial collapse in 2008, I spent some time learning a bit about something that I'd never had time to look into [one of the great pleasures of retirement is that you can think about whatever you want to think about, or think about nothing] – economics. The way our economy works, we require inflation – something measured in a variety of ways. The GDP [Gross Domestic Product] is the total amount generated by the economy in a given period, and the CPI [Consumer Price Index] is the cost of a fixed amount of goods at a point in time [AKA cost of living]. I was trying to look at their relationship [apropos of I-don't-recall-what], but I happened on to something interesting in the process. Here's what I wrote in those former times when I was briefly a hobby economist [2010]:
So I was piddling around on the government's endless statistical sites messing with something that's just been nagging at me. They use the gdp [gross domestic product] to correct some things and the cpi-u [consumer price index – urban] to correct others. As I've been messing with matters economic, I've wondered about their relationship, so I plotted them. Well they're not parallel but after musing and surfing on this weighty question, I decided that it's in the range of changing lead to gold and put it aside. But in the process, I noticed something that did seem to matter. There was a cpi-u for medical costs. Like the regular cpi-u, it was normalized to 1984 = 100, so I wondered how the medical

cost of living

compared to the general

cost of living

.

Yikes! To my way of thinking, that's pretty outrageous. Those lines are diverging at a rate of a bit over 6%/year. I threw in a comparable US life expectancy curve for the curious among you [though I'm not sure that the small increases in longevity are a function of the higher costs of medical care]. To me, this escalation of medical costs at a rate far faster than inflation underscores the importance of…
So I nosed around further and found this graph from a Congressional Investigation. Notice that it has been corrected for inflation already, being expressed as the % of the GDP: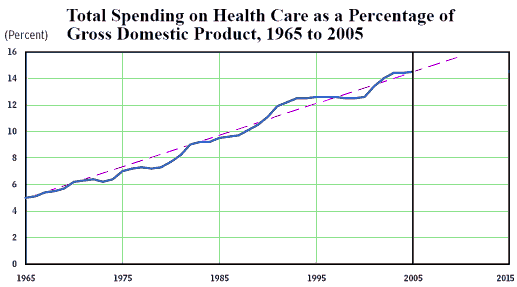 from: Growth in Health Care Costs, Committee on the Budget United States Senate
I recall when I first saw this graph, IN MY MIND I stuck my own history on the x-axis [years]. In 1965, I was in medical school. In 1975, I was in my second residency [psychiatry]. In 1985, I was leaving academic medicine for practice in the face of the changes in psychiatry. In 2005, I was recently retired. I tried to think back to see if I was aware of this steady escalation in costs. I wasn't. What I have been aware of over those years is that it has been harder and harder to practice good medicine during my career-time with more and more regulations and more and more paper – stacks of paper – everywhere I turn.
The way it has felt is that there have been increasing controls placed on doctors in the service of minimizing costs, many of which have been oppressive and interfering. Shortly after entering practice, I stopped seeing hospital patients because all the staff talked about was insurance and I felt pressed to retain or release patients based on their coverage. Similarly, I avoided insurance directed situations [managed care] for the same reason. So maybe my obliviousness to what that graph says was a self-imposed exile of sorts. But I'm glad I missed it.
So there it is for us to ponder. One could characterize my medical lifetime as an era when medical care has increasingly been directed by a variety of controlling institutions which claim as their raison d'etre a devotion to controlling healthcare costs. And yet that graph just keeps on rising. Medication costs just keep on going up. Emergency room visits cost thousands. All that money is going somewhere, and it's not to pay medical personnel salaries. A lot of it is administrative and a lot of it goes to executives and stockholders invested in various aspects of the medical industrial complex. And with it, there has been corruption in medicine that I couldn't have imagined. Paradoxically, I think most physicians and patients would say that the quality of care has waned in a graph that is the inverse of the one under discussion. I would sure say that, speaking from both sides of that fence.
So I gave up my short-lived economics hobby and took up a focus on something I understand better – the corruption of psychiatry primarily by the alliance between academic psychiatry and the pharmaceutical industry. It's closer to my knowledge base and it's something we ought to be able to do something about. I hope I'm right about that…