As a beginning psychiatrist, I read Eugen Bleuler's 1911 description of the premorbid personalities of patients who went on to develop Schizophrenia. He acknowledged that although the personality type [Schizoid Personality] is very often described in the history of Schizophrenic patients, there are many people of the described type that do not develop Schizophrenia. I believed what I read and have seen that phenomenon play out in my own experience. I described such a case starting here. Drs. Patrick McGorry and Alison Yung in Australia took the logical step of trying to identify people who would develop the illness in advance. There were studies around the world with various criteria to identify the at risk population, and the early results suggested a 30+% conversion rate – identified patients who went on to became psychotic.
This line of thinking became more widely known when the DSM-5 Task Force proposed the Attenuated Psychosis Syndrome for inclusion as a new diagnosis. Dr. Allen Frances and many others opposed this move based on the preliminary nature of the research and fears that it would lead to unnecessary medication of patients. After a lot of tooth gnashing, it didn't make it into the manual, and there were some disappointing follow up studies with much lower conversion rates [it just didn't work…]. So it was a front page story that had its moment on the stage, then slid into the night. While I agreed that the Task Force was acting prematurely and that the danger of over-medication was very real, I hoped that the idea could be refined. Schizophrenia can be a devastating illness, and the idea that it might be detected before a psychotic break could well lead to safe preventive strategies.
In this month's JAMA Psychiatry [Archives of General Psychiatry], the group reports on a longer term follow-up of their identified patients:
by Nelson B, Yuen HP, Wood SJ, Lin A, Spiliotacopoulos D, Bruxner A, Broussard C, Simmons M, Foley DL, Brewer WJ, Francey SM, Amminger GP, Thompson A, McGorry PD, Yung AR.

JAMA Psychiatry. 2013 1;70[8]:793-802.

IMPORTANCE The ultra high-risk [UHR] criteria were introduced to prospectively identify patients at high risk of psychotic disorder. Although the short-term outcome of UHR patients has been well researched, the long-term outcome is not known.

OBJECTIVE To assess the rate and baseline predictors of transition to psychotic disorder in UHR patients up to 15 years after study entry.

DESIGN Follow-up study of a cohort of UHR patients recruited to participate in research studies between 1993 and 2006.

SETTING The Personal Assessment and Crisis Evaluation [PACE] clinic, a specialized service for UHR patients in Melbourne, Australia. PARTICIPANTS Four hundred sixteen UHR patients previously seen at the PACE clinic.

MAIN OUTCOMES AND MEASURES Transition to psychotic disorder, as measured using the Comprehensive Assessment of At-Risk Mental States, Brief Psychiatric Rating Scale/Comprehensive Assessment of Symptoms and History, or state public mental health records.

RESULTS During the time to follow-up [2.4-14.9 years after presentation], 114 of the 416 participants were known to have developed a psychotic disorder. The highest risk for transition was within the first 2 years of entry into the service, but individuals continued to be at risk up to 10 years after initial referral. The overall rate of transition was estimated to be 34.9% over a 10-year period [95% CI, 28.7%-40.6%]. Factors associated with transition included year of entry into the clinic, duration of symptoms before clinic entry, baseline functioning, negative symptoms, and disorders of thought content.

CONCLUSIONS AND RELEVANCE The UHR patients are at long-term risk for psychotic disorder, with the highest risk in the first 2 years. Services should aim to follow up patients for at least this period, with the possibility to return for care after this time. Individuals with a long duration of symptoms and poor functioning at the time of referral may need closer monitoring. Interventions to improve functioning and detect help-seeking UHR patients earlier also may be indicated.
They report on a large group followed for up to 14 years. I've graphed their reported cumulative transition rate below: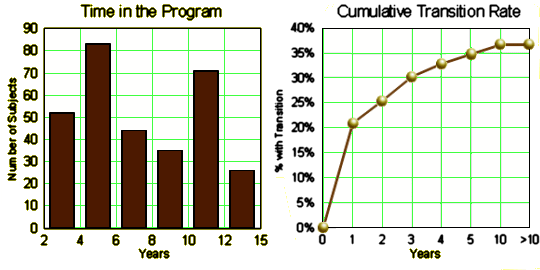 Here's what they make of their data:
Clinical Implications The finding that transitions can occur up to at least 10 years after presentation but that risk is highest in the first 2 years indicates that the period of clinical care for UHR patients should be at least 2 years, with the possibility of reentry to services after this point if required. This need for ongoing clinical care is underlined by the substantial death rate in the sample [2.2%], mainly due to suicide. The association between UHR state and suicidality has been noted. Hutton et al found that 59% of UHR individuals presented with at leastmild suicidal ideation and 47% reported at least 1 suicide attempt before being accepted in an early intervention service. As indicated by the prediction analysis, patients with poor functioning and long duration of symptoms may need prolonged monitoring.

It may be that different types of intervention are appropriate for patients with different durations of symptoms [ie, in an early or late phase of high-risk status].More benign treatments, such as supportive therapy32 or ω-3 fatty acids18 couldbe attemptedbeforeother,moreintensive, formsof treatment such as cognitive-behavior therapy. All of these treatments [supportive therapy, cognitive therapy and ω-3 fatty acids] address the UHR group's clear need for care and are used for a range of mental health problems. Thus, they are low stigma and may be effective for several different conditions, including anxiety and depression. Antipsychotic medication is no more effective than more benign treatments and is currently not recommended for use in this population.
Now that the smoke has cleared from the DSM-5 wars, maybe this line of research can begin to bear fruit. They've succeeded in defining clinical criteria that predict the illness up to a third of the time which certainly will be a help to the Schizophrenia researchers. And they are looking into how ongoing care of these identified at risk individuals might proceed. We're all glad to see that last sentence in their report. There's a big glitch that throws a monkey wrench into the works, the transition rate was higher for people entering the study in its early days, and seems to be declining as they continue their study. That's a pretty big glitch! So this is an important work-in-progress and their continuing study confirms the fact that this diagnosis was really not close to ready for inclusion in the diagnostic manual…