by Markus Koesters, Giuseppe Guaiana, Andrea Cipriani, Thomas Becker, and Corrado Barbui

The British Journal of Psychiatry. 2013 203:179-18.

Background: Agomelatine is a novel antidepressant drug with narrative, non-systematic reviews making claims of efficacy.

Aims: The present study systematically reviewed published and unpublished evidence of the acute and long-term efficacy and acceptability of agomelatine compared with placebo in the treatment of major depression.

Method: Randomised controlled trials comparing agomelatine with placebo in the treatment of unipolar major depression were systematically reviewed. Primary outcomes were (a) Hamilton Rating Scale for Depression (HRSD) score at the end of treatment (short-term studies) and (b) number of relapses (long-term studies).

Results: Meta-analyses included 10 acute-phase and 3 relapse prevention studies. Seven of the included studies were unpublished. Acute treatment with agomelatine was associated with a statistically significant superiority over placebo of –1.51 HRSD points (99% CI –2.29 to –0.73, nine studies). Data extracted from three relapse prevention studies failed to show significant effects of agomelatine over placebo (relative risk 0.78, 99% CI 0.41–1.48). Secondary efficacy analyses showed a significant advantage of agomelatine over placebo in terms of response (with no effect for remission). None of the negative trials were published and conflicting results between published and unpublished studies were observed.

Conclusions: We found evidence suggesting that a clinically important difference between agomelatine and placebo in patients with unipolar major depression is unlikely. There was evidence of substantial publication bias.
Unfortunately, the article is behind the paywall, but if you're interested in the emerging standards for systematic meta-analysis, this would be a good value for dollar addition to your collection. My thought on reading it was that science has finally arrived to the world of CNS drug clinical trials. I had a rookie's stab at analyzing Hickie's review in January 2012 [
of sound and fury…
], but this is the definitive version. They included unpublished studies, assessed the articles for publication bias, and computed a comparative index of strength of effect for the various trials [expressed as mean change in HAM-D Scores]. 9 of the 10 studies with HAM-D scores were included. I took the values for mean, stdev, and n for these 9 studies [only 5 of which were published] from figure 2 in the paper to illustrate several points revealed in this kind of systematic meta-analysis.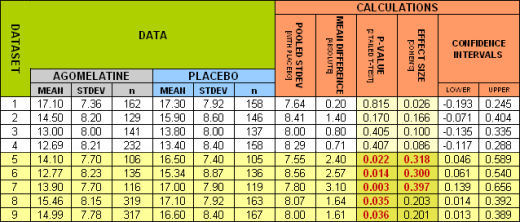 The lower five studies were published. Notice that they were the only ones where Agomelatine separated from Placebo [p < 0.05]. The Effect Size [Cohen's d] is a measure of the strength of the drug's effect. While there's no fixed value for this parameter, 0.25 is a usual cut-off. Notice below which studies got published and which didn't [shown with the 95% Confidence Intervals]. The diamond shapes represent the weighted subtotals: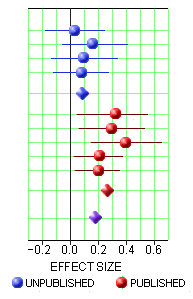 And finally, the graph known as a funnel plot predicts that the smaller the number of subjects studied, the more variability there will be in the results: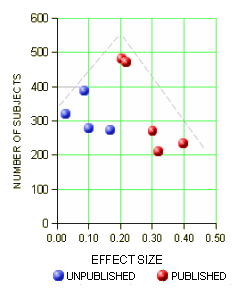 As you can see, publishing only the more desirable of the smaller studies gives a falsely inflated impression of the drug's effectiveness. They aren't better, just part of an expected variability. In the paper, the authors' make a vitally important point about drug approval:
Problems with current methods for approving new drugs
In Europe new drugs are approved or rejected on the basis of the results of studies carried out by the manufacturer and submitted to the EMA. We note that decisions are taken on the basis of the results of individual studies with no role for aggregating efficacy data using meta-analytic techniques. We argue, however, that pooling studies would have some beneficial consequences for the review process by increasing statistical power and by contributing to the detection of between-study heterogeneity.
I find it ironic that the rigorous scientific technique that we've needed to evaluate the CNS drugs that have flowed out of the mythic pipeline for the last quarter century are now finally being published in the form of independent meta-analyses like the one in this article. The irony is that the real techniques have been refined to debunk the sea of bad and misleading articles and analyses that we've endured for such a long time. Would that they had been applied the first time around! Nevertheless, they are a breath of fresh air and long overdue. My compliments to the authors. Oh yeah, Dr. Hickie, Agomelatine is a dud!