Among the strange stories that will be told looking back on the second age of psycho·pharmacology, none will likely rival the quest to improve the efficacy of the SSRI and other antidepressants. As they rolled onto the market following Prozac's introduction, there was an intense competition for market share, with the manufacturer of each new drug claiming that it was more efficacious or had less adversity than the the ones before. As time wore on and patent lives began to expire and the promises of the makers faded, the focus turned to how to choose among them – operating on an assumption that the overall efficacy of the class could be improved by finding the right drug for a given patient by giving them in a certain way [algorithms, sequencing, combining] or by enhancing the drugs with some kind of helper strategy [augmentation].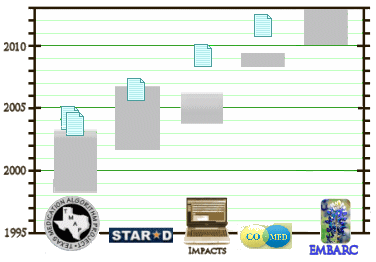 As doctors and patients encountered the inconsistent performance of these drugs in their offices and clinics, they tried all those strategies mentioned above in non-responders [labeled as having treatment resistant depression] and anecdotal solutions abounded [along with the rise of poly·pharmacy, a former no-no]. That future history of the second age of psycho·pharmacology will undoubtedly have a figure like the one on the right showing what might be called the Texas Many-Step, a series of studies that attempted to systematize these anecdotal sequencing, combining, augmenting strategies as algorithms. The studies were publicly funded, expensive, and notoriously failed enterprises. TMAP, the opening gambit, was a drug company encouraged scam to get expensive drugs into the public sector – now defunct and still in the courts. The middle three were NIMH funded duds. And the final one is an ongoing NIMH study [AKA dud-in-training]. The history book chapter describing this period might be entitled squeezing blood from a turnip? I've chased off readers with my preoccupation with these studies, so I'll skip the details [put any of them into search below if you need a refresher].
Embarc continues the theme by proposing that there are patients who will uniquely respond to one or another antidepressant and proposes to measure all possible measurable things to find and test the predictors hypothesized to be hidden in the sea of assessed genetic, chemical, or psychometric variables [biomarkers of response]. This NIMH study is matched by a privately funded trial coordinated by Australian brain-training guru Evian Gordon. Comes now a recently reported progress article from this second study [called iSpot-D, the International Study to Predict Optimized Treatment in Depression]:
by Stuart M Grieve, Mayuresh S Korgaonkar, Amit Etkin, Anthony Harris, Stephen H Koslow, Stephen Wisniewski, Alan F Schatzberg, Charles B Nemeroff, Evian Gordon, and Leanne M Williams

Trials. 2013; 14: 224.

Background: Approximately 50% of patients with major depressive disorder [MDD] do not respond optimally to antidepressant treatments. Given this is a large proportion of the patient population, pretreatment tests that predict which patients will respond to which types of treatment could save time, money and patient burden. Brain imaging offers a means to identify treatment predictors that are grounded in the neurobiology of the treatment and the pathophysiology of MDD.

Methods/Design: The international Study to Predict Optimized Treatment in Depression is a multi-center, parallel model, randomized clinical trial with an embedded imaging sub-study to identify such predictors. We focus on brain circuits implicated in major depressive disorder and its treatment. In the full trial, depressed participants are randomized to receive escitalopram, sertraline or venlafaxine-XR [open-label]. They are assessed using standardized multiple clinical, cognitive-emotional behavioral, electroencephalographic and genetic measures at baseline and at eight weeks post-treatment. Overall, 2,016 depressed participants [18 to 65 years old] will enter the study, of whom a target of 10% will be recruited into the brain imaging sub-study [approximately 67 participants in each treatment arm] and 67 controls. The imaging sub-study is conducted at the University of Sydney and at Stanford University. Structural studies include high-resolution three-dimensional T1-weighted, diffusion tensor and T2/Proton Density scans. Functional studies include standardized functional magnetic resonance imaging [MRI] with three cognitive tasks [auditory oddball, a continuous performance task, and Go-NoGo] and two emotion tasks [unmasked conscious and masked non-conscious emotion processing tasks]. After eight weeks of treatment, the functional MRI is repeated with the above tasks. We will establish the methods in the first 30 patients. Then we will identify predictors in the first half [n = 102], test the findings in the second half, and then extend the analyses to the total sample.
I'm also including the Acknowledgements along with the Abstract because they relate to the topic of this post [coming soon]:
Acknowledgements: We acknowledge Brain Resource as the sponsor for the iSPOT-D study [NCT00693849]. Claire Day [Global Study Co-ordinator] is thanked for her pivotal role in making this study happen, and for her boundless enthusiasm and energy. We thank the iSPOT-D Executive Committee for their valuable input into this manuscript and into the study overall [Members: A John Rush [Chair], Lea Williams [Academic PI], Steve Koslow, AmitEtkin, Evian Gordon, Steve Koslow, Stephen R Wisniewski. We also thank those responsible for designing the iSPOT-D protocol [A. John Rush, Lea M Williams, Evian Gordon, Charles B Nemeroff, Alan F Schatzberg]. We gratefully acknowledge the editorial support of Jon Kilner, MS, MA [Pittsburgh, PA, USA]. SMG acknowledges the support of the Sydney University Medical Foundation. Dr Lavier Gomes, Ms Sheryl Foster and the Department of Radiology at Westmead are thanked for their substantial contributions to MRI data acquisition.
STAR*D, COMED, IMPACT, EMBARC, and iSPOT share more than just their obsession with antidepressant response rates and acronyms:
Churning:

These studies produced a astounding number of articles. The hands-down winner of all times was STAR*D with well over a hundred, but the others were like this one – lots of intermediate articles. In spite of the voluminous ouptput, definitive reporting or formal compliance with clinical trial reporting was missing in action.

Design:

Ghost:

Jon Kilmer, science fiction author and medical ghost writer, has been in the background for the long haul. I think these many articles make up the majority of his career as a medical writer.

Authors:

Lead by A. John Rush and Madhukar Trivedi, a stable of other authors make up the cohort that has been the river that runs through all these studies, mixed and matched as the papers continued to pour into the literature – a who's who of the PHARMA friendly psychiatric KOLs. Whether funded by the NIMH or by the Brain Resource group in Australia, you can count on familiar names – many familiar names. And they're joined by even more KOLs in EMBARC and iSPOT – many listed in both projects

A Database [at last we reach the actual topic of this post]:

Except for iSPOT, these were publicly funded projects that produced reams of data, and the grandaddy, STAR*D, made much at it's outset of its creating a database for further study by all. This database has mainly been tapped by the original gaggle of authors, but a few others have waded in. iSPOT came with the Brain Resources Group making a similar offer, a vast database made available for mining by all. This was to be, in both cases, the dawn of data sharing – opening the vaults to the scientists of the world.
If you've made it this far, you can now see why this post is here. I simplified it as much as I could and left out my usual monotonous links to former posts in order to make it easy to finally get to my point. This line of thinking, once the central psychiatric preoccupation [how to get more out the antidepressants than they have] is now past history – almost forgotten. The odd STAR*D article turns up without much notice. Only the faithful few have alerts set for EMBARC or iSPOT. Until someone has the energy to write the second age of psycho·pharmacology book with its chapter on squeezing blood from a turnip?, it's likely to be a topic that stays in sleepy hollow.
While none of these studies had anything directly to do with PHARMA, they all have everything to do with PHARMA, and a devoutly sought new industry – biological testing in psychiatry – encoded in the also becoming-passé topic, personalized medicine. But at least STAR*D and iSPOT advertised that the generated data would be available to all. With the front running issue now being data transparency and the pharmaceutical industry trying to get away with substituting data sharing while maintaining their former tight control and continuing to hold their cards close to the chest, these tired studies offer us some insight to the whole story of available data. How did the NIMH and Brain Resource handle the issue of the advertised data access? Are STAR*D and friends candidates for a RIAT team – abandoned studies in need of restoring? These are important right-now questions.
This post is like that television show that doesn't tell you until the end that it's part one of a two part series. Sorry about that. But it's a beautiful day in the neighborhood as we head into Fall, and I just don't feel a pressing need to look into the details those questions deserve on this gorgeous day. But they've definitely made it to the front burner and I made it through my introduction…