Your post brings up the interesting question of whether there is a "healthcare bubble" in the U.S., and if so, when it'll pop.
What's a Bubble?
In 2008, we all learned about financial bubbles whether we wanted to or not. An example:
When I decided to retire, we had the idea that we'd sell our too-big-for-two-people Atlanta house and move to our little mountain cabin for a while and do some traveling while we still could, then buy a grown-up house when we decided where we wanted to be. Real Estate was booming and that coming-back fixer-upper in-town neighborhood we'd moved to thirty years before had come back with a vengeance [I couldn't have moved there at the new prices]. By the time we sold the house [late 2003], we were paid over 8 times what we'd bought it for shortly after it went on the market! I attributed my good fortune to our luck in settling in a place in its low point and selling at its prime, that and all the blood, sweat, and tears we'd put into restoring our old house. I believed that.
You all know that wasn't totally right. I was profiting from a financial bubble a year and a half before it popped, whether I knew it or not. So that's how a bubble works. There has to be a credible reason to explain why some segment of the economy is booming – like my little delusion about my house's value. But the truth is, the booming market is really falsely inflated, and headed for a fall. The best example we ever forgot was the whole Stock Market Crash in 1929 that lead to the events that shaped our parent's youth and continues to reverberate in our lives – The Great Depression. When the market collapsed in 2008, I got interested [mammoth understatement] in what happened and finally found the work of Robert Shiller, Mr. Bubble, the Yale economist who wrote a book,
Irrational Exuberance
, that predicted and explained the whole thing. This blog became a "bubble" blog for several years. I'll only show two of my old graphs for our current purposes: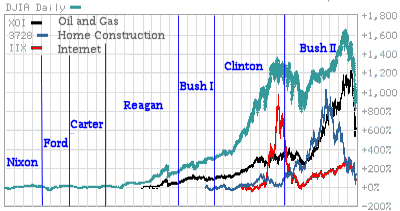 It's the DOW Jones average showing the stock prices of three sub-markets that demonstrate what bubbles do. In each case, there was a public reason for the boom, but a more private cause and it's all back in my archives if you don't know the story [and why Greenspan's term of office is highlighted on the next graph]. The first graph leaves out a big one that came before, the Savings and Loan bubble: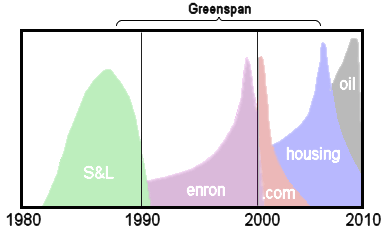 Financial bubbles end abruptly like their cousins, the Ponzi Scheme. At some point, the market's true value becomes apparent, is obviously flooded, and down she goes with a bang…
Psycritic stepped into it with his question, because I was actively musing about whether there was a medical/pharmacological bubble when Senator Grassley began his investigation in 2008-2009. But when I started looking, I got pulled into the vortex of the corruption in the academic-pharmaceutical alliance in my specialty of psychiatry and never got out. But the term, Irrational Exuberance, sure fit when it came to the antidepressants and atypical antipsychotics – the blockbuster era in psychopharmacology.
So here's the question back on the table. I have no doubt that Healthcare in the US is a falsely inflated market, no doubt at all. I would be surprised if anyone doubts that. But it doesn't look like a bubble graph. It's a long slow climb – a relentless progression …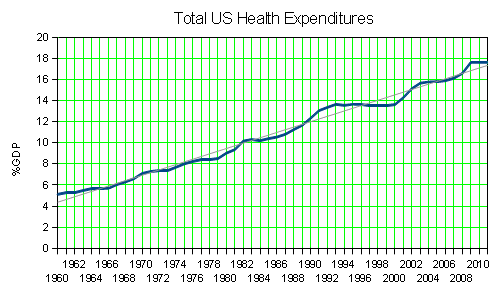 … rather than the steep rise like we expect in a financial bubble – a boom. And it has been going on for a very long time. In fact, it has been going on about as long as there has been a Healthcare Industry. I'm not even sure I can define what I mean by the Healthcare Industry or know enough to say when it even started, but I have the feeling everyone knows what I'm talking about. It came in pieces. Health Insurance after World War II. FDA regulations and drug approval in the 1960s. Then hospital corporations, and managed care, and pharmaceutical giants, and Medicare, and Medicaid, and … It just happened along with the corporatization of everything else until it became the Healthcare Industry and that's how we talked about it. And along with that, there were the Healthcare Market[s].
This falsely inflated market doesn't have the steep lead-in of a financial bubble, and that graph up there just keeps on rising and taking a bigger and bigger piece of the pie. And back to Psycritic's question, it doesn't burst or pop like financial bubbles. It seems to grow unaffected by those usual market forces economists so love to talk about. What do you call a market like that – a falsely inflated market that is unopposed by any apparent forces to hold it in bounds? I personally think it's called a Monopoly, and I don't think we'll be able to do anything about it until we come to grips with what that means. I wish it were a financial bubble, but it's not. The medical analogy for an economic Monopoly is cancer – something that grows without restraint until it destroys its host. That's a real possibility with the Healthcare Industry.
I'll stop with that because I want to think about it too…
hat tip to Psycritic