So much of this blog has been about the inappropriate use of psychoactive medications particularly focusing on the industry sponsored clinical trials of the last several decades. Another theme has been the assault on the FDA Black Box Warnings – pediatric use of antidepressants or with Gabapentin that seemed motivated by commercial rather than medical concerns. There's another Black Box Warning that has been of interest to me – the FDA Warning about using antipsychotics in dementia. There was a time when antipsychotics were used indiscriminately in these patients, particularly in nursing homes. I used to tell our residents that when they were seeing those patients, the task was to stop medications, not start any more. While routine use had declined, there was still a question about usage.
But this is not a post about trigger-happy doctors, it's about our literature. The articles are about the very real problem of patients with Alzheimers who become psychotic and agitated and often hurt themselves, particularly at night when in a state of sensory deprivation [sundowning]. A confounding problem is the well known fact that the usual "tranquillizers" and "sedatives" can have a dramatic paradoxical effect in dementia, actually causing agitation and psychosis. So the use of low dose antipsychotics which don't suppress the cortical function makes medical sense, but the window is thin – the right amount might be good, but more is definitely not better. And the verdict on that usage has been mixed.
In 2005, there was a widely quoted meta-analysis of the atypical antipsychotics in dementia from a search of the Cochrane register of clinical trials, published and unpublished:
by Schneider LS, Dagerman KS, and Insel P.

JAMA. 2005 19;294[15]:1934-1943.

CONTEXT: Atypical antipsychotic medications are widely used to treat delusions, aggression, and agitation in people with Alzheimer disease and other dementia; however, concerns have arisen about the increased risk for cerebrovascular adverse events, rapid cognitive decline, and mortality with their use.

OBJECTIVE: To assess the evidence for increased mortality from atypical antipsychotic drug treatment for people with dementia.

DATA SOURCES: MEDLINE [1966 to April 2005], the Cochrane Controlled Trials Register [2005, Issue 1], meetings presentations [1997-2004], and information from the sponsors were searched using the terms for atypical antipsychotic drugs [aripiprazole, clozapine, olanzapine, quetiapine, risperidone, and ziprasidone], dementia, Alzheimer disease, and clinical trial.

STUDY SELECTION: Published and unpublished randomized placebo-controlled, parallel-group clinical trials of atypical antipsychotic drugs marketed in the United States to treat patients with Alzheimer disease or dementia were selected by consensus of the authors.

DATA EXTRACTION: Trials, baseline characteristics, outcomes, all-cause dropouts, and deaths were extracted by one reviewer; treatment exposure was obtained or estimated. Data were checked by a second reviewer.

DATA SYNTHESIS: Fifteen trials [9 unpublished], generally 10 to 12 weeks in duration, including 16 contrasts of atypical antipsychotic drugs with placebo met criteria [aripiprazole [n = 3], olanzapine [n = 5], quetiapine [n = 3], risperidone [n = 5]]. A total of 3353 patients were randomized to study drug and 1757 were randomized to placebo. Outcomes were assessed using standard methods [with random- or fixed-effects models] to calculate odds ratios [ORs] and risk differences based on patients randomized and relative risks based on total exposure to treatment. There were no differences in dropouts. Death occurred more often among patients randomized to drugs [118 [3.5%] vs 40 [2.3%]. The OR by meta-analysis was 1.54; 95% confidence interval [CI], 1.06-2.23; P = .02; and risk difference was 0.01; 95% CI, 0.004-0.02; P = .01]. Sensitivity analyses did not show evidence for differential risks for individual drugs, severity, sample selection, or diagnosis.

CONCLUSIONS: Atypical antipsychotic drugs may be associated with a small increased risk for death compared with placebo. This risk should be considered within the context of medical need for the drugs, efficacy evidence, medical comorbidity, and the efficacy and safety of alternatives. Individual patient analyses modeling survival and causes of death are needed.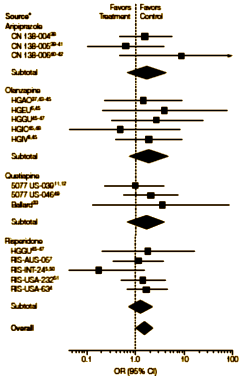 The forest plot in that meta-analysis of the atypical antipsychotics [top down: Abilify; Zyprexa; Seroquel; and Risperdal] showed a small negative signal [OR 1.54 p=0.02], supporting the Black Box Warning. I remember when it came out I thought it would reinforce only using the medications when absolutely necessary. And while I was relieved that the signal was low, it left things in limbo. I did think it was a thorough meta-analysis and one of the first where I realized how many negative trials went unpublished. When I saw the study below in this month's AJP, I flagged it as something I hoped might clarify things. But I've gotten gun-shy about studies countering the FDA's Black Box Warnings after so many examples that I thought were commercially biased rather than some kind of real useful clinical information.
by Lopez OL, Becker JT, Chang YF, Sweet RA, Aizenstein H, Snitz B, Saxton J, McDade E, Kamboh MI, Dekosky ST, Reynolds CF, and Klunk WE.

American Journal of Psychiatry. 2013 Jul 30. doi: 10.1176/appi.ajp.2013.12081046. [Epub ahead of print]

OBJECTIVE: The authors sought to determine the effects of conventional and atypical antipsychotic use on time to nursing home admission and time to death in a group of outpatients with mild to moderate probable Alzheimer's disease.

METHOD: The authors examined time to nursing home admission and time to death in 957 patients with the diagnosis of probable Alzheimer's disease who had at least one follow-up evaluation [mean follow-up time, 4.3 years [SD=2.7]; range, 0.78-18.0 years] using Cox proportional hazard models adjusted for age, gender, education level, dementia severity, hypertension, diabetes mellitus, heart disease, extrapyramidal signs, depression, psychosis, aggression, agitation, and dementia medication use.

RESULTS: A total of 241 patients [25%] were exposed to antipsychotics at some time during follow-up [conventional, N=138; atypical, N=95; both, N=8]. Nursing home admission [63% compared with 23%] and death [69% compared with 34%] were more frequent in individuals taking conventional than atypical antipsychotics. In a model that included demographic and cognitive variables, hypertension, diabetes mellitus, heart disease, incident strokes, and extrapyramidal signs, only conventional antipsychotic use was associated with time to nursing home admission. However, the association was no longer significant after adjustment for psychiatric symptoms. Psychosis was strongly associated with nursing home admission and time to death, but neither conventional nor atypical antipsychotics were associated with time to death.

CONCLUSIONS: The use of antipsychotic medications, both conventional and atypical, was not associated with either time to nursing home admission or time to death after adjustment for relevant covariates. Rather, it was the presence of psychiatric symptoms, including psychosis and agitation, that was linked to increased risk of institutionalization and death after adjustment for exposure to antipsychotics.
As I read through it, I realized that instead of my usual hypervigilance for being "tricked," I was reading it with interest. They confirmed theincreased morbidity in patients on antipsychotics, but then they took a step further. When they controlled for the symptoms antipsychotics are used for [agitation, aggression, psychosis], they found that it was these symptoms, not the antipsychotics, that were associated with the morbidity. They concluded: "it was the presence of psychiatric symptoms, including psychosis and agitation, that was linked to increased risk of institutionalization and death after adjustment for exposure to antipsychotics." They included enough data in the article and data supplements to back up their conclusion. I'm so used to articles that leave me suspicious or questioning, that I was taken aback. So I read on, the accompanying editorial:
by D.P. Devanand, M.D.

American Journal of Psychiatry. 2013 170:957-960.
Since it's online, I'll leave you to it. But it was the same way. It was thorough in scope, reviewing the studies to date, pointing out the dangers of higher doses with references, and making cautious and conservative recommendations.
The only reason I mention this article is that for one of the first times in a long time, I felt like I was reading something straight in our journals, better than straight, actually clarifying. They were bringing the previous literature and some data from a large cohort to bear on a very real and common problem. I thought the analytic method was clever, and took what had been done before a step further.
I hold out hope that as the patents on the psychiatric drugs run out, the increasing focus on conflicts of interest, the insistence on data transparency, and the memories of what seems a dark era in the quality of psychiatric publishing, will lead us back to the days when I looked forward to reading our journals and learning something that helped me in treating patients. They were the real pipeline in the first twenty-five years of my medical and psychiatric life, then they just faded away. I didn't trust what I read anymore, so I stopped reading. This article/editorial felt like an old friend. It caught me off-guard…