This article had too much speculation about implications and not enough talk about plans for replication to my liking. And Dr. Insel's blog was more in the range of the charge of the light brigade than the kind of strategizing we need from the NIMH about how to validate and proceed with the new science of genomics.
Here's the write-up of that study in Psychiatric News:
PsychiatricNews

by Jun Yan

October 09, 2013

As scientists scan and analyze thousands of DNA samples from patients, a picture of the "genetic architecture" of schizophrenia finally begins to emerge. Recent genomic discoveries are converging on several heritable risks that contribute to the development of schizophrenia. One such discovery arises from a new genomewide association study [GWAS] that identified 22 chromosomal regions with genetic variations that are linked to schizophrenia. Thirteen of these regions had not been identified before, while the rest confirmed findings of previous studies. The multinational study, including researchers and funding from the United States, Sweden, and the Netherlands, was published online August 25 in Nature Genetics.

"The results of this mega-collaborative study by Sullivan and colleagues paint an even more complex mosaic than was previously appreciated," APA President Jeffrey Lieberman, M.D., told Psychiatric News. "If confirmed, they will have a game-changing effect on our understanding of the genetics of mental illness." He pointed out that the magnitude of SNPs estimated for schizophrenia, and possibly other mental disorders, could be larger than other complex-trait diseases, such as type 2 diabetes, coronary artery disease, and rheumatoid arthritis. "This is the genetic equivalent of death by a thousand cuts and shifts the focus from the rare mutations and CNVs that had previously been thought to be the predominant genetic mechanisms conferring disease risk." Lieberman, who also is chair of psychiatry at Columbia University and director of the New York State Psychiatric Institute, agreed that the identified risk loci offer targets for new treatment development.
This post isn't about the words. It's about the music. When I saw this listed in PsychiatricNews, I clicked on the article since I'd just looked at the study. There was APA President Jeffrey Lieberman talking about it – a "game-changing" in our understanding. It reminded me of a week or so ago, when I wandered by the television set, and there was Dr. Lieberman on 60 Minutes, pipetting samples in a lab, then showing Schizophrenia to the journalist on a brain scan, pointing out the brain deterioration?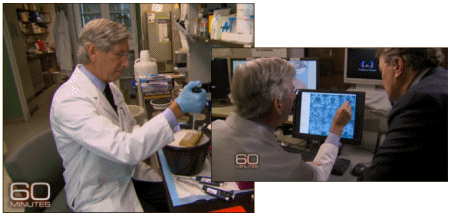 The segment was called Untreated Mental Illness an Imminent Danger? It was about the recent mass shootings. When asked, "So it's really a disease of the brain, not the mind?" Dr. Lieberman answers "Absolutely."

[Lieberman's comments start at 3:00]
Again it's the music, not the words. Game-changing genetic studies? Dr. Lieberman getting his pipetting in for the day? Showing Schizophrenia on a brain scan? With deterioration? These are staged photo-ops for the brain agenda implying that we know more than we know – a continuation of the exaggerations of the last quarter century [see
Psychiatric Diagnosis in the Lab: How Far Off Are We?
for the same kind of music two years ago and this awkward plea from last week,
The 'Darkest Year Ever' for the NIH?
]. And his comments are off the point of the television report. Two months ago, I called Dr. Lieberman's rhetoric cheerleading [
conflicted…
], but I'm beginning to running out of synonyms.
It has been five years since Senator Grassley and Paul Thacker investigated the KOL layer of psychiatry. Since then, this kind of exaggerated, staged rhetoric has looked like the grandstanding it really is. Since then, there have been a raft of hefty settlements against the pharmaceutical industry for deceptive and criminal practices – AKA big-time exaggerations [a sad tale…] many having to do with psychiatric drugs and the misbehavior of highly placed psychiatrists. And yet exaggeration and salesmanship persist as dominant themes in organized and academic psychiatry – our public voice.
This is a time for something else, a time of paradigm exhaustion, a time for realigned priorities. The mental health parity reform offers us a chance to break free from this exaggerated medicalized psychiatry and restore some balance to the care of the sick – the traditional role of physicians. Future advances in genomics and neuroscience will certainly be welcomed when they come, but in the meantime, Dr. Lieberman would be well advised to take a walk down the street from those labs in the New York Psychiatric Institute and Columbia into Harlem, to take a stroll under the nearby George Washington Bridge, to have a look at the New York jails and prisons, to visit the inadequate remnants of a long neglected community mental health initiative – the worlds where the severely mentally ill spend their lives right now. And it's a time to cry foul about the too-long-ignored prohibitive restrictions placed on psychiatrists by Managed Care that reinforce such a monocular view of mental illness. It's a time to rein in the exaggerations rather than join in the fun.
The music is just all wrong…