During the 19th century and early 20th century, American psychiatry shared many intellectual traditions and values with Great Britain and Europe. These include principles derived from the Enlightenment concerning the dignity of the individual and the value of careful observation. During the 20th century, however, American psychiatry began to diverge, initially due to a much stronger emphasis on psychoanalytic principles, particularly in comparison with Great Britain. By the 1960s and 1970s, studies such as the US-UK study and the International Pilot Study of Schizophrenia demonstrated that the psychodynamic emphasis had gone too far, leading to diagnostic imprecision and inadequate evaluation of traditional evaluations of signs and symptoms of psychopathology. Diagnostic and Statistical Manual of Mental Disorders, Third Edition [DSM-III] was developed in this context, under the leadership of representatives from institutions that had retained the more traditional British-European approaches [eg, Washington University, Iowa]. The goal of DSM-III was to create a comprehensive system for diagnosing and evaluating psychiatric patients that would be more reliable, more valid, and more consistent with international approaches. This goal was realized in many respects, but unfortunately it also had many unintended consequences. Although the original creators realized that DSM represented a "best effort" rather than a definitive "ground truth," DSM began to be given total authority in training programs and health care delivery systems. Since the publication of DSM-III in 1980, there has been a steady decline in the teaching of careful clinical evaluation that is targeted to the individual person's problems and social context and that is enriched by a good general knowledge of psychopathology. Students are taught to memorize DSM rather than to learn complexities from the great psychopathologists of the past. By 2005, the decline has become so severe that it could be referred to as "the death of phenomenology in the United States."

hat-tip to uri
Sometimes I read something and write a whole blog post about it, discard it, and just start over. This 2007 article [
full text on-line
] was an prime example. It's by neuroscientist Nancy Andreasen at the University of Iowa, one of the Mid-Atlantic centers that spearheaded the DSM-III in 1980:
"However, a few American institutions maintained ties with Anglo-European psychiatry. The institutions have sometimes been called 'the Mid-Atlantics.' They included Washington University in St Louis, Johns Hopkins in Baltimore, Iowa Psychiatric Hospital in Iowa City, and New York Psychiatric Institute in New York City."
She's contrasting these centers with everywhere else which was under the grip of the psychoanalysts:
"… After World War II, psychoanalysis became the dominant conceptual framework in the United States. For a period of 30–40 years, nearly all the major leaders in American psychiatry embraced psychoanalytic principles and used them to shape psychiatric education and training. This created a new and different zeitgeist."
Which lead to:
"… psychoanalysis, therefore, also led to a significant de-emphasis on careful observation of signs and symptoms — the 'bread and butter' of the early humanistic psychiatrists and the basis for developing a phenomenology. In fact, the psychoanalysts taught that the patient's self-report of both symptoms and other internal experiences should be discounted."
She then describes the Mid-Atlantic counter-revolution that lead to the DSM-III that liberated psychiatry from its psychoanalytic captivity. I'm afraid that paragraph got to me and so my first run at this post was driven more by anger and frustration than good sense. Her version was the language of the time and place where she trained, and I should be used to that by now – so I started over. She followed with
The Development of the Diagnostic and Statistical Manual of Mental Disorders, Third Edition: Lofty Goals
in which she talked about what they set out to accomplish. But it's the following section of her paper entitled
What Went Wrong? The Unintended Consequences
that I want to talk about. Dr. Andreason says:
"Although the authors of DSM-III knew that they were creating a small revolution in American psychiatry, they had no idea that it would become a large one and that it would ultimately change the nature and practice of the field… DSM-III and its successors… became universally and uncritically accepted as the ultimate authority on psychopathology and diagnosis. DSM forms the basis for psychiatric teaching to both residents and undergraduates throughout most of the United States. Knowledge of the criteria is the basis for most exams — even the Board Certification examinations taken after residency. As a consequence, classics in psychopathology are now largely ignored. The ultimate painful paradox: the study of phenomenology and nosology that was so treasured by the Mid-Atlantics who created DSM is no longer seen as important or relevant. Research in psychopathology is a dying [or dead] enterprise."
Notice that in the earlier part of her story, the source of the problem was clear – the psychoanalysts. But in this section, there's no subject for the sentences. Things happened that lead to the erosion of the Lofty Goals of the DSM-III, and the study of phenomenology and nosology that was so treasured by the Mid-Atlantics who created DSM was subverted and became a dying [or dead] enterprise. Who was at fault? Who done it? Apparently nobody. It just happened all by itself. Unintended Consequences. She continues:
How and why did this occur? What is wrong with DSM?

First, the criteria include only some characteristic symptoms of a given disorder. They were never intended to provide a comprehensive description. Rather, they were conceived of as "gatekeepers" — the minimum symptoms needed to make a diagnosis. Because DSM is often used as a primary textbook or the major diagnostic resource in many clinical and research settings, students typically do not know about other potentially important or interesting signs and symptoms that are not included in DSM.

Second, DSM has had a dehumanizing impact on the practice of psychiatry. History taking — the central evaluation tool in psychiatry — has frequently been reduced to the use of DSM checklists. DSM discourages clinicians from getting to know the patient as an individual person because of its dryly empirical approach.

Third, validity has been sacrificed to achieve reliability. DSM diagnoses have given researchers a common nomenclature — but probably the wrong one. Although creating standardized diagnoses that would facilitate research was a major goal, DSM diagnoses are not useful for research because of their lack of validity.
I would frame things differently, saying that the DSM-III revolution was doomed from the day the book was published, and that the cause of that failure was in the DSM-III itself. Dr. Andreasen implies that it was misinterpreted or misused by some undefined force [those sentences without subjects] and stripped of the essence of the framers intent. I would argue that it was a structurally flawed enterprise that institutionalized several categorical errors.
In an odd way, I feel something of a kindredship with Dr. Andreasen. Just as I wince when she says "psychoanalysis, therefore, also led to a significant de-emphasis on careful observation of signs and symptoms" or "psychoanalysts taught that the patient's self-report of both symptoms and other internal experiences should be discounted," I would expect her to wince as well if I were to simplify her Mid-Atlantic mentors to absurdity. I've done that along the way at times, but hopefully I can avoid it here. I think I'd rather try to explain what I mean when I say they made categorical errors. And I propose to start that quoting one of my own mentors from long ago. My ideas about my role had been crystalized by a comment from a supervisor, Dr. Burness Moore, who once said something like this [with my own elaborations]:
"You have four identities. The first is Person. There is nothing more important to a sick human being than someone who turns their way and totally focuses on their plight, bringing all that another human being can bring to bear on their particular problem [which is a lot]. Next, you are a Physician. A physician is someone who knows the signs and symptoms of physical illness and can diagnose and help deliver the specific treatment needed. Then you are a Psychiatrist. A Psychiatrist is someone well versed in recognizing the classic psychiatric syndromes and knows their treatment. Then, and only then, you are a Psychotherapist or Psychoanalyst – someone skilled in exploring the unique history and experiences of the individual patient in a search for the causes for their discomfort. Those things come in a specific order for obvious reasons – a hierarchy. Don't ever get ahead of yourself."
I still think those things. I only recently became aware of Karl Jaspers' 1913
Allgemeine Psychopathologie.
I knew him as the philosopher he became, not the psychiatrist he started out being [see
an anniversary…
]. But I really liked what he had to say [in both identities]. This is my simplistic rendition of his categories annotated with Dr. Moore's comments [and some other things]: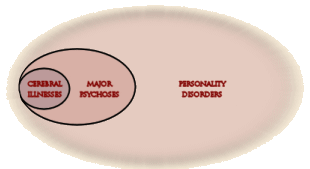 It's not a perfect image. There's a lot more to the classic psychiatric syndromes than Major Psychosis and certainly not all Personality Disorders are amenable to psychotherapy nor is the domain of the psychotherapist limited to Personality Disorders. After all, Jaspers was writing a hundred years ago. But despite the imperfection of the image, there is a line [labeled The Line] between the psychiatric syndromes and the mental illnesses resulting from the complexities and vicissitudes of human life. Those categories may overlap, or the line may be blurry, but it is a line nonetheless – and the DSM-III eliminated it. That's a categorical error merging two categories that are more or less distinct creating an artificial and unworkable structure to my way of thinking – a fatal flaw in the DSM-III and its heirs. There is another line [labelled The Other Line] between brain disease and the major psychiatric syndromes that the modern DSM-5 RDoC Clinical Neuroscientists want to eliminate, but they currently still live in a realm of speculation, whether they like it or not. Finally, there is a line between Mental Illness and something called normality [labeled The Final Line] that is under assault by the drug-happy KOLs – currently defended by Dr. Allen Frances [to his credit].
I hasten to add that Dr. Andreasen and her Mid-Atlantic mentors are correct that there was something very wrong with American Psychoanalysis in the period before the DSM-III was introduced. I don't think they were quite right about exactly what it was. I see it as a categorical error too, introduced by the specific psychoanalysts who came to the US during and after World War II, but that's for another post.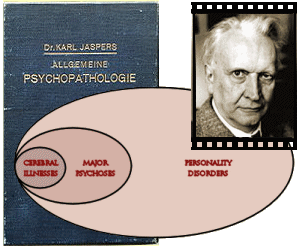 A hundred years ago, four very bright men were alive and thinking hard about mental illness. A couple of them were colleagues [Alzheimer and Kraepelin]. A couple were enemies [Kraepelin and Freud]. All of them were human, and caught up in the outrageous history swirling around Europe and particularly Germany in their time. But collectively they handed us something on a platter that we have managed to royally screw up – carrying on their differences and failings rather than parsing their wisdom. At least that's how it seems to me…
---
Note: Thomas Szasz submitted a response to Dr. Andreasen's paper that wasn't accepted for publication. It is
here
…