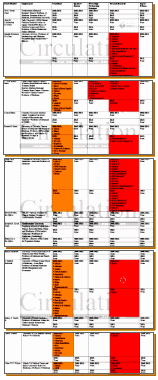 If I'm not a cardiologist and only an Internist in memory, why does this Statin thing get my juices flowing so [
an exempler…
,
but I should've…
,
risk benefit ratio…
]? I know there are people who are going to take Statins for the same reason a lot of people go to church ["just in case"]. I read the New England Journal article [
A Pragmatic View of the New Cholesterol Treatment Guidelines
] by the editors which stays mostly neutral. I didn't want them to be neutral. And every time I read one of these Statin articles, I judge it from the title, not the content. I think it's because it's a straw man – a surrogate – for something else I feel, and it doesn't take a psychoanalyst to figure out why I might react that way. It's the 4½ pages on the right from the
American Heart Association Guidelines
. I've colored in the members of the Task Force who area connected with companies who make Statin drugs. It's too much – simply too much. So I shouldn't hide my real motives behind these complaints, I should talk about them directly and get my nose out of a battle where I'm really not terribly informed. And there's a point to this bit of personal introspection. I have a Conflict of Interest just like many of the people on that AHA Task Force. I can't read about the Statin controversy without bias – the emphasis is on the word bias. I can say my opinion is scientific, and it is – but don't you believe for one minute that's why I'm writing it [by the way, you already knew that].
I don't have much flexability in my views about conflict of interest, mainly based on my own internals. I can feel bias inside. It's part of being a therapist. I can certainly be wrong about myself, but if I pay attention, I'm fairly accurate in being able to monitor when a patient is getting into an area where I need to be careful about what I say. We call it neutrality, an unachievable goal but a worthy standard to shoot for. And I've become biased about this issue of bias. When somebody says that they can transcend the fact that a company is paying part of their salary and paying to keep their lab and lab·rats going, I balk for two reasons: first, I couldn't do that, and second, they always say that as they endorse their sponsor's product. You just don't hear people coming down on the other side very often [if at all…].
I think this is something the lawyers have gotten very right. If the Lawyer for the Plaintiff can be shown to have a Conflict of Interest, or if the Prosecuting Attorney has a Conflict of Interest, the case can be thrown out of court or the verdict can be overturned. There's no gradation in Conflict of Interest, it's digital, not analog. The operative saying is, it's like being a little bit pregnant. I'm not usually so dogmatic as this, but I suppose I've come by it honestly. I've seen a lot of psychotherapy cases that have gone south because of an unacknowledged bias in the therapist. I'm sure I've done it too, but at least I worked hard not to, and have sent patients for consultations or referred them on when I wasn't sure. I'm not totally in love with the legal profession, but I think their vigilance in this area is a decided strength.
So, from my perspective, those pages up there a deal-breakers. I think it's inevitable that academics will do drug evaluations and they should fight for their independence [but they rarely do]. But having done that, they should be barred from that panel by definition. Rigid rules. The actual
American Heart Association
Report, has a real go at trying to play things straight. I just think it's impossible