Star Tribune

by MATT LAMKIN

December 18, 2013

As scholars of medical ethics and proud alumni of the University of Minnesota, we have been pained by the cloud that has hung over our alma mater in the decade since Dan Markingson killed himself while enrolled in a university-sponsored drug trial. Many prominent voices have called for an independent investigation into Markingson's death, including editors of the world's most prestigious medical journals and more than 250 other ethicists, physicians and scholars.

Unfortunately, rather than working to be accountable and transparent, the university administration has taken a relentlessly defensive posture — hiding behind its lawyers, targeting its critics and distorting the facts. Most notably, the administration has dismissed the need for an independent investigation by claiming that the university's treatment of Markingson "has been exhaustively reviewed by federal, state and academic bodies since 2004," in the words of the university's general counsel. However, some of these claimed reviews simply did not occur, while others did not examine the most troubling aspects of the Markingson case. For example, the administration has repeatedly claimed that the Hennepin County District Court exonerated the university in a lawsuit brought by Markingson's mother. In fact, the university convinced the court that it had legal immunity from the suit and could not be held liable no matter how badly it may have treated Markingson.

The administration's refusal to commission an independent investigation of the Markingson case has tainted the university for far too long. That began to change recently when the Faculty Senate responded to a letter signed by more than 175 scholars asking for an external, independent investigation into the Markingson case. By an overwhelming margin, the Faculty Senate voted to approve a "Resolution on the Matter of the Markingson case" and endorse an inquiry into clinical research practices at the university. Yet University of Minnesota President Eric Kaler appears intent on continuing the university's efforts to avoid scrutiny. In a recent interview with the Minnesota Daily, Kaler said that the inquiry will not look at Markingson's death at all, but rather will focus solely on "what we are doing now and what we're going to do moving forward." Such a limited inquiry would defeat the purposes of the Senate's action. Although the resolution does call for an inquiry into the university's current practices, the Senate left no doubt that the aims of that investigation included resolving "questions [that] continue to be raised about the policies and procedures followed in the Markingson case" and addressing the harm to the university's reputation "in consequence of this tragic case and its aftermath".

Any inquiry that merely considers the university's forms and policies without examining the experiences of actual research subjects would only further erode confidence in the institution and compound the harm to its reputation. In addition to seeking to limit the scope of the investigation, Kaler seems intent on handpicking the investigators. Any involvement by the administration in selecting the members of the investigative panel would destroy the body's credibility. The offices of the president, the general counsel and the Academic Health Center are all important players in the Markingson controversy whose roles must be examined by the investigative panel. It would be a clear conflict of interest for the targets of this inquiry to select their own investigators…
They seem to still be trying to blow this case off as no big deal. And while I feel the same outrage about that as everyone else, there's something that nags at me. I figured it out today, but I'm not sure I can articulate it. I think of acute first break cases of psychosis much differently from patients with chronic illness. I see the first episode cases as psychiatric emergencies. The patients are experiencing bizarre and confusing symptoms, often not seen as an illness but as a reality in need of immediate response. They're volatile, often terrified, and capable of desperate actions in response to their symptoms. There's nothing routine about those cases. In patients with chronic illness who have an exacerbation or increase in psychotic symptoms, I feel less worried. The symptoms may be compelling, but they're not unknown. They've been here before. I'm much more comfortable being softer with medications. Things just feel safer and less pressing.
I haven't read that difference anywhere and honestly wasn't even aware I thought it until I tried to figure out what was bothering me about this case. I realized that the way they were approaching him was as if he were a person with a chronic psychosis with an exacerbation. Putting him some standard dose of medications and following him in a minimum security halfway house. There was none of the close attention and medication adjustment I'm personally used to in a first episode case. It just seems strange to me – a recipe for the disaster it became. I started looking over the increasingly voluminous material available and I found myself honing in on the fact that at the time, there were two Clinical Trials of the Atypical Antipsychotics that overlapped – CATIE [Clinical Antipsychotic Trials of Intervention Effectiveness] and CAFE [Comparison of Atypicals in First Episode of Psychosis][CAFE Protocol]. I hadn't paid sufficient attention to the fact that they were targeted at two different study populations:


CATIE
CAFE
Illness
Chronic Illness
First Episode
Medications
Atypicals and
First Generation
Atypicals
Funding
NIMH
AstraZeneca
Principle
Investigator
J. Lieberman
J. Lieberman
Enrollment
1460
400
Sites
54
26
CRO
Quintiles
Quintiles
clinicaltrials.gov
NCT00014001
NCT00034892
PubMed
16172203
17606657
Publication
NEJM 2005
AJP 2007
Dates
01/2001-12/2004
3/2002-3/2005
I had noticed, as had everyone else, that Jeffrey Lieberman was the Principle Investigator in both studies and that they overlapped in time. What I hadn't realized is that the University of Minnesota was a site for both studies and that Dr. Stephen Olson, Dan's physician, was the site investigator for both. In fact, the majority of CAFE sites were CATIE sites. The CATIE study was run by the Quintiles CRO. And while the CAFE study was listed as administered by UNC [where Dr. Lieberman was at the time], the Protocol has 45 instances that mention Quintiles being involved in various aspects of the trial. And the protocol of the CAFE study refers directly to CATIE as a resource: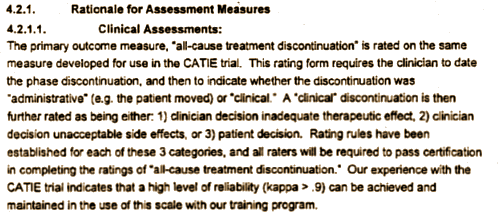 Carl Elliot's article,
Making a Killing
, in
Mother Jones
further confirms the centrality of Quintiles in the CAFE Study [and more]:
Although Mary's lawsuit was unsuccessful, it revealed some disturbing fnancial arrangements at the university. As a patient on public assistance, Dan's treatment would have normally generated little income for the university. Under its arrangement with AstraZeneca, however, the psychiatry de-partment earned $15,648 for each subject who completed the cafe study. In total, the study generated $327,000 for the department. In fact, during the months before Dan was enrolled, the department was apparent-ly feeling pressure from Quintiles, the CRO that managed the study, to step up recruitment. According to emails written by Jean Kenney, the university's study coordinator,the site had been placed on probation for its recruitment problems, and they were still "struggling to get patients." In November 2002, Olson had managed to recruit only one subject in six months. That began to change in April 2003, when the psychiatry department established a specialized inpatient unit at Fairview hospital called Station12, in which every patient could be evaluated for research. By December, Olson had recruited 12 more subjects, including Dan, and Olson had been featured in a cafe study webcast for "turning an underperforming site into a well-performing site." [Quintiles refused to give comment on the case.]
as in: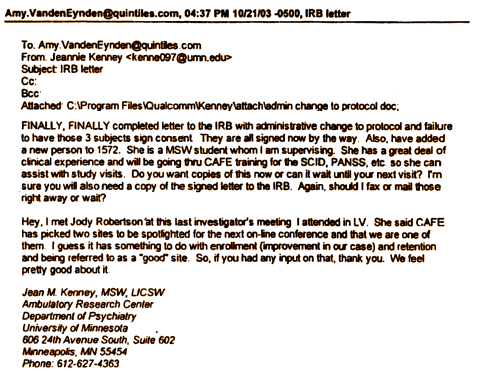 Jean Kenney, this Study Coordinator, was later censured by the Social Work Board for her conduct in the CAFE trial. And, as it turns out, she worked in the CATIE Trial as well, with Dr. Olson [
Were Research Subjects Mistreated in the CATIE Study?
]. In this earlier email, she almost conflates the two: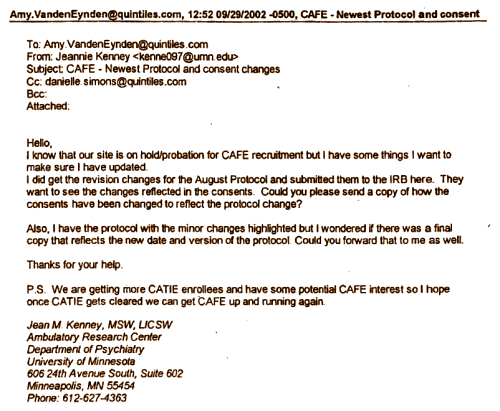 So it looks to me as if AstraZeneca [and Dr. Lieberman, and Quintiles] just cloned the NIMH's CATIE to create CAFE [easy to do with the same CRO and Principle Investigator]. The reason it looked like a study for chronic patients is because that's exactly what it was – or that's how I'm thinking about it now. On reflection, I can't imagine putting a first episode psychotic person on a fixed dose of a randomly chosen antipsychotic and seeing him once a month to see how he's getting along. That's what has been nagging at me. No matter what medication I picked, I'd want to assess his status frequently to make adjustments in either dose or choice of medication. I'd want to also look into his psychosocial situation, his resources, his family connectedness and plan for the future, including trying to establish whatever treatment alliance is possible. I don't want to preach here, but I see the careful management of the first episode as a powerful determinate of the future course of the illness. I expect most clinicians share my feeling. This CAFE approach is too casual, too routine. That's not to say that psychosis is ever business-as-usual, but there's a real issue of degree.With chronic patients, one is often trying to restore the equilibrium and prevent deterioration.
So I'm thinking that CAFE had a fundamental design flaw. It appears to be an extrapolation of another study designed to manage chronic illness with medication compliance as its outcome parameter inappropriately repurposed for these acute cases. Acute psychosis isn't a stabilization issue, it's something much more than that. I can't find anything that tells me about Dan's clinical state in the months in the halfway house on a fixed dose of the then unknown medication except that he stayed in his room and his mother was alarmed at his state. What I hypothesize is that the study team had become used to following the chronic patients in CATIE, and approached the first break patients in the same way. Dan and many with acute illness needed much more attention than that. The people at the University of Minnesota still don't seem to get that.
The CAFE trial was an experimercial of the worst kind. It was designed to show Seroquel's non-inferiority to Zyprexa and Risperdal, but not to meet the treatment needs of patients with Acute Schizophrenic Illness. It was a borrowed design. The tragic result seems almost inevitable…