by William O. Cooper, S. Todd Callahan, Ayumi Shintani, D. Catherine Fuchs, Richard C. Shelton, Judith A. Dudley, Amy J. Graves, and Wayne A. Ray.

Pediatrics 2014 133:1–7.

OBJECTIVES: Recent data showing possible increased risk for suicidal behavior among children and adolescents treated with selective serotonin reuptake inhibitors (SSRIs) and serotonin-norepinephrine reuptake inhibitors (SNRIs) antidepressants have created significant concern among patients, families, and providers, including concerns about the risk of individual antidepressants. This study was designed to compare the risk for medically treated suicide attempts among new users of sertraline, paroxetine, citalopram, escitalopram, and venlafaxine to risk for new users of fluoxetine.

METHODS: A retrospective cohort study included 36842 children aged 6 to 18 years enrolled in Tennessee Medicaid between 1995 and 2006 who were new users of 1 of the antidepressant medications of interest (defined as filling no prescriptions for antidepressants in the preceding 365 days). Medically treated suicide attempts were identified from Medicaid files and vital records and confirmed with medical record review.

RESULTS: Four hundred nineteen cohort members had a medically treated suicide attempt with explicit or inferred attempt to die confirmed through medical record review, including 4 who completed suicide. The rate of confirmed suicide attempts for the study drugs ranged from 24.0 per 1000 person-years to 29.1 per 1000 person-years. The adjusted rate of suicide attempts did not differ significantly among current users of SSRI and SNRI antidepressants compared with current users of fluoxetine. Users of multiple antidepressants concomitantly had increased risk for suicide attempt.

CONCLUSIONS: In this population-based study of children recently initiating an antidepressant, there was no evidence that risk of suicide attempts differed for commonly prescribed SSRI and SNRI antidepressants.
In 2002, Prozac was approved by the FDA for use in children and adolescents. In 2004, the FDA held hearings about suicidality in adolescents on SSRIs and issued the black box warning we're all familiar with:

And while everyone was trying to jump on the bandwagon in those days, Prozac made it through the FDA process before the warning was added: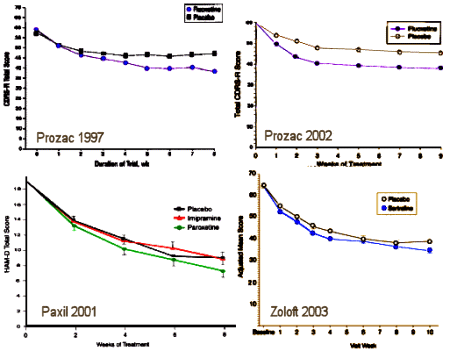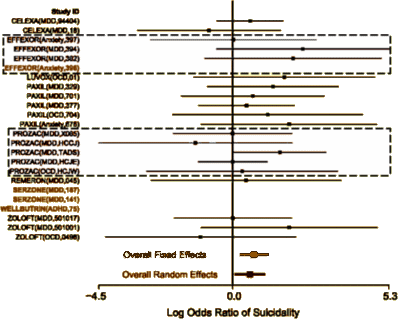 The attempts to resolve the issue of an idiosyncratic syndrome in which some kids react to SSRIs with a dramatic syndrome that leads to violence by using statistical evaluations goes on and on. It has a life of its own and is never definitive. Does it happen? Yes. I've seen two cases and I believe my eyes. It apparently doesn't happen frequently enough to make it into the record books. I rarely see a reaction to penicillin either, but it's in my mind with every prescription. That's all I know to say about that.
This study is at some level totally absurd, but it points up a glaring piece of craziness in the system we live with. It compares all of the SSRIs to Prozac and finds no difference. Any thought that there would be a difference is a testimony to leftover Eli Lilly advertisement trying to make something out of that artifact of timing. In spite of the FDA's being unwilling to go along with Lilly, I've heard "Prozac is the only SSRI approved for use with adolescents" repeatedly – implying something the FDA never intended. FDA approval is never a treatment recommendation. The efficacy standards for the FDA are low as its primary mission is safety. But the drug companies have used FDA approval as a seal of approval beyond its intent – like some holy writ handed down from the Vatican.
So my alternative title for this article is simply Risky Business…