This post has nothing to do with psychiatry, but everything to do with the pharmaceutical world. It's about the so-called blood thinners, anticoagulants taken to decrease clotting in conditions like atrial fibrillation, a heart rhythm abnormality associated with clot formation that can lead to stroke. The standard drug, Warfarin, has been in use since the 1950s. It interferes with the Vitamin K dependent factors in clotting, so it's effect can be reversed with Vitamin K. Obviously, the main problem is abnormal bleeding, and so clotting has to be checked frequently.
Comes now Pradaxa®, a new drug that acts on a different part of the clotting mechanism. It doesn't require the frequent blood tests like Warfarin, at least that's how it was introduced. Abnormal bleeding is less than Warfarin for certain kinds of bleeding, but perhaps more for gastrointestinal bleeding. There are no simple blood tests to monitor it, and it can't be rapidly reversed.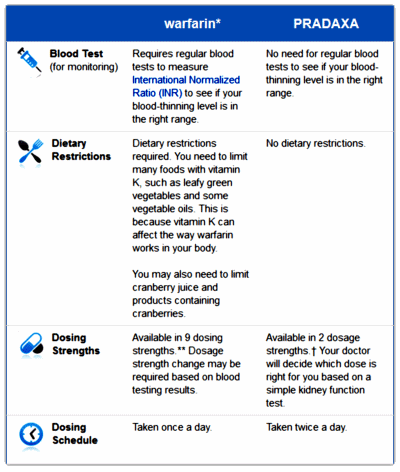 So now we have a flurry of reports about a new controversy:
New York Times:

Healthcare Renewal:

Hooked: Ethics, Medicine, and Pharma
Here's Dr. Brodie's summary [from Hooked]:
It's patients suing the drug firm over Pradaxa-related harm that led to the articles in the Times. The judge ordered release of some documents related to the case that include internal company e-mails about a research study coordinated by a company scientist, Paul A. Reilly. Reilly's study showed that a part of the safety problem with Pradaxa was that some patients had too high a blood level and some patients too low [sound familiar?]. He concluded that a blood test that measured drug levels could be helpful for at least some patients in avoiding dangerous reactions. [Such a blood test is available now in Europe but not the U.S.]

A draft of Reilly's paper that included these findings unleashed a storm of e-mails from other company scientists and officials. They argued that publishing a paper with these conclusions would undermine the company's primary marketing point in favor of Pradaxa, the result of a fine-tuned marketing effort going back a decade. Moreover, some feared that if the paper were published, it would be that much harder to get the government regulators to hold off demanding blood tests. The end result was that the paper was published recently but with many of the offending details removed.

Boehringer Ingelheim insists that this was a simple matter of scientific review and refinement. A draft was circulated, others chimed in with appropriate criticisms, and in the end the final paper was suitably modified to better present the actual facts. Nobody here but us scientists, boss…
And by the way, "
The costs of new anticoagulants [$3000/year] are substantially higher than those of warfarin [$48/year], even after addition of the extra cost of INR testing and provider visits for warfarin dose adjustment
" [from
Wikipedia
]. Here are the
released emails
.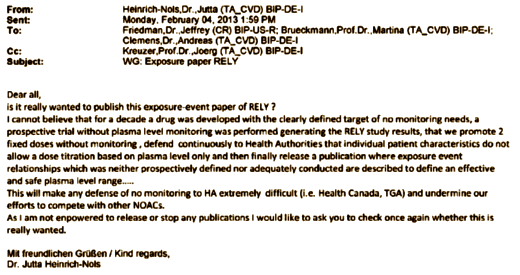 Which says:
Is it really wanted to publish this exposure event paper of RELY?

I cannot believe that for a decade a drug was developed with the clearly defined target of no monitoring needs, a prospective trial without plasma level monitoring was performed generating the RELY study results, that we promote 2 fixed doses without monitoring, defend continuously to Health Authorities that individual patient characteristics do not allow a dose translation based on plasma levels only and then finally release a publication where exposure event relationships which was neither prospectively defined nor adequately conducted are described to define an effective and safe plasma level range…

This will make any defense of no monitoring to HA extremely difficult [ie Health Canada, TGA] and undermine our efforts to compete with other NOACs.

As I am not empowered to release or stop any publications I would like to ask you to check once again whether this is really wanted.
Pradaxa® is not better than Warfarin by any medical measure. In fact it's worse in that if you start bleeding, it can't be reversed. It costs 60 times as much. The only advantage is the absence of the nuisance blood tests. If periodic blood tests are thrown in the mix with Pradaxa®, it becomes a dud [it's currently a blockbuster at > $1 B/year]. So, is it reasonable to think that a pharmaceutical company will spend 10 years developing a drug that is released and becomes a blockbuster, and then get a report like this and will immediately publish it as written? Or will they go into a cover-up mode? How many examples are needed before we see the wisdom of
Fiona Godlee
's testimony:
"Unless we can find a solution to the commercial incompetence problem, we have to recognize that the pharmaceutical industry has an irreducible conflict of interest in relation to the way it represents its drugs, in science and in marketing. And unless we can resolve this in a way that is more in the public interest and in patients' interest, I would argue that drug companies should not be allowed to evaluate their own products."
So it may not be directly about psychiatry, but it sure is directly related to psychiatry's problems…