Adverse emotional and interpersonal effects reported by 1829 New Zealanders while taking antidepressants

Psychiatry Research

by John Read, Claire Cartwright, and Kerry Gibson

3 February 2014

Background: In the context of rapidly increasing antidepressant use internationally, and recent reviews raising concerns about efficacy and adverse effects, this study aimed to survey the largest sample of AD recipients to date.

Methods: An online questionnaire about experiences with, and beliefs about, antidepressants was completed by 1829 adults who had been prescribed antidepressants in the last five years (53% were first prescribed them between 2000 and 2009, and 52% reported taking them for more than three years).

Results: Eight of the 20 adverse effects studied were reported by over half the participants; most frequently Sexual Difficulties (62%) and Feeling Emotionally Numb (60%). Percentages for other effects included: Feeling Not Like Myself – 52%, Reduction In Positive Feelings – 42%, Caring Less About Others – 39%, Suicidality – 39%, and Withdrawal Effects – 55%. Total Adverse Effect scores were related to younger age, lower education and income, and type of antidepressant, but not to level of depression prior to taking antidepressants.

Conclusions: The adverse effects of antidepressants may be more frequent than previously reported, and include emotional and interpersonal effects.

see also:
Note: This article is getting and should get a wide audience because it confirms what many people have already been saying – that the antidepressants have a lot of unmentioned side effects and are no panacea for depression. But for the record, as a practitioner, I was only surprised by a few of the numbers. I wouldn't have guessed that the suicidality figures would be as high as reported here, though I would've been close, and about right on the "severe" end. Similarly, I would've underestimated withdrawal and missed with withdrawal from Tricyclics. My experience with them is limited, but I haven't seen withdrawal. But thanks to what I've learned as a blogger, I've learned to taper everybody, so I'm not surprised that I underestimate withdrawal incidence. Celexa is actually the only SSRI I use in new patients, and I'm pleased to have the reasons confirmed by this survey.
The history is well known to us. When these drugs were first introduced, we were lead to believe that the sexual side effects were occasional. And as it became apparent that was untrue, the drug-makers fought that truth tooth and toenail. When the issue of suicidality was first on the table, the same fight ensued. It's still going on with the endless attempts to disprove the black box warning put in place in 2004 using population statistics. Well this article uses population statistics in the right way, they asked the question directly and the results are right there in black and white. The main findings are in the abstract above. Here's the breakdown by specific drug:

In my own musings about these medications since they came out, I've wondered how they work. I don't think I ever thought that they had a primary effect on depression per se, nor did I ever think they were acting at some fundamental level on the cause of depression. When it became apparent how common the sexual side effects were and I started hearing about those first four symptoms in the table, I wondered if they were working by dampening down the emotional system in some global way, and the fact that some people with anxiety disorders are so responsive seemed confirmatory. Some patients complained about those first four symptoms and stopped the drugs. Others seemed to welcome them, saying something like "I need to be turned down." But the main observation I can add to that was something I noticed when I left practice.
My practice was primarily a psychotherapy practice with patients who were treatment failures from other therapies. I was a rare medication user: short term Benzodiazepines for crises; stimulants for some adult patients with undiagnosed ADD; some time limited Inderal for people with performance anxiety. When I retired, I went over every case I'd seen as sort of an exit exercise, and the surprise to me had to do with SSRIs. I'd used them here and there along the way, but in retrospect, every case I had with significant PTSD was on SSRIs. And I came to think think that was because those patients are hypervigilant, have affect storms, and actually do better with the volume turned down. I was surprised that I hadn't noticed that along the way, but I didn't.
I wasn't surprised by this next part either. Most SSRIs are prescribed by Primary Care Physicians and people take them for a long time. Lots of people I see are reticent to "give them up," however people who've been on them for a long time frequently feel better when they're off of them – "I feel my life."

But I'll have to admit that this next part was a surprise:

83% improvement? With this?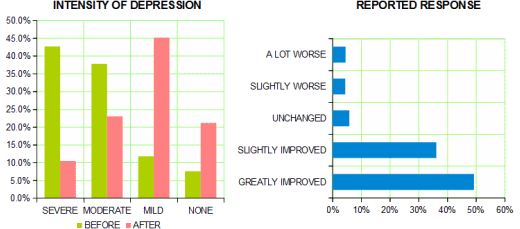 That beats many clinical trials. So to the question, why do people take [and prescribe] these drugs? I think this article is intended to expose the high incidence of side effects, which it does. But this is a surprising ancillary finding…