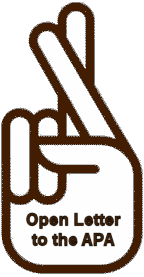 I guess I can take down the crossed fingers about the Open Letter to the APA concerning the Affaire d'Kupfer [see credibility…]. The Board of Trustees met three weeks ago and there hasn't been a peep that I know about. After all the questions about conflicts of interest among members of the DSM-5 Task Force and Dr. Kupfer's defensive responses, for him to turn out to have a significant hidden conflict of interest himself is bad enough. But for the APA's Board of Trustees to simply ignore that it even happened takes things over the top. I expect there will come a day when they will regret that decision. I sure do already.
In legal terms, the facts of the incident are uncontested. Dr. Gibbons, a statistician at the University of Chicago adapted a method of psychometric testing to measure anxiety and depression using NIMH Grant funding. The Clinical testing was done under contract with Dr. Kupfer's department of psychiatry in Pittsburgh. The focus of the psychometric was an aspect of diagnosis being championed by Dr. Kupfer as DSM-5 Task Force chairman – "dimensions." They published an article about the test, hiding the fact that they had formed a company to market the test commercially. When this was discovered and they were confronted, they admitted their culpability publicly. Four of the five authors were directly affiliated with the DSM-5 Task Force, with Dr. Kupfer as the chair. It is simply not possible that this was anything but active deceit. Those are the facts.
When all of this was revealed, the Speaker of the Assembly of the APA was asked to report on the incident to the APA Board of Trustees. She concluded that they shouldn't have done it, but that it did no damage and the fact that Dr. Kupfer was involved did not offer commercial advantage to their company [that is, of course, an absurd conclusion]. There was no comment in the report that addressed the why of it – why he/they did it. And to return to my letter above, she did not address the ethical issues raised by this whole episode.
The traditional medical ethic is that physicians should not even have the appearance, much less an actual conflict of interest. In recent times, that standard has been downgraded to an injunction to declare conflicts of interest publicly. I for one feel that is an unwise loosening of standards. But to have a clear conflict of interest and keep it hidden is to ignore even this depreciated standard. And for the APA itself to not even see this as something to act on in the case of an official in an important position of authority within the APA is to essentially say that they have no ethical policy at all.
I hope that's not true, and that some commentary or action will be forthcoming. But so far, not a peep…