One wouldn't have to read much here to realize that I'm no particular fan of the American Psychiatric Association or its current President, Dr. Jeffrey Lieberman. With him, it's not anything personal. I just don't much like people who speak and write with a conclusion that they want me to reach, and attempt to sell it. I don't mind his having opinions, but I do mind not hearing anything that I don't already know woven into some conclusion I can't imagine agreeing with. But then I read something I did like yesterday in the psychiatric news. It was an article about a talk Dr. Summergrad, the APA President-Elect, gave to the Directors of Residency Training at their annual meeting recently. That's a job I held for for a while and would've continued had psychiatry not gone in a direction I didn't understand [as in "stand under"]. The articleis there for the reading, but I want to say a word about what Dr. Summergrad says [see Summergrad Addresses Training Directors on Development of Physician Identity].
There were two things on the table for the training directors. First, there's a push for documenting and rating in training programs – some call for objective criteria, data by which to judge individual residents and their programs. Second, there was a an issue about "resident duty-hour restrictions" – putting limits on the number of hours residents can be required to work. I thought it was kind of funny that those same things were on the agenda at that same meeting thirty years ago when I was in the audience. I guess some things never change.
But it's not the issues, but the way he approached talking about them that I want to write about. He called his talk, Going to Sea: Psychiatric Education in an Era of Accountability. He talked about the modern need for accountability and objective measures, about everything – what was good about it. And he discussed the fact that the obsession wasn't going to go away – sort of a "don't fight it, it's here to stay" point of view. But the thrust of what he had to say was music – don't confuse these bean-counter requirements with what really matters in a training program – that the residents develop an identity as physicians focused on the needs of their patients, not their own. It's really quite impressive what he has to say. I haven't heard anyone in a high place in psychiatry talk like that in years. I wanted to say, "what's a guy like you doing in a place like this?"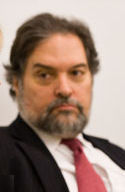 Maybe I like him because he did too many training programs – internal medicine, psychiatry, psychoanalysis, with some fellowships thrown in to boot [like I did]. Maybe it's because he has a longstanding interest in Zen Buddhism [like I do]. Perhaps his watching Nordic Noir television shows [like I do] has something to do with it. But I really think it's his ability for straight talk, and the fact that he seems to know what's really important in a trying time that draws me towards him. There's a badly taped presentation at the University of Florida [The Future of Psychiatry] that you might like to watch as well.
I don't know much more about him than I've said except that he's the Chairman at Tufts, but it's not his credentials that impress me. And I don't know what he's done, so it's not his accomplishments either. And I'm so cynical about the APA in general right now and I don't know what he might do as APA President that will lead to any changes. But he shows signs of being the real deal, and considering the alternatives, that's a breath of fresh air after a very long drought. Let's hope it's a patch of blue…