The Role of Psychiatry in Health Care Reform, APA Board of Trustees Work Group and the Economic Impact of Integrated Medical-Behavioral Healthcare: Implications for Psychiatry, prepared by Milliman, Inc.have an accompanying Infographic designed to simplify and illustrate their concept of Integrated Care. Shown above is their assessment that mental health care is inordinately expensive. That was accompanied by saying that while the need for mental health care is great – the patients are underserved: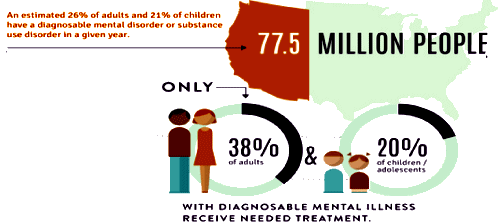 It reminds me of the opening gambit for much of the industry funded clinical trial literature from the last decade – the public health burden of mental illness. In this case, we need more services and lower costs. I felt gamed reading it. That aside, they propose this model [I've extracted the small print for each element below]: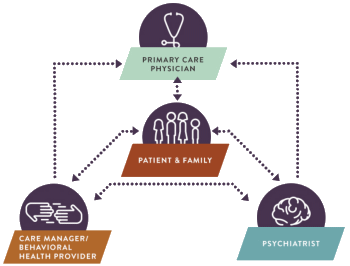 [redrawn for clarity]
• Makes initial diagnosis and prescribes medications

• Modifies treatment based on patient preferences,needs, and psychiatrist recommendations

• Identifies goals, needs, and preferences for treatment

• Participates in regular screening

---

• Monitors all patients in practice

• Provides education

• Tracks treatment response

• May offer brief psychotherapy

• Assures patient engagement

• Provides team leadership

• Reviews caseload regularly

• Educates and consults

• Sees patients who are not making improvements
By my read, the care of patients with mental health problems falls to primary care physicians with review/consultation with psychiatrists. The patient is followed using rating instruments by a case managers/mental health types using some kind of rating scale. Brief psychotherapy may be offered. The psychiatrist reviews the patient's progress and sees treatment failures. The model is obviously focused primarily on symptom reduction – objectified on rating scales.

Dr. Summergrad was on the workforce that produced this plan. He talks about it in this presentation:
Study it carefully. You will be tested soon…