by Maximilian Huhn; Magdolna Tardy; Loukia Maria Spineli;Werner Kissling; Hans Förstl; Gabriele Pitschel-Walz; Claudia Leucht; Myrto Samara; Markus Dold; John M. Davis; and Stefan Leucht.

JAMA Psychiatry. Published online April 30, 2014.

IMPORTANCE There is debate about the effectiveness of psychiatric treatments and whether pharmacotherapy or psychotherapy should be primarily used.

OBJECTIVES To perform a systematic overview on the efficacy of pharmacotherapies and psychotherapies for major psychiatric disorders and to compare the quality of pharmacotherapy and psychotherapy trials.

EVIDENCE REVIEW We searched MEDLINE, EMBASE, PsycINFO, and the Cochrane Library [April 2012, with no time or language limit] for systematic reviews on pharmacotherapy or psychotherapy vs placebo, pharmacotherapy vs psychotherapy, and their combination vs either modality alone. Two reviewers independently selected the meta-analyses and extracted efficacy effect sizes.We assessed the quality of the individual trials included in the pharmacotherapy and psychotherapy meta-analyses with the Cochrane risk of bias tool.

FINDINGS The search yielded 45 233 results.We included 61 meta-analyses on 21 psychiatric disorders, which contained 852 individual trials and 137 126 participants. The mean effect size of the meta-analyses was medium [mean, 0.50; 95%CI, 0.41-0.59]. Effect sizes of psychotherapies vs placebo tended to be higher than those of medication, but direct comparisons, albeit usually based on few trials, did not reveal consistent differences. Individual pharmacotherapy trials were more likely to have large sample sizes, blinding, control groups, and intention-to-treat analyses. In contrast, psychotherapy trials had lower dropout rates and provided follow-up data. In psychotherapy studies, wait-list designs showed larger effects than did comparisons with placebo.

CONCLUSIONS AND RELEVANCE Many pharmacotherapies and psychotherapies are effective, but there is a lot of room for improvement. Because of the multiple differences in the methods used in pharmacotherapy and psychotherapy trials, indirect comparisons of their effect sizes compared with placebo or no treatment are problematic.Well-designed direct comparisons, which are scarce, need public funding. Because patients often benefit from both forms of therapy, research should also focus on how both modalities can be best combined to maximize synergy rather than debate the use of one treatment over the other.
…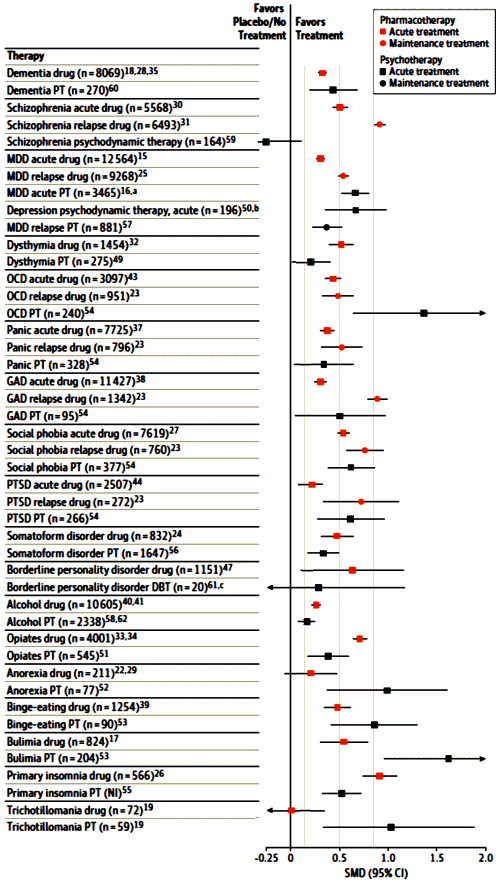 Maybe it's the influence of the Systematic Reviews from the Cochrane Collaboration, but it seems like every time you turn around, there's a new meta-analysis. The RIAT Project is looking at older questionable studies. And AllTrials is pushing for the raw data for the Clinical Trials for all the drugs still in use. It's an appropriate time for looking back over the the literature of the last twenty years and figuring out what it all meant – trying to separate out the wheat from the chaff. The APA is about to meet in New York barreling ahead with a new initiative – Integrative Care – in response to the Affordable Care Act. This time last year, they were launching the DSM-5 and still talking about psychiatry as Clinical Neuroscience. Now it's psychiatry as a consultative specialty backing up primary care. But I'm still in a "What the hell was all that about?" frame of mind.
This study was a huge undertaking and the methodology deserves a thorough look-see in the coming days, but just scanning their results, it looks like an important resource in addressing these recent confusing years. The scale at the bottom [standardized mean difference] is the difference between the means of two groups divided by the standard deviation of the pool of participants. Expressing the effect sizes in this way allows studies using differing measurement instruments to be compared. If the horizontal lines [95% Confidence Limits] don't cross 0, the difference is significant. In general, an SMD of 0.2 is small, 0.5 moderate, and 0.8 is large. The authors caution that the methodologies of the drug and therapy studies are different enough to invalidate direct comparisons of magnitude between the two.
So here is a sample of their results for perusal – some of which are something of a surprise [MDD. OCD, BPO, GAD]…