At first, it seems an odd candidate as a symbol for problems with the current clinical trial culture. It's a trial at an academic center rather than one run at some commercial clinical trial center. The Principle Investigator is the Chairman of Psychiatry at Columbia, the P.I. of the widely quoted NIMH C.A.T.I.E. trial, and the immediate past president of the APA. The C.A.F.E. Trial that Dan Markingson participated in was, in fact, modeled on C.A.T.I.E. – the differences being that it was industry financed and that it focused on acute psychosis rather than chronic cases. Even more unusual for the cause of much other protest, Dan Markingson may well have been under- rather than over-medicated. But there were a few very unusual features that make it stand out:
Suicidal patients were excluded from the

C.A.F.E.

study. Dan was admitted with expressed homicidality. In psychiatry, there is no distinction between suicidality or homicidality that I've ever heard. Commitment laws invariably say "

dangerous to self or others

" in one breath. The lectures have titles like "

The Lethal Patient

." The claim that he was eligible because he was

only

homicidal is clinically

absurd

.

Dan was declared incompetent and involuntarily committed, but within days allowed to enter a voluntary drug study in lieu of going to the State Hospital. Another absurdity.

The outcome parameter for C.A.F.E. was voluntarily continuing the medication, yet Dan's conditions for avoiding institutionalization were that he stay on the medication. That invalidates any reason for him to be in the study – need I say absurd once again?

In the treatment center where he was staying, the staff saw little to suggest any improvement. Dan's mother increasingly worried about Dan's clinical state and yet was told he was doing fine. Then at six months, his involuntary commitment was extended for another six months, the duration of the clinical trial. Further absurdity.
Even the most radical of antipsychiaty activists would've likely agreed that Dan should be tried on another drug regimen to control his ongoing and dangerous delusional state. On the face of things, it's hard to come up with anything that would explain any of the four absurdities listed above. And the most absurd thing of all – up until the day he killed himself, he would've been tallied as a treatment success because he was still taking his medications.
This case has lingered for a decade, becoming a cause célèbre and it's not because the facts of the case are unclear. It's because the doctor involved, the chairman of his department, the medical school, and the university itself have resisted every attempt to have an independent investigation of this specific case – in spite of the efforts of Dan's family, the bioethics department at the university, the university senate, and the scientific community at large. The university senate's vote to investigate was turned into an investigation of the clinical trial conditions now rather than when Dan was still alive in spite of their clearly stated wishes. Carl Elliot has amassed an impressive dossier on this case [Fear and Loathing in Bioethics]. But beyond that, there's plenty of other evidence on his site that the Markingson's case isn't an exception, but simply the loudest example from a program that shouldn't be allowed to continue operating as it stands.
We're so used to things that it doesn't ever occur to us that there's something very large missing in this story. It's at the end of a long chain of misadventures. Clinical Trials are meant to be a method to as accurately as possible identify the effect of a drug under optimal controlled circumstances – in this case comparing the relative efficacy and safety of several treatments. It is hardly possible that a Clinical Trial that would allow this level of absurdity would be able to do that successfully. To my knowledge, the Principle Investigator [
Dr. Jeffrey Lieberman
], the sponsoring drug manufacturer [
AstraZeneca
], and the administrative contractor [
Quintiles
] have remained silent. If this case isn't a huge red flag that this clinical trial was being conducted unscientifically, I can't imagine what it would take to make that point. Add in the evidence that the
paperwork was faked
, and we have a failed study no matter how you look at things. Yet the people in charge of asking the scientific question said nothing. In fact, this study is published in the
American Journal of Psychiatry
, containing the results from this site. It was meant to compare the effects of olanzapine, quetiapine, and risperidone in acute schizophrenia, and it's not possible that the results of this study can be said to do that. Yet they concluded:
Conclusions: Olanzapine, quetiapine, and risperidone demonstrated comparable effectiveness in early-psychosis patients, as indicated by similar rates of all-cause treatment discontinuation.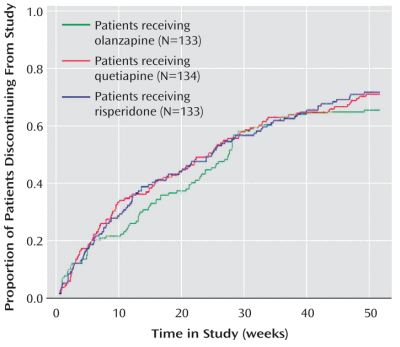 Obtaining that statement and this graph for the AstraZeneca marketing department to counter the other studies showing up Seroquel® [quetiapine] as a weak sister was the goal of the C.A.F.E. study. How can I say that without even being tentative? It's easy, AstrZeneca said it themselves. Back in 1997, Andrew Goudie, a researcher who had previously worked on Seroquel® wrote Jeffrey Goldstein of the AstraZeneca's R&D section requesting funding for a further study. In the return
email
, Goldstein made their policies very clear: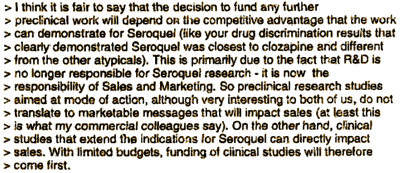 And then there was the trial known as
Study 15
, very similar to C.A.F.E., except with Seroquel® [blue] versus Haldol® [red]: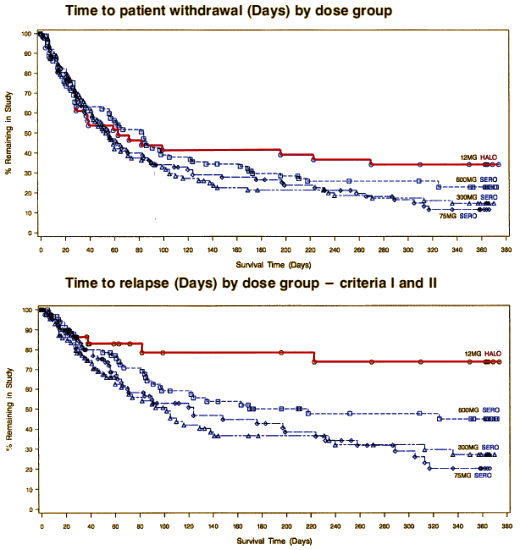 In that case, they just didn't publish the study: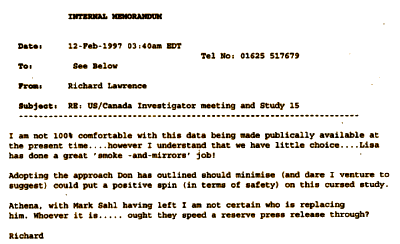 Further, the flagship approval study for Seroquel® [
Trial 006
] was authored by
Dr. Richard Borison
, Chairman of Psychiatry at the Medical College of Georgia, who turned out to be a con man extraordinaire and ended up with a ten year prison sentence [
repressed memories…
].
So Bioethicist Carl Elliot and his colleagues are completely justified in insisting that the case of Dan Markingson be investigated for gross research misconduct and unethical handling of a research subject, resulting in a death. But there's so much more. It's bigger than the case itself, or even the dysfunctional center where it happened. It's a concrete symbol for an unholy alliance between a segment of academic psychiatry and the pharmaceutical industry that has made a mockery of the entire scientific enterprise we call Medicine.