There can be little question that Dr. Brooks' Program [
not yet done…
] was innovative and successful, considering the cohort he set out to treat [described even after being medicated]:
The patients, as a group, were very slow, concentrated poorly, seemed confused and frequently had some impairment or distortion of recent or remote memory. They were touchy, suspicious, temperamental, unpredictable, and over-dependent on others to make minor day-to-day decisions for them. They had many peculiarities of appearance, speech, behavior, and a very constricted sense of time, space, and other people so that their social judgment was inadequate. Very often they seemed to be goal-less or, if they had goals, they were quite unrealistic They seemed to lack initiative or concern about anything beyond their immediate surroundings. Because of their very low socio-economic level and prolonged illness, they suffered from profound poverty, inadequate educational opportunities, and a very limited experience in the world.
Brooks' cases would be considered extraordinary rehabilitation challenges by anyone's standards, anywhere:
In the early 1950s, one of us began to study the efficacy of the then-new drug chlorpromazine. The back-ward "hopeless cases" were chosen as subjects. Some patients responded well and were eventually released. Other patients did not respond as well, but the effect of the releases was to give fresh hope to both the staff and the patients. In 1955 a multidisciplinary clinical team, sponsored by the Vermont State Hospital and the Vocational Rehabilitation Division of the Vermont State Department of Education, initiated a program of comprehensive rehabilitation and community placement for those backward patients who had not improved sufficiently with chlorpromazine.

From January 1955 to December 1960, 269 patients who were considered among the most severely disabled and chronically mentally ill in the hospital were referred to the program. After the re-education of the staff, a program was constructed in collaboration with the patients that consisted of drug treatment, open-ward care in homelike conditions, group therapy, graded privileges, activity therapy, industrial therapy, vocational counseling, and self-help groups.

In the community treatment component, the same clinical team went into the community and established halfway houses and outpatient clinics, found job openings, made job placements, and linked patients to natural support networks. In that era of custodial care, before the advent of community mental health centers and the later deinstitutionalization movement, this comprehensive program was considered unusual and innovative.
They had a long way to go with these patients, and they did amazingly well. The follow-up studies were as almost as good advertised and definitely better than those in Maine [the way that comparison was tabulated might require reading the paper to follow – #4 in
not yet done…
].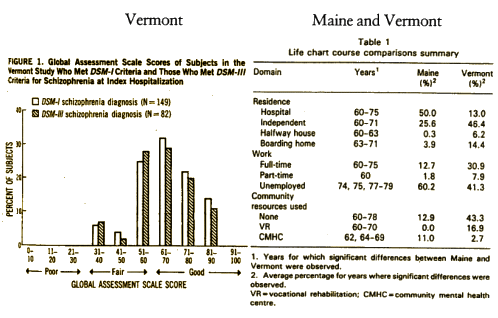 Their intervention was extensive, though not described in detail in these papers, but it sounds as if they created something of a
therapeutic community
after the model of Maxwell Jones. Their success in getting people out of the hospital and their long term outcome was impressive. I expect this was one of the studies that actually supported the development of the Community Mental Health initiative in the 1960s. So back to the thread, Sandra Steingard brought these studies up saying [
comment
]:
I find it fascinating to know that the innovative rehab program introduced by George Brooks at Vermont State Hospital in the 1950′s, which was the basis of Courtenay Harding's ground breaking long term study in the 80′s [2/3′s living full lives in the community, 50% on no medications, another 25% using them intermittently], was predicated on a non-hierarchical approach. Brooks brought in the patients and asked them what THEY needed in order to be able to be well enough to leave the hospital.
Her emphasis is on the fact that Dr. Brooks involved the patients in planning the program, and while I don't have the details, I take that at face value. As I mentioned, that was an essential ingredient of Maxwell Jones' idea in his
therapeutic community
, a concept that found wide acceptance as milieu therapy and is still a part of many "recovery" and rehab programs.
Obviously, the patients who were unable to live in the general community even with the wonder drug of the day, chronically psychotic, institutionalized, and without resources are a different population from the First Psychotic Episode cases addressed by the RAISE ETP program and targeted by its Individual Resiliency Training [IRT]. In reacting to the approach of RAISE, Dr. Steingard mentions the Open Dialog program in Finland as a program that includes the patient and family in the treatment process from the very beginning – a program that directly addresses the first episode patients. As I've read about Open Dialog, I've also been impressed and expect I'll be reviewing it here shortly as well, but first I want to say something else that is one of the reasons I took the time to go back and review the Vermont story from the early days.
Dr. Brooks was an innovator who rallied his staff and patients around an approach that achieved something impressive. He put his most refractory cases on the new treatment [Thorazine] that helped 40% leave the back ward of the hospital. Buoyed by that success, he re-educated his staff and developed a program that was value added to the medication and helped many of the remaining non-responders move on to a much better life. It was a remarkable and enduring achievement. In fact, the Rhetoric associated with his program was exactly what I was taught as a psychiatric resident in 1974 when I started my training – the Rhetoric of the Community Mental Health Movement. I later even taught those very principles myself when I was on the faculty. But the Reality I saw was something very different. I saw chronic mental patients living under bridges and moving through what we called "revolving door" hospitalizations. Over the years, I saw "transinstutionalization" – the jails and prisons filling up with mental patients rather that the heroic successes of the Vermont experiment. I saw my friends in Public Mental Health "burning out" more quickly as centers and hospitals evaporated. And I saw anything that worked drowning under the weight of decreasing funds and an increasing case load. The Rhetoric/Reality gap has been consistent for the forty years I've been around.
When I look back at the Vermont studies, I question why some version of their program hasn't been widely implemented for the last fifty years. The only part that really consistently stayed with us was the Thorazine [or some equivalent]. That's what I saw in the 1970s and that's what I see now. I would attribute that to several things. First, the Vermont program was initiated by Dr. Brooks and a staff that had fire in their bellies – they were on a mission. That's a major factor in their success. And it was more or less time limited [outrunning burnout]. Second, Vermont is a homogeneous place – mostly rural or village/town based. Such a program is made for that kind of world. The Open Dialog program is in a similar location in Finland. Those communities tolerate chronically mentally ill people in a different way than urban environments. I live in such a place now, and can see that in my daily life away from the metropolis of Atlanta.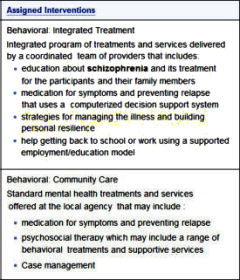 So when I look at the RAISE program and the push to implement it on a large scale, I think several things. I see nothing in the psychopharmacology manual that says what I want it to say – use antipsychotic medications only when you need to and the idea of using medications for life has long outlived any rational justification. The notion of using a computerized decision support system to medicate patients is unjustified by any science I know and antithetical to the principles of clinical medicine. The Individual Resiliency Training [IRT] Manual is paternalistic and not based on any understanding of the patients it's designed to treat or the paths to the outcome being aimed for. Put it on the Internet along with the materials for any number of other approaches and let the individual programs figure out how they can best serve the clients they're trying to help. Include what Dr. Brooks said, what's happening with Open Dialog in Finland, etc. Develop another module to train the staff called "on being psychotic" developed by recovered patients and people who have spent their lives working among these patients – something designed to give new staff an acquaintance with the experience and difficulties involved in living with what has happened to their clients. And think about an ongoing staff project/meeting where people present their cases or things they've read about helping them. But most of all, do any and everything possible to help the staff develop the kind of "fire in the belly" that makes such programs actually work. Finally, adapt the program to the social and cultural environment where it's being implemented. There will never be a one size fits all program.
The only thing that survived from Dr. Brooks on a consistent basis was Thorazine. It was an important ingredient, but only an ingredient, not the ingredient. We have a half century of evidence to back up that statement. On the other hand, we've had a number of patches of blue along the way that let us know that these patients are treatable if we put our minds and backs to it. I doubt RAISE as presented takes the best of what we know and puts it into practice, but I'm glad they gave it a shot. I look forward to the results, but I'm absolutely sure we know how to do it better. Treating psychotic people is more a labor of love and test of endurance than a day job…