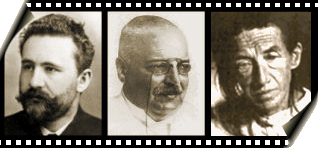 Emil Kraepelin Alois Alzheimer Auguste Deter
In 1907, Alois Alzheimer working in the lab of Emil Kraepelin, presented the brain findings on his patient, Auguste Deter, a woman who had died after developing dementia at age 51. Besides general brain shrinkage, there were characteristic microscopic findings: plagues in the extracellular spaces and neurons with neuro·fibrillary tangles in the cytoplasm.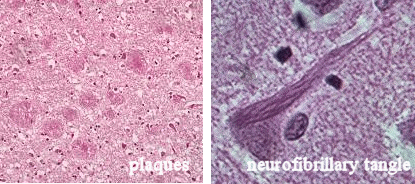 Plaques were known from cases of senile dementia, but the tangles were felt to be a unique finding in pre·senile dementia. Kraepelin immortalized his colleague after Alzheimer's untimely death by using his name in his classification. When I was a medical student, I was taught that the term Alzheimer's Disease was reserved for the pre·senile cases, but in recent times, that distinction has fallen by the wayside – so Alzheimer's Disease is a progressive dementia with characteristic brain findings.
There are a number of neurodegenerative diseases with distinguishing features listed in the DSM-5: Alzheimer's disease, Frontotemporal lobar degeneration, Lewy body disease, Vascular disease, Traumatic brain injury, Substance/medication use, HIV infection, Prion disease, Parkinson's disease, Huntington's disease, Another medical condition, Multiple etiologies, Unspecified. In the case of Alzheimer's, the diagnostic feature has formerly only be seen at autopsy, though there are apparently scans and other tests becoming available for antemortem diagnosis. There is a rare form that runs in families with a genetic marker and the findings are seen in the dementia that can develop with Down's Syndrome. Since there's no sure diagnosis in life, the DSM-5 provides probable and possible variants.
The DSM-5 added yet another distinction – a syndromatic diagnostic pair: Major Neurocognitive Disorder and Mild Neurocognitive Disorder. So now there are four possible Alzheimer's diagnoses:
Major Neurocognitive Disorder, probable Alzheimer's Disease

Major Neurocognitive Disorder, possible Alzheimer's Disease

Mild Neurocognitive Disorder, probable Alzheimer's Disease

Mild Neurocognitive Disorder, possible Alzheimer's Disease
I'll spare you the various criteria. They're as you imagine – Alzheimer's and Alzheimer's lite. Dr. Frances focused on this new distinction in his critique of the DSM-5 and when it was approved, he wrote:
APA approval of DSM-5 is a sad day for psychiatry.

Psychology Today: DSM5 in Distress

by Allen Frances MD

December 2, 2012

This is the saddest moment in my 45 year career of studying, practicing, and teaching psychiatry. The Board of Trustees of the American Psychiatric Association has given its final approval to a deeply flawed DSM 5 containing many changes that seem clearly unsafe and scientifically unsound. My best advice to clinicians, to the press, and to the general public – be skeptical and don't follow DSM 5 blindly down a road likely to lead to massive over-diagnosis and harmful over-medication. Just ignore the ten changes that make no sense…
I felt sad too. I was as surprised as Dr. Frances that they never really engaged his [or anyone else's] campaign. They had agendas and they pressed ahead no matter what came along until they were forced to drop some of their more bizarre diagnostic changes.
The motives of the people working on DSM 5 have often been questioned. They have been accused of having a financial conflict of interest because some have [minimal] drug company ties and also because so many of the DSM 5 changes will enhance Pharma profits by adding to our already existing societal overdose of carelessly prescribed psychiatric medicine. But I know the people working on DSM 5 and know this charge to be both unfair and untrue. Indeed, they have made some very bad decisions, but they did so with pure hearts and not because they wanted to help the drug companies. Their's is an intellectual, not financial, conflict of interest that results from the natural tendency of highly specialized experts to over value their pet ideas, to want to expand their own areas of research interest, and to be oblivious to the distortions that occur in translating DSM 5 to real life clinical practice…
That last paragraph is the place where I disagreed with Dr. Frances some. I wasn't convinced that he was right. I'm still not. I think he was correct that the DSM-5 wasn't composed of a gang of sociopaths. But I personally think that there was real industry influence in places in the Task Force, and one of those places I'm most suspicious about is the one I'm writing about right now – Alzheimer's Disease.It was number 3. on his please ignore list:
[3] The everyday forgetting characteristic of old age will now be misdiagnosed as Minor Neurocognitive Disorder, creating a huge false positive population of people who are not at special risk for dementia. Since there is no effective treatment for this 'condition' [or for dementia], the label provides absolutely no benefit [while creating great anxiety] even for those at true risk for later developing dementia. It is a dead loss for the many who will be mislabeled.
We agree that adding Minor Neurocognitive Disorder gave us nothing except diagnostic sprawl and makes little sense [but it's unfortunately beginning to make more sense now]. When Cosgrove and Krimsky released their COI article in the lead up to the DSM-5 being approved is when my nose started twitching. I graphed their findings then:
PLoS Medicine

by Lisa Cosgrove and Sheldon Krimsky

March 13, 2012
Back when I first read this, I got it that the two most compromised workgroups were Sleep and Neurocognitive Disorders, but when I went back and looked today at the actual graph in the study, the Neurocognitive Disorders were the most changed from the DSM-IV. It looked to me like somebody had stacked the deck this time around.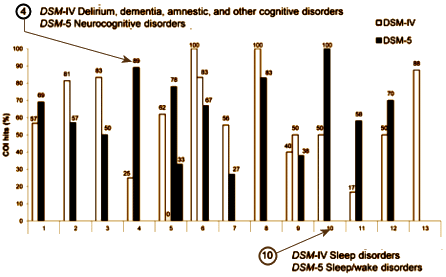 And when I went back and looked at my forest plot of the results of the DSM-5 Field Trials, there was something really not quite right about those Mild Neurocognitive Disorder results: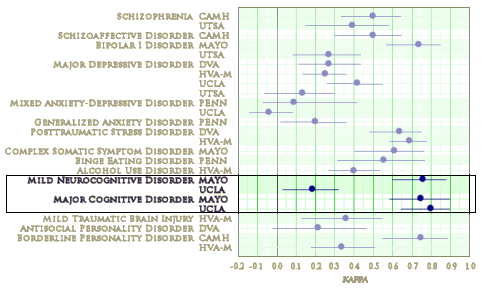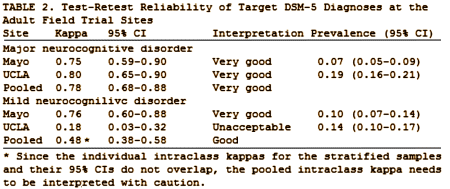 I didn't spend all that time looking back at these things for no reason. All of a sudden, Alzheimer's is quite the rage these days, more on the financial front pages than in our journals [yet] – but it's where the action is right now. I'm obviously concerned that adding Mild Neurocognitive Disorder was a pre-emptive strike aimed at expanding the market for some future treatments. If they get any of the drugs in development approved, no matter how weak the effect size, people with Mild Neurocognitive Disorder are going to be clammoring to take it, whether it's approved for Alzheimer's lite or not, whether it's known if Alzheimer's lite is a precursor of Alzheimer's proper or not. And some of the strategies are going to be dangerous biologics [like monoclonal antibodies to beta-amyloid], and will likely cost a fortune. So I've run out of room in this post for much more than speculation, but I think some information on the R&D going on in this area will be coming soon. Don't get me wrong, if they can find a real way to halt the progression of Alzheimer's Disease, more power to them. But I'm wary that this is an area that's vulnerable to exploitation, and this target population is among our most vulnerable [and exploited] already. So this is a topic that needs looking into…