But our discussions of mental illness rarely focus on this inconvenient truth: these illnesses are currently just as fatal as the "big killers." We must continue to invest in research to develop new and more effective treatments for people with depression and other mental illnesses. The goal must be a future in which no lives are lost as a result of suicide.
"It's very important that we stop seeing these illnesses as false and stop blaming patients and see them for what they are — which are medical conditions, genetic conditions, brain disorders that require appropriate diagnosis, treatment, care, and support,"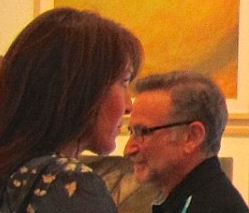 I sincerely doubt that there will come a time when some pill will come along that will quickly whisk away the kind of profound depression that Robin Williams was apparently suffering. He was no stranger to feel better pills, and chose not to take them – to his credit. There were a myriad of risk factors we know about: waning celebrity; financial problems; a cancelled tv series; the diagnosis of Parkinson's Disease [which can be associated with Depression over and above as a stressor]. He was sleeping 18 hours a day and had no appetite. In his last picture, his weight loss is obvious.
I don't want to pile on with after the fact analysis. There's plenty enough of that coming from everywhere. But there is one thing that needs saying. A mainstay of treatment for patients with this kind of profound depression is hospitalization. And one of the reasons is protection from suicide. This is the kind of depressive illness that got lost in the 1980 DSM-III Revision that lumped it in with the more usual depressive illnesses – once called neurotic depression. Independent of one's theories about the etiology or nosological preferences, impulsive suicide is a constant risk in such severe depressions, so protective hospitalization is a big part of any rational treatment plan – or at least it was. Managed Care and the psychopharmacological revolution have essentially eliminated the kind of mental hospitalization such patients need. It's a paradox that with all the modern talk about depression, this kind of depression with delusional hopelessness and unbearable pain has gotten lost in the shuffle.
In June, Robin Williams checked in to the Hazelden Rehabilitation facility. not because of a relapse, but for a "tune up" of his sobriety. Maybe people do that, but I've never heard of such a thing. My guess is that he was looking for help in the only way he knew how, but that's not what he needed. This kind of Depression is uncommon, but in a modern world, the "diagnosis, treatment, care, and support" that Dr. Summergrad mentions are rarely, if ever, available for these particular patients…
---
"…the pain of severe depression is quite unimaginable to those who have not suffered it, and it kills in many instances because its anguish can no longer be borne. The prevention of many suicides will continue to be hindered until there is a general awareness of the nature of this pain. Through the healing process of time — and through medical intervention or hospitalization in many cases — most people survive depression, which may be its only blessing; but to the tragic legion who are compelled to destroy themselves there should be no more reproof attached than to the victims of terminal cancer."