Disclaimer: In early high school, my teacher returned a theme paper with a big red mark followed by red question marks. I had spelled the word business wrong. I'd put busyness. She thought I'd had a slip of the pen, but she was wrong. That's how I thought it was spelled. One thing – it's likely the first time I'd even written the word [age 16]. Another thing – my spelling wasn't a Freudian slip either. It was an editorial. I grew up with an Italian Immigrant father who would've bartered with the Sun about what time it came up if it were possible – a businessman. I, on the other hand, found a path into my seventies without involving myself in business [busyness], even in private practice. It's hard to do that [impossible if you don't marry someone who enjoys that kind of thing – and still clips grocery coupons]. I say this because I'm about to talk about the pharmaceutical business [and busyness], and you need to know about my peculiar [apparently un·treatable] affliction to put what I say in context…
---
When I was in medical school in the 1960s, we were given engraved doctor bags with stethoscopes, tuning forks, and reflex hammers by Eli Lilly on the first day of school. The CIBA™ anatomy atlases with the amazing art by
F. Netter
held an equal and sometime superior place on the shelf with Gray's Anatomy. I probably never bought a ball point to take notes during my whole four years as a student, certainly not thereafter. Back then, the pharmaceutical companies sold the company brand, not the drugs, so I don't recall even knowing the difference between brand and generic drugs until a little gray was showing in my hair. The only drug whose manufacturer I'm sure I knew in med school was the diet pill
Dexamyl
® [SmithKlineFrench™], because we haunted their rep tables for samples [for those teeth-clenching all-nighters back when such things were a badge of honor rather than drug abuse]. There was no drug advertisement except to physicians. In part because of my aversions to
business
, I was mainly in charity hospitals or in the government service [State, VA, NIH, Military] until my mid forties, so I'm no resource for when things changed. I can only say that the change-over from brand-promoters to product-selling-machines was very real and quite dramatic, but I neither know exactly
when?
nor for that matter, precisely
how?
it happened:
This post from Ed Silverman Friday got me thinking about that in a little bit of a different way:
Pharmalot

Seventeen years ago, the government of Canada and the pharmaceutical industry struck a bargain. The country would extend patents for medicines and, in return, drug makers committed to spend 10% of their revenue on R&D in Canada. But it has not worked out that way and a public policy row has broken out over the extent to which the agreement may have denied Canadians speedier access to lower-cost generics. Why? Industry spending has fallen short of the mark every year for more than a decade. Last year, for instance, the amount of revenue dedicated to R&D activities in Canada was, collectively, 5.4% among drug makers with operations there, or $652 million, according to a recent report from the Patented Medicine Prices Review Board, a government agency.

The last time the pharmaceutical industry spent the agreed upon 10% of revenue on R&D work was in 2002. Since then, the amount of spending has declined each year. And when factoring in all drug makers, including those without operations in Canada, the portion of industry revenue spent last year on R&D was 4.5%. R&D spending was highest in 1997, when it reached 12.9% of revenue [see Table 16]….

adapted from [Table 16]
Note: These are raw figures uncorrected for inflation, but the shape is the same corrected or not.
My first reaction was predictable. Those [expletives deleted]! I got to wondering if the same thing happened in the US, having read so many articles about PHARMA closing R&D facilities all over the place, essentially eliminating R&D with CNS [psychiatric] drugs. I hit a snag. I found a ton of graphs through 2008 that looked like this one…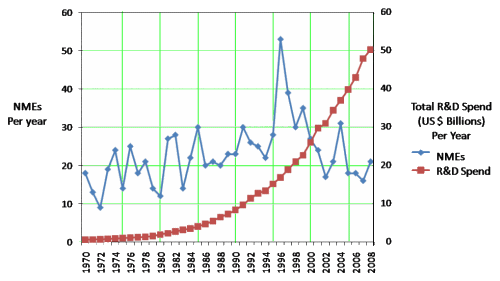 ..but I couldn't find one that came to the present and had both Total Sales and R&D Spending. I finally found this one, but the part highlighted gave me pause. Was it accurate? or a sales job?
Then I realized what all these graphs were about and why there were so many versions. They were meant to show that the big increases in spending had not payed off in N.M.E.s [New Molecular Entities]! They may not have been living up to their promises in Canada, and the spending in the US may have flattened out in spite of increased sales, but they were still spending a boatload of money, and coming up empty-handed. Then I found one that had all the bells and whistles – a long timeline antedating the Kefauver/Harris Act, a logarithmic scale to dampen short term fluctuations, and adequate correction for inflation. The story it tells couldn't have been much clearer: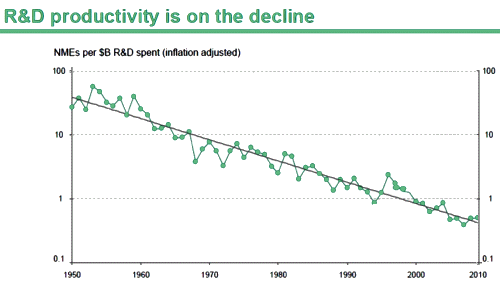 Maybe the rest of you already know what this means and it's old hat. But it's something that I haven't really fully either understood or considered deeply. I'm going to just sleep on it [Disclaimer and all] before commenting further…