I'm sure we're not out of drugs forever, but we've sure picked the low fruit, and then worked our way pretty far up the tree. A bit of mold on a petri dish kills staphylococcus; a new TB drug perks the depressed guys on the Chest Ward; a tweaked antihistamine that shuts down psychotic symptoms – that kind of serendipity is taken. And the hard work with similar compounds or similar pathways added some value, better tolerability. But the odds of an antipsychotic that isn't neuroleptic are approximating zero. The same for an antipsychotic that improves negative symptoms. Many of us think that the symptomatic improvement of depressive affect may not have a much higher mark, particularly in patients with life/mind/social problems that transcend their biology. And how much more mileage is there in the war on serum lipids? This graph implies to me that we've passed the point of diminishing returns – probably even overshot: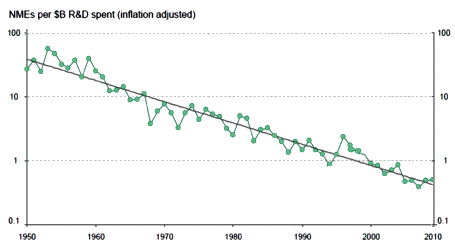 Click the graphic for the article
Edited for clarity
We've mined our current science, and we don't really know if there's a new next science that will add very much, at least any time soon. That's what the PHARMA laboratories say and have been saying. I've had trouble giving their assertion proper valence because I've become so used to looking for the tricks in their words that I seem to have glossed over the main message [and there have been tricks enough to justify my skepticism!]. This next graph is from Janet Woodcock, MD Director, Center for Drug Evaluation and Research – FDA called "Today's Biomedical Innovation: Lost in Translation?" In this slide, she makes clear that the PHARMA spending has not fallen off as much as the public spending – approaching close to $ 80 B/year:
In the summer of 2011, PHARMA essentially exited CNS Drug development [suddenly, last summer…] and the DSM-5 Task force was forced to admit that its planned biologically based DSM-5 was being scrapped for lack of evidence. Speeches were given; meetings were held [APF Convenes Unique Pipeline Summit], rants were ranted [Are future psychiatric treatments doomed?]. The neuroscience base was stalled along with drug development. Dr. Insel had long tried to keep the NIMH focused on biological research and treatments, and the NIMH went into high gear. The slide above is parodoxical in that it shows that the PHARMA resources far exceed the NIH Budget. The party line was that industry had stuck with 'me-too' drugs and that the NIMH needed to pick up the ball and intensify its drug research endeavors with creativity and innovation. Both Drs. Woodcock [top slide below] and Insel [bottom figure below] showed us how hard and expensive it was for PHARMA to develop a new drug. Notably, neither pointed out that their figures came from 'the end of the line' – when there were 'slim pickings' [see the first graph above]. Both saw the development of new molecules as the job of academic researchers, someone else who fell down on the job: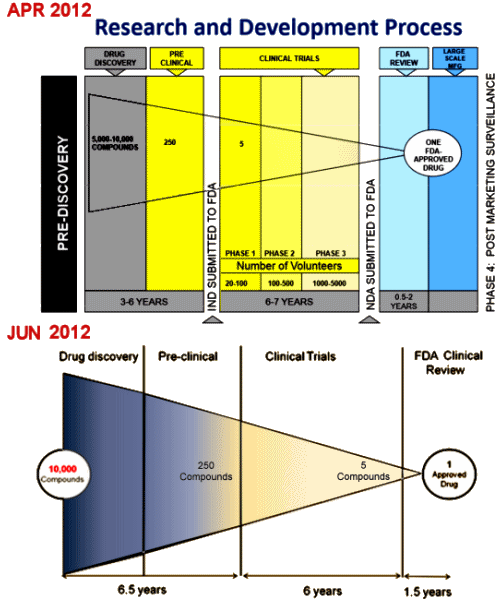 They were joined in this rhetoric by former NIMH Director, Stephen Hyman [hope and hype…]. Now it's two years later and the NIMH leads us ahead with an RDoC [Research Domain Criteria] and an NCATS [National Center for the Advancement of Translational Science] with all kind of new, innovative, novel strategies [see rather than micromanage…].
But around that same time, there was another voice [APR 2012] – a wise voice:
An Editorial

by H. Christian Fibiger

Schizophrenia Bulletin. 2012 38[4]:649–650.

Psychopharmacology is in crisis. The data are in, and it is clear that a massive experiment has failed: despite decades of research and billions of dollars invested, not a single mechanistically novel drug has reached the psychiatric market in more than 30 years. Indeed, despite enormous effort, the field has not been able to escape the "me too/me [questionably] better" straightjacket. In recent years, the appreciation of this reality has had profound consequences for innovation in psychopharmacology because nearly every major pharmaceutical company has either reduced greatly or abandoned research and development of mechanistically novel psychiatric drugs. This decision is understandable because pharmaceutical and biotechnology executives see less risky opportunities in other therapeutic areas, cancer and immunology being the current pipeline favorites. Indeed, in retrospect, one can wonder why it took so long for industry to abandon psychiatry therapeutics. So how did we get here and more importantly, what do we need to do to find a way forward?

The discovery of all three major classes of psychiatric drugs, antidepressants, antipsychotics, and anxiolytics, came about on the basis of serendipitous clinical observation. At the time of their discoveries, the mechanisms by which these molecules produce their effects were unknown, and it was only later that antipsychotics were shown to be D2 receptor antagonists, antidepressants monoamine reuptake inhibitors, and anxiolytics GABA receptor modulators. It is interesting and perhaps instructive to consider whether any of these classes of drugs could have been discovered by current drug discovery strategies. For example, what genetic or preclinical data exist that point to the D2 dopamine receptor as a likely target for antipsychotic activity? Presently there are no genetic data that suggest that this receptor is expressed or functions abnormally in psychotic disorders. And without the benefit of the prior clinical validation, it is difficult to see how preclinical data alone would point to the D2 receptor as an interesting potential target for the treatment of psychotic disorders. The same can be said for monoamine transporters with respect to depression where, like psychosis, there are no animal models based on disease pathophysiology and no compelling preclinical data pointing to these as potential targets for antidepressant drugs. This raises a troubling question: if in retrospect the three major classes of currently prescribed psychiatric drugs would likely never have been discovered using current drug discovery strategies, why should we believe that such strategies are likely to bear fruit now or in the future?…

There are likely additional potentially productive ways to get psychiatric drug research and development back on track but a few things are now clear: [1] what the field has been doing for the past 3 or 4 decades has failed to generate effective, mechanistically novel psychopharmaceuticals, [2] the pharmaceutical industry is now well aware of this fact and has therefore greatly reduced investing, and [3] there is no choice but to make changes in how we approach the study of disease mechanisms, drug discovery, and development in psychiatry. This will require major investments in neuroscience research, humility in the face of our ignorance, and a willingness to consider fundamental reconceptualizations of psychiatry itself. It will be a long, important, and exciting march.
At the time, I wrote, "How refreshing to read such an honest assessment of the current era! particularly from someone who has been involved in industry himself":
Department of Psychiatry, University of British Columbia Vancouver, B.C., Canada. Subsequent to his academic career, Dr Fibiger was Vice President of Neuroscience at Eli Lilly and Company, Vice President of Neuroscience at Amgen, and Senior Vice President and Chief Scientific Officer at Biovail Laboratories International.
Like Drs. Insel, Hyman, and Woodcock, Dr. Fibiger suggests a change in direction. But there's a subtle and important difference. They blame PHARMA and Academia for not thinking out of the box. They see PHARMA cutting CNS drug development as abandoning ship. Dr. Fibiger sees it differently [and I'm beginning to think, more realistically]. The NIMH-ers have a belief that the better drugs are out there in some cosmic karmic space waiting to be located. And while he suggests the same retooling and massive cosmetic surgery on psychiatry and psychiatric research, the music is much more tentative.
All of these people [Insel, Hyman, Woodcock, Fibiger] and the collective APA hierarchy [APF Convenes Unique Pipeline Summit] seem to be desperately looking for a way to redirect our efforts at any cost to keep the dream alive, including reshaping psychiatry and psychiatric diagnosis [again!]. I find myself in a more pragmatic frame of mind as one might expect from my background. I think slim pickings are slim pickings. I doubt that there are magical drugs just around any corner waiting to be harvested by these new approaches. I now believe PHARMA gave it the old college try and "it is clear that a massive experiment has failed: despite decades of research and billions of dollars invested, not a single mechanistically novel drug has reached the psychiatric market in more than 30 years." They are the best financed act in town with a bevy of the best scientists available. They are surely the most motivated – finding silver bullets is their only reason for being. I'm sure that PHARMA would love to find better drugs than they've offered us recently. They'd much rather build their brand and fill their coffers from genuine breakthroughs than slithering around marketing the weak [and sometimes toxic] sisters they've sent our way [lying about their safety and efficacy]. But they can't find those wonder drugs – and they could've bought a small country for what they spent on looking.
Doctors do, or at least should do, a lot more than just hand out medications. Doctors take care of sick people. I doubt that any of those four [Insel, Hyman, Woodcock, Fibiger] know that in their souls, because they've never much practiced. Rather than putting so many eggs [and so much treasure] into a single [already worn out] basket. How about putting the focus back on the care of the sick? There's plenty to do in that regard, and it doesn't rely on serendipity. For right now, we're all out of drugs…