While it's not my usual fare, I saw something on Twitter that reminded me of a thought from long ago and I chased it down. When I was an Internist, it was the early days of treatment guidelines. They were beginning to show up frequently. They began to move into areas of preventive medicine – like when to treat high blood pressure, risk factors for heart disease, diabetes, cholesterol levels, etc. I didn't like some of them, actually more than some. Many seemed like the suggestions from people based on small differences by people with a monocular focus. Some didn't bother me. I didn't mind commenting on smoking, obesity, etc. – the usual suspects. But treating minor blood pressure elevations was anything but benign. The medications of the day made people sick, or at least feel bad. I had no real confidence that the recommendations were true representations of the patient's real future. It wasn't the reason I changed specialties, but I didn't miss the increasingly stringent guidelines when I left. I guess I saw my job as treating sick people. As much as I respected the wisdom and miracles of preventive medicine, I thought many of the then newer recommendations were pushing the preventive metaphor too far.
Here so many years later, that feeling is still with me. I don't feel comfortable at all with the Statins for minimal lipid elevations, and don't take them myself. Nowadays, there's the added concern about industry interference. Today, on the way home from the clinic, I passed a pharmacy with multiple signs stuck by the curb advertising vaccines of many kinds, only one of which made sense to me. Last week at a routine physical, my doctor mentioned several that I question. I didn't say anything [but the look on his face suggested that he was on to my skepticism]. It's not a big deal to me, but I do think that the many recommendations and reports that are all over the evening's news are often examples of very small differences – differences that don't necessarily make a difference.
So on Twitter, I saw this graph from a recent Japanese study…
Low-Dose Aspirin for Primary Prevention of Cardiovascular Events in Japanese Patients 60 Years or Older With Atherosclerotic Risk Factors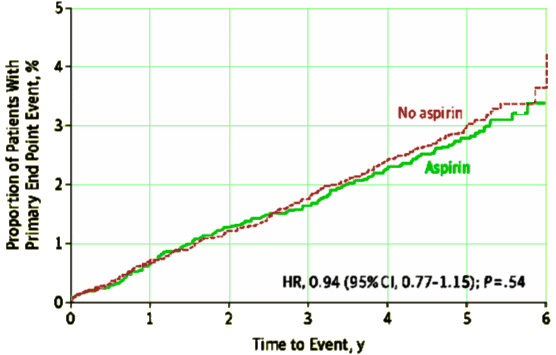 [
click for full text
]
… published with this
editorial
. It was intended to be a 6.5 year study but was stopped at five years for
futility – a
term for
going nowhere
, not changing over time.
In the editorial, they review the earlier studies in detail in what seems to be a balanced way and I leave that to you to read for yourself. In my reading all of this, I thought about two things. First, the risk/benefit ration in this case is clear – a baby aspirin a day is near no-risk for the overwhelming majority of people. It is unlikely that this issue gets into Conflicts of Interest or much in the way of industry interference [even if "baby aspirin" costs more than adult doses of aspirin these days].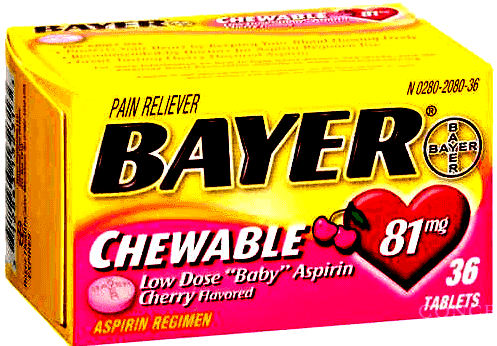 My point isn't about baby aspirin. I don't take them myself, but if I had exertional chest pain, I might. If I ever have an oppressive substernal chest pain radiating down my left arm, I bet I'll take Aspirin first, then call 911. My point is about the use of statistics in medicine in general. I'm moderately savvy as doctors go about statistics – a numbers guy by nature who likes quantification in almost any flavor. But statistical predictions feel out of hand to me. My specialty, psychiatry, has gone through a very long period where small differences have often been magnified to an outrageous degree and mere statistical significance has been presented as a surrogate for true clinical relevance. It's not.
That Japanese study was on the news as expected. Should anyone change what they're doing because of the news reports? I don't think so. No one study is worth making changes unless it represents a real danger. But considering the general trends in reported research and the rapid dissemination of information in modern times, medicine as a whole would be well placed to spend some real time on the question of clinical relevance. We owe our patients help sifting through the vast amount of information that bombards us from all directions in both our prescribing and in education. My personal preference would be for there to be a specialty or an agency that evaluates all of this minute to minute reporting of preventive medicine advice and tries to separates the wheat from the chaff with the specific charge of turning statistical significance into the more important parameter – clinical relevance which is often a yes-no rather than statistical question.