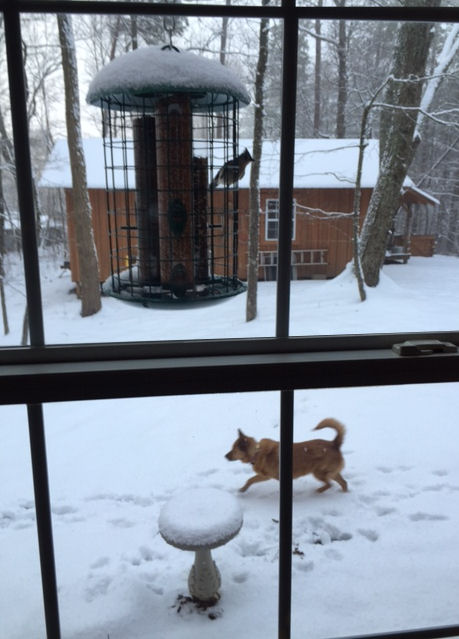 Georgia Morning
A few years back, I made an attribution error [Adolf Meyer [1866-1950]…]. I credited Adolf Meyer, the influential early American Psychiatrist with the bio·psycho·social model. It was an easy error to make. Meyer's model was psycho·biology and Meyer's wife was a major founding figure in American Social Work. But looking back, it highlights how sometimes big things are happening all around you, but you're too caught up in your own scene to see them: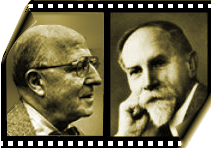 The
bio·psycho·social
model was actually proposed by
George Engel
in 1977 in an article in Science – Mea Culpa:
by George L. Engel

Science. 1977 196[4286]:129-136.
The article opened with:
At a recent conference on psychiatric education, many psychiatrists seemed lo be saying to medicine, "Please take us back and we will never again deviate from the 'medical model.'" For, as one critical psychiatrist put it, "Psychiatry has become a hodgepodge of unscientific opinions, assorted philosophies and 'schools of thought,' mixed metaphors, role diffusion, propaganda, and politicking for 'mental health' and other esoteric goals". In contrast, the rest of medicine appears neat and tidy. It has a firm base in the biological sciences, enormous technologic resources at its command, and a record of astonishing achievement in elucidating mechanisms of disease and devising new treatments. It would seem that psychiatry would do well to emulate its sister medical disciplines by finally embracing once and for all the medical model of disease.

But I do not accept such a premise. Rather, I contend that all medicine is in crisis and, further, that medicine's crisis derives from the same basic fault as psychiatry's, namely, adherence to a model of disease no longer adequate for the scientific tasks and social responsibilities of either medicine or psychiatry. The importance of how physicians conceptualize disease derives from how such concepts determine what are considered the proper boundaries of professional responsibility and how they influence attitudes toward and behavior with patients. Psychiatry's crisis revolves around the question of whether the categories of human distress with which it is concerned are properly considered "disease" as currently conceptualized and whether exercise of the traditional authority of the physician is appropriate for their helping functions. Medicine's crisis stems from the logical inference that since "disease" is defined in terms of somatic parameters, physicians need not be concerned with psychosocial issues which lie outside medicine's responsibility and authority…
and ended with:
THE BIOPSYCHOSOCIAL MODEL AS A SCIENTIFIC MODEL
I hope the example of Mr. Glover, with all of its oversimplification, indicates how the working conceptual model used by the physician can influence the approach to patient care. The biopsychosociaJ model is a scientific model. So, too, was the biomedical model. But as Fabrega pointed out, by now it has become transformed into a folk model, actually the dominant folk model of the Western world. As such it has come to constitute a dogma. The hallmark of a scientific model is that it provides a framework within which the scientific method may be applied. The value of a scientific model is measured not by whether it is right or wrong but by how useful it is. It is modified or dis- carded when it no longer helps to generate and test new knowledge. Dogmas, in contrast, maintain their influence through authority and tradition. They resist change and hence tend to promote opposition and the promulgation of rival dogmas by dissident figures. The counter dogmas being put forth these days in opposi- tion to biomedical dogma are called "holistic" and "humanistic" medicine. They qualify as dogmas to the extent that they eschew the scientific method and lean instead on faith and belief systems handed down from remote and obscure or charismatic authority figures. They tend to place science and humanism in opposition. But as the history of the biomedical model itself has shown, progress is made only where the scientific method is applied. The triumphs of the biomedical model all have been in the areas for which the model has provided a suitable framework for scientific study. The biopsychosocial model extends that framework to heretofore neglected areas.
It was followed by this next article which was presented at the 1979 APA Convention and published in the American Journal of Psychiatry in the same month in 1980 that the DSM-III was presented and adopted at the APA Convention:
BY GEORGE L. ENGEL,, M.D.

American Journal of Psychiatry. 1980 137[5]:535-544.
Engel was actually a figure in my own life back in the day. I was an internist who had discovered that practicing medicine wasn't quite like it had been in training. Following the patients from beginning to end, I quickly realized that there was more to doctoring than the science of disease I had learned, because the persona and the life of the patient had so much more to do with the treatment of patients than was apparent in the environment where I trained. I had learned about disease from the knowledge gained from groups united by diagnosis, but practicing medicine was with one patient at a time, and the one part was a lot bigger factor than I might have ever imagined. Engel was an internist who had become a major figure in psychiatry and psychosomatics. I had read his work and considered applying to psychiatry in Rochester where he was because he was there when I decided to add psychiatry to my skillset. But after spending three years in Europe as a soldier, I think I was ready to come home, and ended up in Atlanta where, unlike Rochester, today's snow is considered a blizzard ['southern born and southern bred' as they say]. I finished my psychiatry residency in 1977 and by 1979 & 1980, I was directing a residency, in Analytic training, and way too busy to know about the coming storm. I went to neither APA Convention [1979, 1980]. The young faculty like me stayed at home and kept the home fires burning.
So when Dr. Carroll said in his comment yesterday, "… we can agree about the historical failure consistently to implement the biopsychosocial model in the care of patients with schizophrenia", he wasn't kidding. I really didn't know that Engel had introduced that model during and as part of the controversies that swirled around in those days when the DSM-III was in the works. Thinking about it now, from my perspective I'm not sure it was consistently or fully implemented anywhere – period.
Southern storm duties call me right now. Wood for the fire, etc. But I think it's a good place for me to take a breather and gather my thoughts. In the meantime, I refer you to the debate that went on in the comment section of my post which side of the street?…. It's well worth the read both for content and how such exchanges should be conducted – respectfully…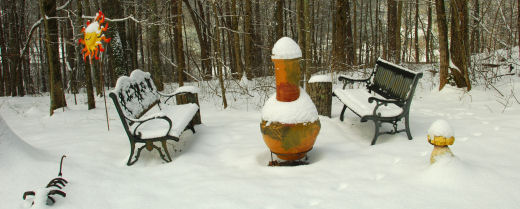 I call it "winter park benches with chiminea"