NIMH

by Tom Insel

03/26/2015

… This update of our Strategic Plan is a commitment to take a fresh look at our horizons so that we can refine priorities and energize our path of discovery.

We know that some scientists reject the concept of "directed science," believing that science rarely follows a plan. True, important discoveries often result from serendipity or side roads rather than a premeditated, carefully articulated strategy. On the other hand…

While the tools of genomics and neuroscience now permit rapid progress, equivalent tools and paradigms to study environmental influences are just being developed. Over this next 5-year period, we can expect this new approach to environmental factors, sometimes called the exposome, to yield more scientific traction in understanding the mechanisms by which environmental factors alter brain and behavior, from prenatal development through the process of aging…
After a number of years of reading someone's writing, you sort of pick up on their rhetorical style. For example, when Tom Insel is discussing something he's been criticized for [like being
a control freak
], he always puts the criticism first [
"important discoveries often result from serendipity"
], then says something like "
On the other hand…
" and carries on along the path he favored in the first place, ignoring the criticism altogether. In this case, it means continuing to be
a control freak
. And watch out for his neologisms – things like
genomics, protenomics, connectome
, – or buzz phrases –
personalized medicine
,
translational medicine
,
neural circuits
, etc. This new one [
the exposome
] is particularly creative [not to be confused with
the envirome
or the
the interactome
]. At first, I thought that
the exposome
looked promising [
are we finally going to recognize that there are factors outside the genetic endowment that effect the mental state?
]. But, alas, these are terms generated after the Genome Project that have to do with speculations about how the outside world might shape biology. I was looking for something more like having nutty parents or life-changing events. Oh well… And don't let the brevity of my quotes and links up there fool you. They connect to a
labyrinthine
Strategic Plan [insert
and grandiose
]. There's really not going to be much room left for that
serendipity
he was mentioning. For example [in
Objective 1: Strategy 1.1
]:
To unravel the mechanisms that lead to mental illnesses and target novel treatments to those mechanisms, more comprehensive descriptions of the molecules, cells, and circuits associated with typical and atypical behavior are necessary. What classes of neurons and glia are involved in a given aspect of mental function? Which brain regions contribute to a single thought or action, and how are these regions interconnected? These questions will be answered by defining the cellular components of circuits, including their molecular properties and anatomical connections. New tools and techniques that span biological scales—from single-cell analysis, to macro-electrode arrays, to systems-level brain imaging — are needed to address these questions.
I think the thing that bothers me the most, besides the impossibility of serendipity in Insel's NIMH, is that his grand plan is monomaniacal and based on hypotheses cum speculations that have yet to be anchored in the reality of solid science. I've spent my days with the simple idea of a Hardware/Software dichotomy for mental illness [Hardware «Melancholia, Manic Depressive Illness, Autism; maybe Schizophrenia, etc» and Software «most everything else»]. So a lot of this stuff Insel dreams of has felt like he's trying to reprogram a computer with a screw·driver and a soldering iron. I've focused more on the programming languages.
Pushing that simple analogy, many critics would go further and say that it's all software [as in the BPS Report Understanding Psychosis and Schizophrenia] or Schizophrenia: a critical psychiatry perspective] taking the psycho·social·perspective to extremes, saying that mainstream psychiatry is totally at sea in its hardware bio·perspective. But as much as I enjoy reading about the neuroscience, my take on Insel's NIMH 2015 Strategic Plan is that it's wildly speculative, making fantasmagoric extrapolations that move way, way beyond the frontiers of anything we know [but then again, I felt something similar in the other direction about the those psycho·social articles].
Back to Insel, I first started thinking about his rhetorical On the other hand… trick back when I read this blog of his a few years ago:
NIMH: Director's Blog

by Thomas Insel

January 26, 2012

NIMH, like all Institutes at NIH, has an advisory council that meets three times each year. The National Advisory Mental Health Council [NAMHC] is a distinguished group of scientists, advocates, clinicians, and policy experts. Each of our meetings includes a closed session to review individual grants considered for funding and a session open to the public that engages this diverse group in discussions about the larger issues that guide NIMH funding.

At last week's session, we heard a recurrent tension around one such larger issue. Some members of Council bear witness to the poor quality of care, the unmet medical need, and the diminishing investments by states on behalf of people with mental disorders. They reasonably ask, "How are we ensuring that the science that NIMH has produced is implemented where the need is greatest?" They also question on the pay-off of genetics research. After all, two decades after the gene for Huntington's disease was identified, we still have no effective treatments, and Huntington's disease is genetically far simpler than schizophrenia or bipolar disorder. In contrast to so many neurological diseases, we have effective treatments for schizophrenia and bipolar disorder. NIMH should be investing to ensure these are available.

The opposing argument runs something like this. There has been no major innovation in therapeutics for most mental disorders since 1960. Current treatments are not good enough for too many. Rather than investing scarce dollars for incremental improvements or increased dissemination of mediocre interventions, we need invest in the fundamental science of brain and behavior so that we can understand how to develop better treatments…
And in that blog, at the end, he pulled out the polio miracle to bolster his case.
Sixty years ago, the nation faced a similar short-term vs. long-term debate about polio. The needs were growing and the causes were unknown. Some wanted funds invested only in better services, including improved iron lungs. Others argued for investing in a vaccine with a long-term goal of eradication. As David Oshinsky explains in his outstanding retelling of this debate, the government went with the services approach, leaving advocates and families to raise funds for vaccine development. Let us hope we don't short-change our grandchildren, sixty years from today, by failing to invest in the long-term promise of more effective diagnostics and therapeutics for mental disorders.
I'm convinced that so long as it's Insel's show, the only alternatives are to send him on a prolonged [permanent] sabbatical or rename the NIMH the National Institute of Neuroscience. I mean that without tongue in cheek. He's so far into his on-the-other-hand-land basic neuroscience that there's little hope that he will ever take a balanced look at Mental Health. Even when they fund a study like RAISE-ETP in First Episode Schizophrenic patients, the psychosocial component is heavily weighted towards being a chemical imbalance and take your meds manual. And as for his ability to predict the future, how about this 2005 effort from his psychiatry as clinical neuroscience days?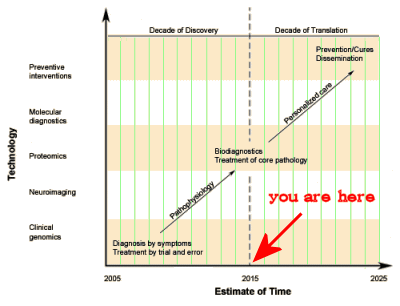 And I think I would insist that his successor, if we ever get one, be required to spend at least a half-day a week seeing patients in a local mental health clinic – something Dr. Insel has never done since his residency training.