I don't actually believe that most of the patients who showed up in my office looking for help were afflicted with a biologically determined brain disease, but from the first case I ever saw of
melancholic depression
to the present, I never doubted that biology was the major player in that condition. One of the paradoxical consequences of the biological revolution in psychiatry with the DSM-III in 1980 was that it shut down substantive research on Melancholia by eliminating it altogether [see
political sabbatical…
– Feb 2015]. In that post, I mention an editorial [
Issues for DSM-5: Whither Melancholia? The Case for Its Classification as a Distinct Mood Disorder
– Jan 2010], a plea to the DSM-5 Task Force to reinstate it written by an impressive cast of researchers. There was another excellent paper mentioned in my post that demonstrated separation among the depressive syndromes on clinical grounds [
Cleaving depressive diseases from depressive disorders and non-clinical states
– Jan 2015]. The first author of both papers was Gordon Parker, Director of the Black Dog Institute in New South Wales, Australia. And now we're treated to another nuclear paper from that group about Melancholia, this time a neuroimaging study:
by Matthew P. Hyett, Michael J. Breakspear, Karl J. Friston, Christine C. Guo, and Gordon B. Parker

JAMA Psychiatry. 2015 72[4]:350-358.

IMPORTANCE Patients with melancholia report a distinct and intrusive dysphoric state during internally generated thought. Melancholia has long been considered to have a strong biological component, but evidence for its specific neurobiological origins is limited. The distinct neurocognitive, psychomotor, and mood disturbances observed in melancholia do, however, suggest aberrant coordination of frontal-subcortical circuitry, which may best be captured through analysis of complex brain networks.

OBJECTIVE To investigate the effective connectivity between spontaneous [resting-state] brain networks in melancholia, focusing on networks underlying attention and interoception.

DESIGN, SETTING, AND PARTICIPANTS We performed a cross-sectional, observational, resting-state functional magnetic resonance imaging study of 16 participants with melancholia, 16 with nonmelancholic depression, and 16 individuals serving as controls at a hospital-based research institute between August 30, 2010, and June 27, 2012.We identified 5 canonical resting-state networks [default mode, executive control, left and right frontoparietal attention, and bilateral anterior insula] and inferred spontaneous interactions among these networks using dynamic causal modeling.

MAIN OUTCOMES AND MEASURES Graph theoretic measures of brain connectivity, namely, in-degree and out-degree of each network and edge connectivity, between regions composed our principal between-group contrasts.

RESULTS Melancholia was characterized by a pervasive disconnection involving anterior insula and attentional networks compared with participants in the control [Mann-Whitney, 189.00; z = 2.38; P = .02] and nonmelancholic depressive [Mann-Whitney, 203.00; z = 2.93; P = .004] groups. Decreased effective connectivity between the right frontoparietal and insula networks was present in participants with melancholic depression compared with those with nonmelancholic depression [χ² = 8.13; P = .004]. Reduced effective connectivity between the insula and executive networks was found in individuals with melancholia compared with healthy controls [χ² = 8.96; P = .003].

CONCLUSIONS AND RELEVANCE We observed reduced effective connectivity in resting-state functional magnetic resonance imaging between key networks involved in attention and interoception in melancholia. We propose that these abnormalities underlie the impoverished variety and affective quality of internally generated thought in this disorder.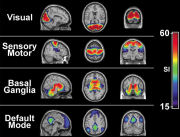 [This is a rough stab at introducing their methodology from one boring old psychoanalyst – so be gentle]. 25 years ago, Seiji Ogawa discovered that the MRI could detect the difference between oxygenated and deoxegenated hemoglobin. Since neuronal activity uses oxygen, it meant that we could actually see areas of increased neuronal activity in the brain – the blood-oxygen-level dependent contrast imaging or BOLD technique. We've all seen the pictures of areas in the brain lighting up in response to various stimulus. Attention then turned to the brain at rest, without stimuli [Resting state fMRI] where a number of consistent functional areas have been identified. These functional areas in the resting fMRI are connected, detected by timeline studies of simultaneous activity, so connection [and the direction of these connections] can be determined by some statistical/mathematical analyses beyond comprehension by most of the earth's population – certainly mine. These connections [networks] may be visible [eg connectomes] or functional. Thus ends my stab at an intro to their methodology.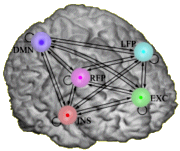 What Matthew Hyett et al did was to run resting fMRIs on 16 subjects each, from three cohorts – normals, non-melancholic depressed people, and a group with Melancholia. They identified five of the functional areas and studied their connectivity in each group. What they found was a clear separation among the three groups – documenting "reduced effective connectivity in resting-state functional magnetic resonance imaging between key networks involved in attention and interoception in melancholia."
This article begins with:
Despite advances in pursuing the neurobiological causes of clinical depressive conditions, the literature is characterized by divergent findings, likely reflecting their heterogeneity and varying causes. One such condition, melancholia [previously termed endogenous depression], has long held consistent ascriptions: being genetically weighted, having prominent biological perturbations, evidencing overrepresented clinical features, and showing a greater response to physical therapies than to psychotherapy. As psychiatry strives toward a diagnostic nosology based on genetic, behavioral, and neurobiological criteria, melancholia arguably represents a canonical test case…
Melancholia was already canonical test case way back when I started psychiatry in forty years ago, being hotly pursued by biological researchers hunting for biomarkers [eg Bernard Carroll's Dexamethasone Suppression Test, David Kupfer's REM Sleep Latency]. I now know some of the story about how and why this time-honored disease disappeared from the psychiatric diagnostic manual, but knowing the story doesn't make it any less senseless than it was in 1980 [or in 1988, 1994, and 2013 when the diagnostic system was revised]. So in the intervening years, mainstream psychiatry has pretended that all depression fits Major Depressive Disorder with some kind of biologic substrate while ignoring this one diagnosis [Melancholia] where that's most likely to actually be true. So this group studies this obvious candidate. They go on to lay out their hypothesis:
Historical failure to identify specific neurobiological correlates of melancholia is consistent with recent advances in cognitive neuroscience that regard the brain as a complex network, whereby psychiatric conditions reflect changes in functional integration rather than perturbations within an isolated region. Large-scale brain networks supporting mood regulation, interoception, and cognition [eg, concentration and attention] are thus likely candidates for furthering understanding of melancholia's neurobiology…
Then they present their data in a matter-of-fact way, and conclude:
Conclusions: We position the neurobiological features of the spontaneous dysphoria of melancholia as a weakening of interactions among regions that subserve attention,mood regulation, and interoception. Computational accounts of internally generated thought highlight the importance of a critical homeostatic balance between stable self-regulation and dynamic instability. We propose that our findings reflect a loss of this optimal balance, undermining the adaptive role of interoception.
I obviously really liked this research. In my mind, it is a definitive affirmation that Melancholia is a distinct clinical entity with demonstrable brain abnormalities. The article goes about "
furthering [the] understanding of melancholia's neurobiology.
" The neuroscience parallels our traditional clinical diagnosis. As a matter of fact, it probably wouldn't be funded by our NIMH these days: it's an uncommon illness that doesn't fit the RDoC [more like DSM-5
Major Depressive Disorder with Melancholic Features
] and it doesn't
Translate
into anything. Even though I don't really understand the vicissitudes of all of the analytic techniques, they're clear enough to follow and one of the authors [
Karl J. Friston
] was involved in their development. Likewise, Dr. Gordon Parker's work has been consistently solid science. And then there's this:
Conflict of Interest Disclosures: None reported.

Funding/Support: This study was supported by grants from the National Health and Medical Research Council of Australia [program grants 510135 and 1037196] [Mr Hyett and Drs Breakspear and Parker], Queensland Health [Mr Hyett and Dr Breakspear], and the Wellcome Trust [Dr Friston].
it feels like old times…