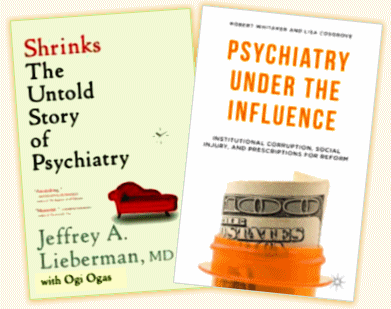 Well, this can't be a book review of Lieberman's and Ogasi's
Shrinks, the Untold Story of Psychiatry
or Whitaker's and Cosgrove's
Psychiatry under the Influence
because I've read neither, but we all have a pretty good take on what they're about. What struck me is that the titles could be interchanged, and they would still work. Lieberman's book continues the well worn theme that the 1980 revolution ushered in by the DSM-III in which Psychiatry was liberated from Psychoanalysis and put on the path of true science – so he could've worked with a title like Psychiatry under the Influence. And Whitaker and Cosgrove could've gone with Shrinks, The Untold Story of Psychiatry to illustrate how much the post-1980 version of Psychiatry has been
influenced
dominated by the pharmaceutical industry. This weekend we were offered a tête-à-tête
between the two with Dr. Lieberman's appearance on the Canadian radio program –
CBC: The Sunday Edition
– promoting his book [the operative comments come at around 51:30]. The host, Michael Enright, had interviewed Robert Whitaker previously, and played the transcript, asking Dr. Lieberman to comment:
Lieberman: "Is [Whitaker] wrong? What he says is preposterous. He's a menace to society because he's basically fomenting misinformation and misunderstanding about mental illness and the nature of treatment. What he just said in that clip you ran about, if you're taking an antidepressant and you go off it and you get sick again… the same thing could be said about insulin for diabetes and asthma medication… Whitaker, he ostensibly considers himself to have been a journalist, God help the publication that employed him, but he has an ideological grudge against psychiatry for whatever reason and there's no, what he calls research is simply his opinion and his construction of information."

Enright: "What about his contention that the unmedicated patients did better than the medicated patients?"

Lieberman: "I'd say that's absolutely wrong. If you do a controlled study with various illnesses, whether it's schizophrenia, depression, bipolar disorder, obsessive compulsive disorder, and you do a randomized study, assign one group to receive whatever the state of the art is in psychiatry including medication and you assign the other to some innocuous, non-medical type of supportive therapy or whatever, and you follow the people for a period of time the outcomes will be extraordinarily superior in the treated group. The magnitude of the difference we can sort of quibble about, but there's no doubt about it."
So here is our challenge to Dr. Lieberman. Please provide a list of randomized studies that show that medicated patients have a much better long-term outcome than the unmedicated patients. Please note that we are asking for studies that measure outcomes over the long-term, say for at least two years or longer, and are randomized, since you indicate there are many such studies. Please point out the "extraordinarily superior" outcomes for the medicated group. We presume the studies will focus not just on symptom control, but also functional outcomes…
adding:
This is not the first time Lieberman has denounced me as a crappy journalist. [See CV here.] After Mad in America was published, we were on a National Public Radio show together, where he said that my book was a travesty that set journalism back decades [as apparently I had failed to get in line with the rest of journalists writing about the wonders of modern psychiatry]. He has written other things very similar to what he told Michael Enright on Sunday, but I have to confess, I took extra pride in being called a "menace to society." I think one day I will put that on my gravestone.
Dr. Lieberman obviously sees himself as the champion and spokesman for Psychiatry. It seems to antedate his tenure as APA President. In September 2011, not long after the DSM-5 Task Force had to abandon the attempt to create a "biological" classification and it became apparent that PHARMA was closing its CNS Drug research labs, Lieberman recorded a MedScape video [Psychiatric Diagnosis in the Lab: How Far Off Are We?] about the neuroscience breakthroughs that were just around the corner. He has continued to be a cheerleader for APA and his own brand of Psychiatry [DSM-5: Caught between Mental Illness Stigma and Anti-Psychiatry Prejudice, Our Time Has Come, Psychiatry Hits its Stride as Brain Science Informs Treatment], and has continued to push for a strong relationship with PHARMA [Don't Turn Your Back on Industry, but Keep It Honest, APF Convenes Unique Pipeline Summit, Time to Re-Engage With Pharma?]. One could make the case that he is the leading [or at least the loudest] voice for the Guild of Psychiatry.
The article about mental illness was an incredibly unscholarly, misinformed, confused — at worst, unhelpful, and at best, destructive — commentary that will add to the confusion about the diagnosis of mental illness, enhance the stigma, and may lead some patients to doubt the veracity of the diagnoses that they have been given and the treatments that they are receiving…

Finally, when I read the article, disappointed and annoyed as I was, I tried to write a serious, responsible, and constructive letter to the editor, which I submitted within 24 hours. Seventy-two hours have elapsed since the article's publication. I haven't heard from the Times about their interest in publishing my response, so I assume they won't publish it. The name that I publish under is my own. My credential is the Chairman of Psychiatry, Columbia University College of Physicians and Surgeons, one of the leading departments of psychiatry in the country, past president of the American Psychiatric Association, and author of the forthcoming book for the lay public called Shrinks: The Untold Story of Psychiatry.

Assuming that my letter was not completely uninformed or incoherent, I would think that there would have been reason to accept it, given my credentials and the fact that I made a reasonable point. Let's see if they print it. If they don't, that adds further to my dismay over what I consider to be journalistically irresponsible behavior by this once-respected newspaper.
It's hard to comment on Dr. Lieberman's remarks without following the Talion Law [an eye for an eye, and a tooth for a tooth] like saying that he attacks and discounts, but doesn't address the content of the criticism – or by pointing out the arrogance of his comments about Robert Whitaker as a journalist – or his petulant remark about the New York Times' journalism – or his believing that his credentials entitle him to speak for psychiatry at large. All of those are ad hominems. And that's all I can think of to say, so I'll just stop. I wish he had…