Five years ago, I was trying to explore the factors behind our medical schools tolerating all of the Academic Psychiatrists that were so allied with the pharmaceutical industries. I could find no way to quantitate how much money was flowing into the Universities from industry. But I could find out about NIMH money, so I compiled the amounts coming to the University where I was on the faculty, Emory University. The PHARMA money was much more discretionary, but I thought the NIMH money might at least give us a sense of magnitude [see
to bring in the money…
]:
September 27, 2010

I've spent no small amount of time raling about the invasion of the Pharmaceutical Industry into Academic Medicine, specifically at Emory University where I trained and worked for some time. The Chairman, Dr. Charles Nemeroff, was relieved of his Chair in 2008 because of repeated Conflict of Interest violations. Since then, he has moved on to become the Chairman at the Miller School of Medicine in Miami. You might wonder why Miami would recruit a tarnished person, or why Emory put up with his antics so long. That question has an answer.

Dr. Nemeroff came to Emory in 1991. At that time, the Department at Emory had no

National Institute of Mental Health

Grants.

In the NIH/NIMH database, the funding amounts for grants only goes back 10 years, so I've shown the total number of grants above for the whole period and added the total funding below for the last decade

:

Dr. Nemeroff came in 1991, and stepped down under a cloud of allegations in the Fall of 2008. By that year, the Department was bringing in 18 Million Dollars yearly from NIMH Grants [up from zero when he came]. And that only includes NIMH Government Grants. While I have no access to the amounts, there was also plenty of Pharmaceutical Industry money coming Emory's way as well during those years through Dr. Nemeroff's efforts.
I ran across that old post today and was amazed as I was the day I compiled it. That's a lot of money, and there was plenty of PHARMA money coming in too – study grants and unrestricted institutional grants. I had wondered why the University had tolerated Nemeroff's antics, but wonder no more. He came in 1991, and brought in an army of researchers who brought in the money. While this is a dramatic version, this trend was manifest all over the country. On a lark, I thought I'd look into what has happened since he was asked to step down in the wake of Senator Grassley's expose of his personal PHARMA Income in 2008.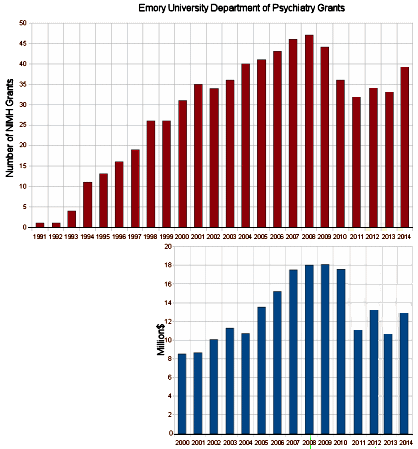 The research program Dr. Nemeroff built is holding its own. Obviously, the thing we would all like to know about is the PHARMA income coming in. What was it then? What is it now? There is no way I know of to get at those figures, but I'm absolutely sure that now is remarkably less than then [as PHARMA has moved on to greener pastures].
Unless you've been in Academic Medicine, you would have no way of knowing how medical education actually works. There is very little Institutional Support from the Universities. Much of the teaching is done by volunteer clinicians [unpaid]. In most medical specialties, the departments support themselves by delivering services – hospitals, clinics, etc. In psychiatry, we just don't generate money like the rest of medicine – don't even come close. In the 1950s and particularly 1960s, there was heavy government funding to support the Community Mental Health services flowering at the time. So departments of psychiatry were heavily invested in and supported by public medicine. In the 1970s, those resources were waning fast, and with Reagan's election in 1980, they virtually disappeared. Managed Care was slashing psychiatric services at the same time [also a resource for psychiatry departments]. Those were my days in academic medicine, and we were operating hand to mouth [on our best days].
So the government money from the NIMH heavily favored biological research; PHARMA was paying handsomely for academic connections offering lucrative institutional and product testing grants; and Managed Care was only paying psychiatrists to do medication management. Is it any wonder what happened in psychiatry? It was Darwin 101 – Natural Selection and Survival of the Fittest. Universities chose chairmen who could build like Charlie Nemeroff, who hired faculty who could bring in the government and PHARMA research money, and here we are today. That doesn't make it right, but it's what happened.