This Age of Meta-Analyses in matters of the psyche is poking holes in some broadly held paradigms, nowhere more apparent than those relating to the notion of the monolithic Major Depressive Disorder. The efficacy and safety of the SSRIs are being widely re-considered. The DSM-5 Field Trials made an assault on the bedrock reliability that vaulted Major Depressive Disorder into being in the first place: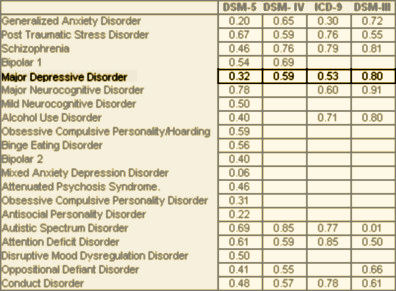 [kappa values in the DSM Field Trials]
Now we have this Meta-Analysis of one of the mainstays of treatment, Cognitive Behavior Therapy:
by Tom J. Johnsen and Oddgeir Friborg

Psychological Bulletin. 2015 May 11. [Epub ahead of print]

A meta-analysis examining temporal changes [time trends] in the effects of cognitive behavioral therapy [CBT] as a treatment for unipolar depression was conducted. A comprehensive search of psychotherapy trials yielded 70 eligible studies from 1977 to 2014. Effect sizes [ES] were quantified as Hedge's g based on the Beck Depression Inventory [BDI] and the Hamilton Rating Scale for Depression [HRSD]. Rates of remission were also registered. The publication year of each study was examined as a linear metaregression predictor of ES, and as part of a 2-way interaction with other moderators [Year x Moderator]. The average ES of the BDI was 1.58 [95% CI 1.43, 1.74], and 1.69 for the HRSD [95% CI 1.48, 1.89]. Subgroup analyses revealed that women profited more from therapy than did men [p < .05]. Experienced psychologists [g = 1.55] achieved better results [p < .01] than less experienced student therapists [g = 0.98]. The metaregressions examining the temporal trends indicated that the effects of CBT have declined linearly and steadily since its introduction, as measured by patients' self-reports [the BDI, p < .001], clinicians' ratings [the HRSD, p < .01] and rates of remission [p < .01]. Subgroup analyses confirmed that the declining trend was present in both within-group [pre/post] designs [p < .01] and controlled trial designs [p = .02]. Thus, modern CBT clinical trials seemingly provided less relief from depressive symptoms as compared with the seminal trials. Potential causes and possible implications for future studies are discussed.
In-so-far as I can see, this was a well conducted and very thorough analysis. The "funnel plots" suggest that there's some publication bias, but it's not a lot [see paper]. The article has the expectable section at the end speculating on the "why" of their findings which I'll leave for your own perusal since it's available on-line. It seems to cover the usual suspects and does acknowledge the paradox that one would think an intervention like this ought to improve with practice. I am not a CBTer myself, but I am familiar with it from reading Beck's works and several seminars, though I didn't "do it" in a formal way. Certainly, the idea of depressive cognition was incorporated back in the day by most all psychotherapists of any ilk.
Rather than speculate and obsess on the why of a waning response to CBT or the why of the plummeting kappa in the DSM Field Trials [or for that matter the why of the Placebo changes described by Kirsch [first rate madness…] or the other challenges to the reported efficacy of SSRI/SNRI antidepressants], I think I'll just add this to the already too long list of things that discredit the idea that one can be very scientific with a category that elevates dysphoric emotion to the level of a disease entity and offers simple generic solutions. Looking at the last several posts [about Collaborative Care], there's a whole system being built around some psychiatrist reviewing cases with a Care Manager sight unseen and making pronouncements about a treatment plan that prescribes CBT and/or Drugs to treat this obviously changing and heterogeneous category called Major Depressive Disorder.
People are moving ahead as if we have this business of treating MDD down pat. We don't and won't. As Ed Shorter put it in
Before Prozac
, "
Bottom Line: Major Depression doesn't exist in Nature. A political process in psychiatry created it
." Frankly, I'n impressed that CBT has held up as well as it has…