At the beginning of the week, I worked in the clinic. One of the patients I saw was a woman in her early thirties with increasing depression over the last year. She'd been seen several weeks earlier by a Nurse Practitioner and started on Citalopram which had helped "some." Her story: In spite of being a good student, she had quit school as soon as she turned sixteen and married. By her mid-twenties, she had four children [now ages 9 through 16]. The part of her history that caught my attention was that she also had "two babies" age 1½ and 2½. Doing the math, 9-2½=6½. So she'd started this second family when her youngest had entered school. Exploring the why? of that, I hit pay dirt.
She and her sister had been raised by parents who were little more than children themselves, lifelong substance abusers who provided the amenities, but did little parenting ["we ran wild" "we raised ourselves"]. Her mother was given to "going off" for varying periods of time. The net result from this un-parented childhood was a lifelong intense fear of abandonment that literally organized her experience. Her husband had "rescued" her from her "crazy family." Then her children became her life, and she had to struggle not to be overprotective. She had a crisis when her youngest went to school, and actively chose to fill her "empty nest," but then realized that she felt "trapped" by six children and having no life outside of her family. Her oldest, a sixteen year old daughter had gotten her "first boyfriend," and for my patient, that was a double-edged sword. On the one hand, it meant that her daughter was going to leave [at some future point], tapping into her preoccupation with abandonment. On the other hand, it confronted her with how she had prematurely ended her own childhood when her own "first boyfriend" came along.
There was a lot more to this story, but that's enough to get at what I've been thinking about ever since. She reminded me of lots of patients I saw when I was an Internist, cases where I knew there was something that needed to be understood, but I didn't know how to figure out what it was. Back then, I doubt I wouldn't have ever gotten to her fears of abandonment, much less seen how her childhood related to this adult depression. But nowadays, I doubt I could miss it. But that's because an army of teachers, supervisors, case conferences, book authors, patients, etc. taught me how to conduct an interview, how to always have a life timeline running, how and where to listen, what kind of things can happen in a childhood, what being a mother is about, and the million other things that automatically run in the background when I'm listening to a patient. It's an acquired intuition, but I can't take credit for anything other than sticking to the task of learning.
So the thing I've been thinking about since my last clinic day is still Collaborative Care. I've been thinking about why I have such a visceral negative reaction when I read about it, yet it's something I already do every time I'm in the clinic. Almost any psychiatrist that works in a clinic does it all the time. I did it Tuesday, with the LPC, a Doctor or two, a Nurse. Hallway consults. The difference between what I already do and what I read about is that I always have the option to see the patient in my version. And when I look at the diagrams, in this one, talking to the patient doesn't even seem like an option [it says "(medication) recommendations"]: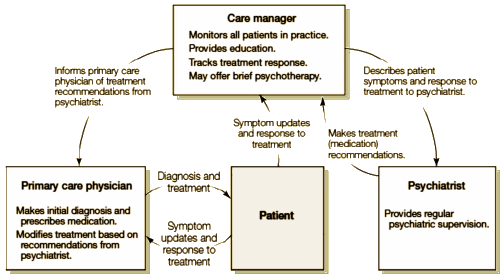 and in this one, they go out of their way to say "infrequent" for contact with either the primary care physician or the patient: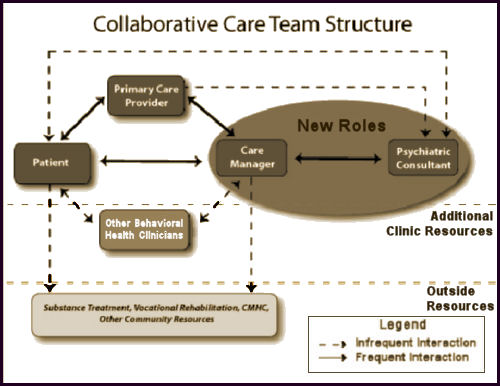 In either case, this model strips me of the only real value I bring to the table – my acquired intuition. And it implies that the first [or perhaps only] treatment for mental illness is medications. If that's true, they don't need a psychiatrist. They need some algorithms. Little wonder that my reaction to Collaborative Care is so negative. And little wonder so many patients are over-medicated. My guess is that the main reason for the firewall between patient and psychiatrist is some kind of cost containment maneuver.
As for the case I mentioned above. Once her abandonment fears were on the table, any number of solutions were immediately apparent. One reason she was never away from her kids was she never wanted them to feel "abandoned" – an idea easily dispelled. And there were other resources available to help her get some freedom and "have a life." She wanted to finish school and perhaps train for work outside the home. Both of those things are easy to arrange. Her husband was with her in the clinic, and hearing her fears, he came up with all kinds of ways he could [and would] help her. He seemed relieved to know how she felt.
Now, maybe I can let Collaborative Care go and talk about some other things…