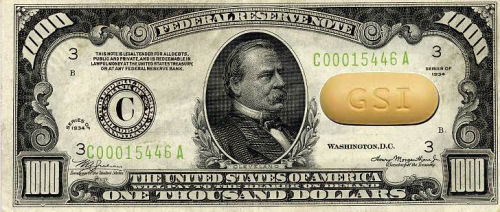 I suppose that if a pharmaceutical company is selling a treatment with a recommended 90 day course at $1,000.00 per pill, we shouldn't be surprised that the CEO's yearly salary is beyond obscene…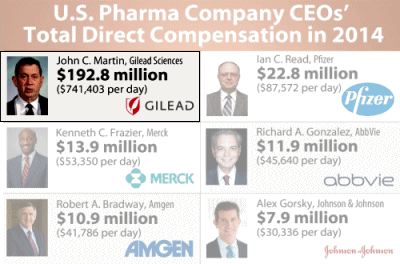 … and even though it's not a psychiatric drug, I can't seem to pass up an opportunity to talk about Gilead's Solvadi® when it's in the news. But first, where did Solvadi® come from? How did Gilead, a maker of AIDS drugs, discover Solvadi®?
Reuters

By Bill Berkrot

November 22, 2011

Investors in Gilead Sciences may believe the company is paying too much to buy Pharmasset Inc VRUS.O at $11 billion. Emory University researcher Raymond Schinazi, who founded Pharmasset, knows by just how much. "They could have had the company for $300 million or less in 2004. Somebody made a huge mistake," Schinazi said in a telephone interview a day after the big deal was announced.

Schinazi, 61, is the largest individual shareholder of Pharmasset and saw the value of his own 4 percent stake leap to more than $440 million. The biotech is developing a hepatitis C treatment considered so promising that Gilead agreed to an 89 percent premium over Pharmasset's already soaring stock price. Schinazi said he was surprised that Gilead, the world's largest maker of HIV drugs and a company well-versed in antiviral treatments, did not recognize what Pharmasset was offering when it solicited offers back in 2004. "Now they paid the premium. Of course, now the risk has been reduced significantly," he said of the drug that has demonstrated impressive results in clinical trials…

Something of a one-man bridge between the worlds of academic and commercial science, Schinazi is director of the Emory University Center for AIDS Research and a star in the world of HIV research and treatment. He has also founded five companies developing treatments for viral diseases such as AIDS, hepatitis and herpes…

He has not been involved in running Pharmasset since 2006 and had no part in the Gilead deal announced on Monday. But he was chairman of the board and led its chemistry group when the molecule that led to the hepatitis treatment was discovered…
Well, Gilead didn't discover Solvadi® after all. They bought it for $11 B [ultimately passing their acquisition costs on to the patients]. As I have mentioned before [
the business of doing business…
], we give drug companies a sweetheart patent deal to pay them back for their hard work in R&D developing our pharmaceuticals – beyond generous patent protection. Only, in this case, Gilead didn't do the hard work of developing Solvadi®. They bought it after it had shown promise in Clinical Trials. And speaking of sweetheart deals, the FDA put Solvadi® on a fast track ["known as a breakthrough designation"] to rush it to market. It's special handling from the get-go…
Pharmalot: WSJ

by Ed Silverman

06/29/2015

A pair of public health advocacy organizations has filed a lawsuit against the FDA, claiming the agency failed to release clinical trial data for Gilead Sciences hepatitis C treatments on a timely basis. And the move is only the latest installment in an ongoing drama in which researchers and patient advocates have tussled with drug makers and regulators over access to such information.

Here's what happened: Late last year, Treatment Action Group and the Global Health Justice Partnership asked Gilead for patient-level trial data for the Sovaldi and Harvoni drugs. They sought the data because the drugs are widely prescribed, thanks to very high cure rates, and because the FDA approved the drugs as part of a regulatory process known as a breakthrough designation, which accelerated review…

In their lawsuit, the groups maintain doctors "lack the benefit of any independent assessment of the data." And given the high cost of the drugs, the groups argue in their lawsuit that it is "crucial that policymakers be able to evaluate the cost-effectiveness… based on the underlying clinical data…" Sovaldi and Harvoni cost $84,000 and $94,500, respectively, for 12-week regimens, before discounts. But Gilead never replied to their requests last November for trial data, according to the lawsuit.

So last December, the groups turned to the FDA and submitted a Freedom of Information request for the data, since the drug maker had submitted the information to the agency as part of the drug approval process. However, the groups say the FDA denied their request for "expedited processing" and maintained it would take from 18 to 24 months to fork over the data, according to the lawsuit…
So, the FDA treats the
Treatment Action Group
and the
Global Health Justice Partnership
just like they treated some curious old blogger – namely me [see
a priori…
]:
"When I tried to look at more recent drugs, things were less smooth. For one of the last requests I submitted, I got a call from the FDA and the FDA lady tried to talk me out of making the request in the first place. When I refused and asked her how long it would take, she said about two years [that was three years ago] and I never heard from them again."
[I wonder if the same FDA lady called them that called me?]…

The irony here is obvious. We give Gilead an FDA break for the R&D work they didn't do, fast track them to patent protection, so they can charge an outrageous fee to patients with Hepatitis C [most of whom can't afford it so governments end up paying] so they can pay their head honcho $192+ M as a yearly salary, but we can't expedite the NDA report from the FDA to allow some attempt at vetting the drug. I reckon Gilead has cut its business teeth on squeezing people with AIDS, and really knows how to play the system…