There are certain situations in which Free Market Capitalism simply doesn't work. We've long recognized that in how we deal with things like monopolies, insider trading, etc. The Free Market works when it operates on supply/demand and competition dynamics. The way our drug patent laws have evolved, we have literally created a system that generates monopolies. It's down-right unAmerican…
Center for Economic and Policy Research

Beat the Press blog

by Dean Baker

July 23, 2015

This NYT article [below] on various state bills calling for drug companies to reveal their spending on research for high-priced drugs might have been a good place to mention that we have alternatives to patent financing for prescription drug research. For example, the federal government already spends more than $30 billion a year on research through the National Institutes of Health. If this sum were doubled or tripled, it could likely replace the patent supported research now being done by the drug industry.

And, since the research was all paid for upfront, the great new drugs developed for cancer, AIDS, and other diseases could all be sold as generics. Then we would not face tough decisions about whether to pay for expensive drugs for people who need them. We also would have eliminated the incentive for drug companies to

mislead the public

about the safety and effectiveness of their drugs.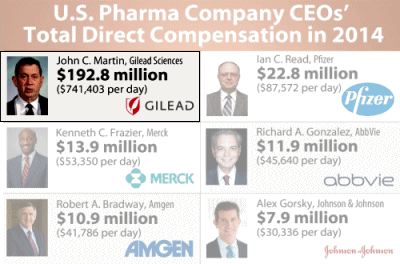 [remember this?
New York Times

By ANDREW POLLACK

JULY 23, 2015

As complaints grow about exorbitant drug prices, pharmaceutical companies are coming under pressure to disclose the development costs and profits of those medicines and the rationale for charging what they do. So-called pharmaceutical cost transparency bills have been introduced in at least six state legislatures in the last year, aiming to make drug companies justify their prices, which are often attributed to high research and development costs.

"If a prescription drug demands an outrageous price tag, the public, insurers and federal, state and local governments should have access to the information that supposedly justifies the cost," says the preamble of a bill introduced in the New York State Senate in May. In an article being published Thursday, more than 100 prominent oncologists called for support of a grass-roots movement to stem the rapid increases of prices of cancer drugs, including by letting Medicare negotiate prices with pharmaceutical companies and letting patients import less expensive medicines from Canada.

"There is no relief in sight because drug companies keep challenging the market with even higher prices," the doctors wrote in the journal Mayo Clinic Proceedings. "This raises the question of whether current pricing of cancer drugs is based on reasonable expectation of return on investment or whether it is based on what prices the market can bear."

Pressure is mounting from elsewhere as well. The top Republican and Democrat on the United States Senate Finance Committee last year demanded detailed cost data from Gilead Sciences, whose

hep atitis C

drugs, which cost $1,000 a pill or more, have strained the budgets of state and federal health programs. The U.A.W. Retiree Medical Benefits Trust tried to make Gilead, Vertex Pharmaceuticals, Celgene and other companies report to their shareholders more about how they set prices and the risks to their businesses from resistance to high drug prices…
The place where our already weak system is at its weakest is when the first drug in a new class is introduced – like Gilead's
Solvadi

®
. It's a monopoly with a customer base of desperate and/or dying people.
We're going to have to do something about this – and soon. The only question is do we tweak the system like we've done over and over? or do we change it altogether like the blog above suggests? If we tweak it, we can set our clocks for how long it will take industry to find a loophole or two. To quote the famous, "How long? Not long!" The other thing to take into account is that the pharmaceutical and medical device industry has one of the most powerful lobbies in Washington, so any changes will take forever and will likely end up with loopholes already built in.
I'm neither a communist nor even much of a socialist. Our silly greedy capitalism happens to be the best of the bad options available. But in the area of medical care, I've become a social democrat. And the Social Democracies of the world have already figured out that some form of socialized medicine is the only solution to many other of the problems that plague medicine these days.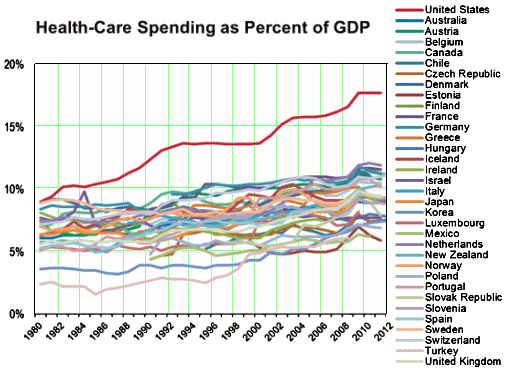 Right now, allowing our Free Market economy and patent monopolies is tantamount to letting industry fleece a captive audience – and we can't tolerate that much longer. I suspect that the reason it's such a problem right now might be that PHARMA sees the writing on the wall and is having its last hurrah [at least that's what I hope]…