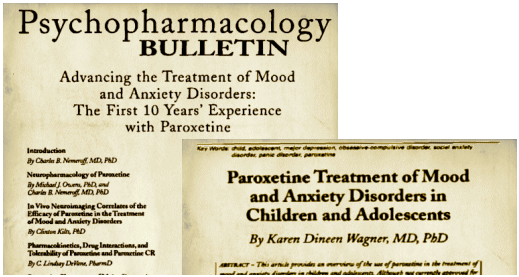 ABSTRACT- This article provides an overview of the use of paroxetine in the treatment of mood and anxiety disorders in children and adolescents. Although not currenty approved for use in patients younger than 18 years of age, the efficacy and safety of paroxetine have been studied in several pediatric mood and anxiety disorders. The epidemiology, diagnosis, and course of major depression, obsessive-compulsive disorder, social anxiety disorder, and panic disorder are discussed briefly. Current available data on the safety and efficacy of paroxetine based on double-blind placebo-controlled tnais and open-label studies for Ihe treatment of mood and anxiety disorders In children and adolescents are reviewed Clinical guidelines for the use of paroxetine in children and adolescents and recommendations regarding future directions of study are discussed. Psychophamacology Bulletin 2003;37[Suppl 1]: 167-175.

It's easy to forget what it was like in 2003. We think of something like the Keller et al paper we know as Paxil Study 329 in isolation, a decidedly negative Clinical Trial published as positive. But we forget that it was just the launching pad for a much larger campaign. This Psychopharmacology Bulletin Supplement was published in the Spring of 2003, financed by GSK, moderated and assembled by Dr. Charlie Nemeroff, then Chairman of Psychiatry at Emory University and a major GSK Adviser. Now take a look at the Supplement's Authors and the Journal's Editorial Staff here, a veritable Who's Who with multiple Departmental Chairmen and future alumni of Senator Grassley's Senate investigations into fiscal corruption. And in the Supplement, Dr. Wagner's version of the Keller et al paper [that she co-guest-authored] is certainly beyond generous:
The findings of one of the largest randomized, double-blind, multicenter, controlled trials of an SSR1 in the treatment of adolescents with major depression was reported by Keller and associates in 2001. The efficacy and safety of paroxetine was demonstrated in 275 adolescent outpatients with major depression ranging in age from 12 to 18 years. Patients were randomized to paroxetine, imipramine, or placebo for an 8-week trial Dose ranges for paroxetine were 20 to 40 mg per day, with a mean daily dose of 28 mg. Dose ranges for imipramine were 200 to 300 mg per day, with a mean daily dose of 205 mg. Paroxetine resulted in significantly greater rates of response (defined as Hamilton Rating Scale for Depression [HAM-D] score <8) compared with placebo in the last observation carried forward population. Response rates were higher for paroxetine (76%; P=.02), imiprarmine (64%), and placebo (58%) among those patients who completed the 8-week trial. There was no statistically significant difference between paroxetine or imipramine and placebo on the HAM-D total score at end point. However, there was a significantly greater increase in the Clinical Global Impression (CGI) improvement scores for the paroxetine group compared with the placebo group. Of patients in the paroxetine group, 66% were much or very much improved (P=02 versus placebo) compared with 52% of patients in the imipramine group (P=64 versus placebo) and 48% of patients in the placebo group.
The two Outcome Variables she mentions [HAM-D < 8 and CGI = 1 or 2] were add-ons, not even mentioned in the Protocol and both only significant in week 8. However, the HAM-D total score at end point was a defined Primary Outcome Variable that did not reach significance [as did none of the other Protocol defined Primary or Secondary Outcome Variables]. This paper ends:
Conclusion

In double-blind, placebo-controlled trials, paroxetine has demonstrated efficacy and safety in the treatment of major depression in adolescents, and in the treatment of OCD and social anxiety disorder in children and adolescents. Selective serotonin reuptake inhibitors such as paroxetine are currently the first-line treatment for children and adolescents suffering from major depression and anxiety disorders. Additional well-controlled studies are needed to further advance the treatment and outcome of children with depression and anxiety disorders.

Disclosure

This work was supported by an unrestricted educational grant from GlaxoSmithKline. Dr. Wagner serves as scientific adviser and consultant for and receives research support from Abbott Laboratories, Eli-Lilly, Forest laboratories, GlaxoSmithKline, Pfizer, and Wyeth-Ayerst. She also receives research support from Bristol-Myers Squibb, Organon and the National Institute of Mental Health. Dr. Wagner serves as scientific adviser and consultant for Janssen, Novartis, Otsuka, and UCB Pharma.
From Keller et al's negative-turned-into-positive Clinical Trial, Paxil had jettisoned into the first-line treatment for children and adolescents suffering from major depression. Quite a jump. But then that was 2003.
Dr. Nemeroff's star had begun to droop in the sky by then. He had become the Editor in Chief of Neuropsychopharmacology, the ACNP Journal, in 2001 – quite an honor. First, he published a review article in Nature Neuroscience [Treatment of mood disorders] in 2002 recommending three treatments that he had a direct financial interest in without declaring those interests. This omission was exposed by Drs. Bernard Carroll and Bob Rubin resulting in a change in policy for all Nature journals. He did it again in 2004! [see hubris… for the details]. But the growing crack turned into a canyon in 2006 when Dr. Nemeroff published a ghost-written review of a vagal nerve stimulator for treating depression [VNS Therapy in Treatment-Resistant Depression: Clinical Evidence and Putative Neurobiological Mechanisms – full text] in his own journal [Neuropsychopharmacology] with a raft of other colleagues, all of whom were involved with that nerve zapper's company [including him] without any acknowledgment. He was confronted again by Drs. Carroll and Rubin. In quick succession, he stepped down [was removed] as Editor and his activity was heavily restricted by his University. The final blow came in 2008 when Senator Grassley and Staffer Paul Thacker started a Senatorial investigation into academic psychiatrists with undisclosed pharmaceutical income, and Nemeroff was on the top of the list. That was the nail that ended his career as Chairman of Psychiatry at Emory. Many of the people on the editorial board and the Supplement above were on Senator Grassley's list, including Dr. Martin Keller of Keller et al and Dr. Karen Dineen Wagner, author of this article.
Finally, the in-your-face version of the alliance between PHARMA by this segment of academic psychiatry came out of the shadows. When Dr. Nemeroff was confronted by Emory, his defense was that he was just doing his job with all of his industry connections – cataloging the money he'd raised to support his department at Emory through educational grants. And that makes a strange kind of sense, as convoluted as it seems. Dr. Nemeroff was hired because he could [and would] bring in the money from unrestricted educational grant[s] from any number of pharmaceutical companies. The changes – managed care, the closing of psychiatric hospitals, the collapse of the Community Mental Health Centers, the failure of the States to provide public psychiatric care – had devastated psychiatric departments in medical schools. And so they hired the likes of Dr. Nemeroff and his colleagues who could [and would] solve the problem by alliances with PHARMA. It's really that $imple. And if you think about it, the dethroning of Dr. Nemeroff and hi$ colleague$ wa$ not becau$e of hi$ rai$ing PHARMA money for hi$ department. It was becau$e he wa$ rai$ing money for him$elf. And that was true of all the people on Senator Grassley's list. It was their undeclared personal income that brought them to grief. If you want to hear what that sounds like from inside, check out Conflicts of Interest, an extremely telling blog by Psycritic [Update: Here's a public version].
I've heard that Deep Throat's famous line, "Follow the Money," in the movie All the President's Men didn't really happen, but was a product of some writer somewhere. It doesn't matter where it came from. It's brilliant. This Supplement and the many others like it from that era [and now] stand as testimony to just how brilliant it is. And the problem of universities financing academic medical departments by garnering the favors of commercial interests is as alive today as it ever was. It's not just true in psychiatry where it's so obvious. It's medicine-wide. If the world wants an ethical Medicine, it's going to have to help us provide an environment where it can flourish again. Just decrying its decline isn't going to be enough…
hat tip to Psycritic and many others…