[recent releases not shown]
Among other things, one major change from the psychiatry I began with and the modern era was that I didn't know which company produced which drug – or for that matter, which ones were on or off patent. I thought of the TCAs [Tricyclic Antidepressants] and the MAOIs [Monamine Oxidase Inhibitors] as primarily drugs for patients with Major Depression [what we called Major Depression back then meaning Melancholia, Manic Depressive Illness with a Depressive Episode, etc] and not for the outpatients where my own focus had landed. I don't remember discussing them for children or adolescents. In my six month fellowship on an adolescent treatment unit, no kid was on antidepressants. I certainly recall talking about "kids being depressed," but never about them "having" a depressive illness. Recently, on an impulse, I found an old $0.01 copy of the late 1960s GAP [Group for the Advancement of Psychiatry] Psychopathological Disorders of Childhood we used and ordered it. It was as I recalled. The only mention of depression was in a listing of symptoms, but no diagnostic entity.
So I'm pretty sure that the existence of the then newer antidepressants created the diagnostic entity «Depression» in children and adolescents, and I'm even more sure that the hype that built around the drugs perpetuated the diagnosis «Major Depressive Disorder» in Adults. As things developed, the phrase «Treatment Resistant Depression» [with an acronym of its own – TRD] found wide usage in both kids and adults, as if it was itself also a diagnostic entity. I can't right off think about other such situations, places where a treatment had such a profound effect on the creation and shaping of a diagnosis. I also wonder if there has ever been a single drug class that has been so heavily studied or had so much energy, time, or money spent trying to magnify a weak effect [sequencing, combining, augmenting, "personalizing", etc].
Since finally finishing the Study 329 RIAT project, I've been thinking about what else this Antidepressant Era in psychiatry might have to tell us for the future – assuming it's finally drawing to a close. PHARMA seems to have genuinely flown the coop, moving away from CNS research for the most part. I hope, on psychiatry's side, that free of the influences of PHARMA and KOLs, these drugs can be evaluated for their true worth and indications. We're all so locked in to the polarized rhetoric that it may be a while before all the meta-analyses and retrospectives might offer some clarity. But I think that there's perhaps a larger contribution that can be made to Medicine in general.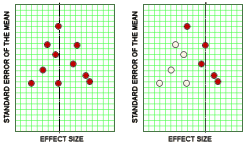 I had no idea that such a thing could happen, that the tools of scientific investigation could be so regularly perverted in plain sight. For example, that by withholding negative studies, one could actually create the illusion of a clinically relevant medication from a compound with a trivial effect. It makes perfect sense if you've seen it before. I just never would've thought to look.
And there are so many other examples, things in the analysis or the presentation that with ever so slight changes make a big difference in the outcome. Like in the article described in
supplement·a·tion: a strange kind of sense…
, speaking about Study 329, Dr. Wagner writes:
Paroxetine resulted in significantly greater rates of response (defined as Hamilton Rating Scale for Depression [HAM-D] score <8) compared with placebo in the last observation carried forward population. Response rates were higher for paroxetine (76%; P=.02), imiprarmine (64%), and placebo (58%) among those patients who completed the 8-week trial. There was no statistically significant difference between paroxetine or imipramine and placebo on the HAM-D total score at end point. However, there was a significantly greater increase in the Clinical Global Impression (CGI) improvement scores for the paroxetine group compared with the placebo group.
In the past, I might have scanned through that without a blip on my radar. But there should've been a bright red flag. " greater rates of response" but "no statistically significant difference between paroxetine or imipramine and placebo on the HAM-D total score"? It's things like this that people have been glossing over through this whole era. Once the alarm has gone off, it's easy even with the only the paper in hand to figure out this is a ruse, that the "HAM-D total score" is a primary outcome and the "response" is an later add-in. These Clinical Trial papers are full of just that kind of thing – benign sentences that are anything but benign [that example will become much clearer in a couple of weeks]. But there's a much more general point.
In every specialty, a lot of the clinical side of medical training is learning to see a lot of patients in a practice day, process a ton of information, and get to the point where you almost automatically hear bells go off when some small piece of information comes your way that says, "stop, look, and listen" – some symptom that doesn't fit, a hint that this cough is the early symptom of tumor instead of a cold, this rash is going to turn into a Stevens-Johnson syndrome in an hour, this back pain is an aneurysm about to dissect. Over these last few years of reading the psychiatric Clinical Trial literature, I'm beginning to hear those same bells when I scan through a Clinical Trial journal article. And I wish my training for reading these articles had been as rigorous as my bedside and consulting room training.
As peculiar as it might sound, I think that a big segment of the literature [particularly the industry funded Clinical Trial literature] that came out of the antidepressant era spanning the time in that top figure needs to be formally re-evaluated, not just to get a more accurate picture of these drugs, but also to familiarize all of us to the subtle ways it can be distorted – something like clinical training in journal reading. It's certainly a treasure trove of tricks that ride just this side of fraud. While I've yet to find one of these studies where the data has been directly changed, I can't think of any, off-hand, that played it totally straight in the analysis/presentation/conclusion realm either. We've always said doctors should be taught critical reading. It's obvious that we're woefully off the mark in that area when it comes to Clinical Trials. This kind of shenanigans isn't just a problem in psychiatry. It's medicine-wide. But psychiatry sure has the biggest library of examples on the block. We might as well find a way to use those papers to some decent purpose.
And speaking of purpose. I gave two small examples. One was not publishing negative studies. The other was carefully cherry picking things to say that put a positive spin on a decidedly negative study. Those are both wrong on purpose – deliberate attempts to deceive. There's no statute of limitations on deliberate deceit, AKA lying. Our literature on Clinical Trials is riddled with deliberate deceit, and it's time to start naming it for what it really is. This story needs a heading that fits…