When March Madness time comes around, I always remember a time when it wasn't about Basketball for me – during the decade when I was a Psychiatric Residency Training Director. That may sound like an honorific, but that's not how it was. I was only a year beyond my own residency and wasn't exactly recruited, I was conscripted amid a crisis when my predecessor abruptly quit. But "we need you to fill in" lasted for a long time. And during those years, March Madness referred to Match Week – the week in which we found out what residents were or were not coming for next year. A few years ago, I had a nostalgia attack and made a graph of the history of Match Week in psychiatry [fuzzy math…]. As you can see, 1978 wasn't a time when psychiatry was high on the list – filling only about half the positions offered. So Match Week was a frantic period because there was much ado thereafter with the flow into psychiatry from outside the Match to negotiate.
Also for 1978, it was a circus. It was at the end if Deinstitutionalization, the end of the Community Mental Health Movement, just after the Viet Nam War, and a peak time for the ideological and guild battles in mental health. We often think of the modern era in psychiatry beginning in 1980 with the DSM-III's publication, and in a way that's true. But at the same time, it was the end of a whole lot of other things – very loud things. Actually, the graph accurately reflects how it felt through that first post-DSM-III decade. Things just seemed to calm down.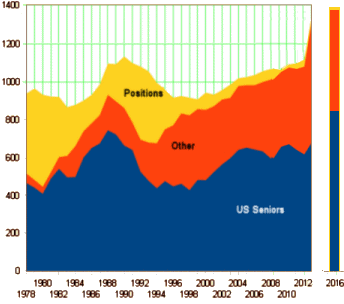 The dip from around 1988 until 2004 spans the period when I started a practice until I retired, so I was otherwise occupied, ergo I know nothing about the why? of the dip. Here are some selections and comparisons from the info about the 2016 match that came out yesterday [this was Match Week], and I added 2016 to the graph above: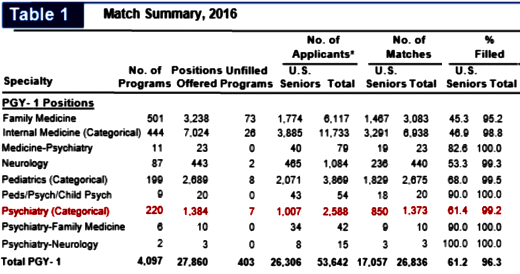 The specialty choices of medical students is a broad topic, but it usually reflects something about the state of the specialty. The medical students are influenced a lot by their contact with attending physicians and residents they meet on their clinical rotations. And 2016 looks like business as usual [in fact, I'm a little surprised to see no effect from the turmoil one might've predicted from reading our various blogs].
That first year after medical school sets a tone that endures throughout a career, something that persists even as medicine goes through its inevitable cart-wheels, its ups and downs. One of the pleasures of that Residency Training Director decade of my life was watching people literally grow up in such a short period of time. Even tough they're entering a different world than I did as a medical intern in 1967 or the second time around as a psych resident in 1974, the patients will bring the same turmoil and symptoms they've always brought. I guess I'm just taking a nostalgia break from the focus on the contemporary problems that usually haunt these posts, and hoping the class of 2016 can look back in fifty years and feel like I do, that it was a good way to spend the days…
---
Note: The designation other on the graph is a mixed bag. The majority in that category are from non-US schools, but some are US citizens who went to medical school elsewhere.