It really does sort of look like a pipeline. It's the SSRis, SNRIs, and Atypicals graphed by the year of their FDA Approval. The first time I ever heard that term, pipeline, I thought it was a joke of some kind. But I found out it was in wide usage in the business and KOL worlds. I wonder if there was a similar chart for the First Generation Antipsychotics? for Tricyclic Antidepressants? or for the Benzodiazepines? some string of "me too" drugs that stretches all the way back to the 1950s?
I know that when I showed up for a psychiatric residency in 1974, I thought there was sure a lot of chatter about only a few categories of drugs. In internal medicine, I can't recall anything similar. Admittedly, I spent those medicine years in public facilities that had more limited formularies, but I doubt that there was anything like what I encountered coming to psychiatry. There was a difference back then. We talked about the differences among ourselves and picked the best choice for the situation. I for one didn't even know which company made which drug or what was new and what was old. Now, the patients have often already tried many of them, and sometimes made a choice based on what they've heard about from somebody or seen on television before they show up ["ask your doctor if kerfunkeltine is right for you"]. In fact, that's why they've come. Here are those drugs labeled: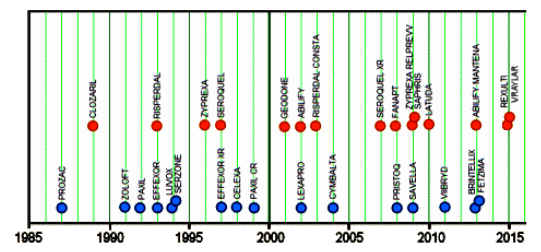 I may have missed a few or added one or two that ought not be there, but I was aiming for a Gestalt, and I think it comes across. And alongside the flow of new drugs, there were lots of other things for Key Opinion Leaders [KOLs] to talk about: Sequencing; Combining; Augmenting; Indications; Statistics; XRs; StereoIsomers; Genetics; Receptors; Neurotransmitters; etc.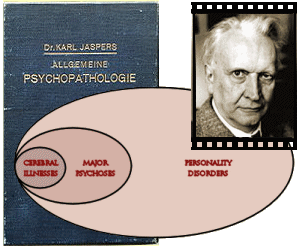 In my own mind, I saw classification like I later learned Karl Jaspers had: Brain Disease, the Major Syndromes [Psychotic Illness]; and Other. The Biological Psychiatrists were focusing on the Major Syndromes with treatment and etiologic research. And there were any number of disciplines and approaches in the fuzzy Other group, presumed to be psychological in origin and treatment. The DSM-III was an attempt to get the theories [specifically psychoanalytic theories] out of diagnosis, which made sense. But it also ablated the border between the Major Syndromes and the fuzzy Other group in the process.
Over time, there was a new boundary: Mainstream Psychiatrists treating with medications and researching the brain, and other disciplines focusing on psychotherapy and matters social. But for my purpose here, that pipeline now emptied onto the entire domain of mental health treatment. PHARMA and Managed Care institutionalized this new way of looking at things. There were many who didn't follow along, but were basically working off-the-grid. New Industries rose up [Contract Research Organizations, Medical Writers]. Old Institutions waned [mental hospitals, community mental health] or changed [jails-as-mental-hospitals]. And in the last decade the whole thing has turned into what could only be called one mell-of-a-hess.
I originally constructed that pipeline graph because in spite of all the hoopla about it drying up, it looked to me like it was still dripping. But I didn't have much success in locating what else is under development [other than the Ketamine dreams]. And as I looked at it, I began to have another thought. It's obvious that right now, we're all in a period of paradigm exhaustion in this whole corner of the healthcare world. The focus is on what's wrong with all the models instead of what each has to offer. The drugs are weak, over-used, more toxic than advertised. CBT's effectiveness is waning, and no other specific psychotherapy fits the bill. Neuroscience, Genomics, and Technology have let even their biggest cheerleaders down [Clinical Neuroscience? bah humbug!]. PHARMA is turning off CNS research. Guild Wars are reviving with an old familiar fire-in-the-belly and name calling. Even Managed Care is having trouble showing results.
As I mused about what paradigm is it that's so exhausted?, I had the thought "you just drew it." I don't mean the individual drugs, or even their classes. But the idea of a pipeline that would just keep on flowing and bringing the hope of something newer, something better. It was the pipeline that sustained KOL psychiatry. The other disciplines had gained access to third party coverage and practitioners worked to have a connection with a prescriber. Managed Care thrived on the existence of a pipeline of future hope and built a reimburement system around it. Researchers fought to do the Clinical Trials that sustained it. PHARMA milked it for all it was worth. Even the failings of the drugs kept people busy and things moving along. Nobody gave much thought about the fact that there were only two [maybe three] basic themes playing out in these drugs and that the main advantage was that they were better tolerated. The pipeline itself, or what it implied, is the paradigm that lasted for three decades – so long that for many, it's all they've ever known. And when it started running dry, all hell broke loose. The rest of the universe may have already known that the pipeline is the paradigm, but I didn't…