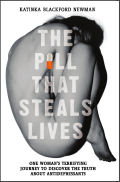 David Healy
's blog has a guest post called
The Pill That Steals Lives: One woman's terrifying journey to discover the truth about antidepressants
by Katinka Blackford Newman – an introduction to a book about her experiences with psychiatric medications due out in early July. It's one of those all too familiar stories where a negative reaction to one medication was interpreted as an illness that was treated by adding other medications in an escalating cycle:
It had started when I had hit a wall of despair while going through a divorce. Sleepless nights took me to a psychiatrist who prescribed an antidepressant. Within hours I was hallucinating, believed I had attacked my children and in fact attacked myself with a knife. I ended up in a private hospital where doctors clearly thought I had a screw loose when I told them I was being filmed and that there was a suicide pact with God. The psychosis ended when I said I wanted to stop taking the escitalopram but doctors insisted I take more pills. This began a terrible decline where I couldn't leave the house, dress myself, finish a sentence. But the worst thing of all was that I couldn't feel love for my children, Lily and Oscar, who were 10 and 11 at the time. At the end of a year I was about to end it all. As a last resort I tried to get myself readmitted to the same private hospital, but my insurance had run out. And that was how I ended up sectioned at this NHS hospital that had made the decision to take me off all the drugs [Lithium, Olanzapine, Sertraline, Prozac, Lamotrigine]. I was climbing the walls, screaming, shouting, and begging my family to get me out of there. If I'd been suicidal while on the drugs, withdrawal made me far worse…
It looks to be an interesting book [and advertises a revelation along the way]. But that's not why it's here. It's this:
[Lithium, Olanzapine, Sertraline, Prozac, Lamotrigine]
No matter what you believe about mental illness [disease or not] or about psychopharmacology [disease specific or symptomatic], it's hard for me to imagine when…
[two antidepressants plus two mood stabilizers plus an atypical antipsychotic]
…would ever be an appropriate drug regimen for any condition I know of. What illness does that treat? How about with the
new NpN terminology
they're so excited about? Would renaming it …
[glutamate with yet to be determined enzyme interaction plus a dopamine, serotonin receptor antagonist [D2, 5-HT2] plus a serotonin reuptake inhibitor [SERT] plus a glutamate voltage-gated sodium channel blocker]
…make things any better? [one shudders to think what it would become in RDoC talk]. I'm being sarcastic and I shouldn't be because this is a deadly serious point. A case like this transcends the usual discussions about efficacy or indication. There's just no rational rationale for this drug cocktail that I can think of for anything. And I've seen cases like this over and over. I recently catalogued such a journey [
good news bulletin…
see case number 3 and its links].
The way this happens is that a patient gets started on a medication and things go badly. So other medicines are tried without stopping the last. As the patient continues to go downhill, the medications get added irrationally. There may be akathisia and/or withdrawal mixed in with the medication effects. It ends like the story I think I'll read when the book arrives – an impossible situation where the patient still may or may not have the problem they came with, are living in an obtunded mental state from all the medications, and have the added prospect of one or more withdrawal syndromes to face. One unholy mess!
The solution when a case is headed this way is to STOP adding things and gradually taper off of all medication, using something like a benzos for distress if you have to. LOOK at the patient as if it's a brand new case. Perhaps get a consult from someone you respect, and LISTEN to what they say and the patient says. Unfortunately, the people who get into such messes are reticent to let them see the light of day so finally somebody else [family?] intervenes. And when you see a case like this – somebody on five medicines who's getting or has already gotten worse – always think medication effects until proven otherwise.