PHARMABIZ.COM

June 24, 2016

Nonmedical use of prescription opioids more than doubled among adults in the United States from 2001-2002 to 2012-2013, based on a study from the National Institute on Alcohol Abuse and Alcoholism [NIAAA], part of the National Institutes of Health. Nearly 10 million Americans, or 4.1 per cent of the adult population, used opioid medications in 2012-2013 a class of drugs that includes OxyContin and Vicodin, without a prescription or not as prescribed [in greater amounts, more often, or longer than prescribed] in the past year. This is up from 1.8 per cent of the adult population in 2001-2002.

More than 11 per cent of Americans report nonmedical use of prescription opioids at some point in their lives, a considerable increase from 4.7 per cent ten years prior. The number of people who meet the criteria for prescription opioid addiction has substantially increased during this timeframe as well, with 2.1 million adults [0.9 per cent of the US adult population] reporting symptoms of "nonmedical prescription opioid use disorder [NMPOUD]," according to the Diagnostic and Statistical Manual of Mental Disorders, Fifth Edition [DSM-5].

"The increasing misuse of prescription opioid pain relievers poses a myriad of serious public health consequences," said Nora D. Volkow, M.D., director of the National Institute on Drug Abuse [NIDA], which contributed funding for the study. "These include increases in opioid use disorders and related fatalities from overdoses, as well as the rising incidence of newborns who experience neonatal abstinence syndrome. In some instances, prescription opioid misuse can progress to intravenous heroin use with consequent increases in risk for HIV, hepatitis C and other infections among individuals sharing needles."

Scientists analyzed data from NIAAA's National Epidemiologic Survey on Alcohol and Related Conditions-III [NESARC-III], ongoing research that examines alcohol and drug use disorders among the US population, as well as associated mental health conditions. The study appears online in the Journal of Clinical Psychiatry…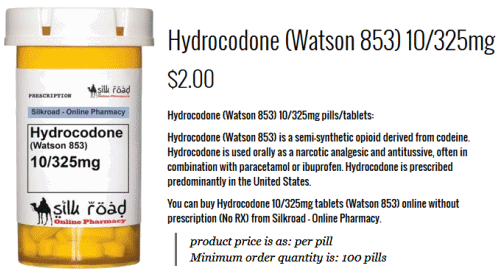 If you don't know the story of the Opium trade and the Opium wars in China, or the role of the British, now would be a good time to take a look [see History of Opium in China, How China got rid of opium]. China literally became a nation of addicts and the China we know today was shaped by its history with Opium. Not worried about this problem? Click on the bottle and look at what's advertised. Ask your kid how hard is it to get pain pills in their school.
If you are a physician who is not in a specialty absolutely requiring the use of narcotics [surgery, etc.], you can do what I did. Surrender the narcotic part of your DEA licensure to guarantee that you don't contribute one pill to this problem. And expunge the idea that Narcotic abuse is like alcoholism, something that only afflicts certain people. Narcotic addiction is for anyone.
My view? Narcotics are like Uranium. The only solution is to control the supply. The demand is timeless…