by

JAMA. published online 07/28/2016.

For several decades now the biomedical research community has pursued a narrative positing that a combination of ever-deeper knowledge of subcellular biology, especially genetics, coupled with information technology will lead to transformative improvements in health care and human health. In this Viewpoint,we provide evidence for the extraordinary dominance of this narrative in biomedical funding and journal publications; discuss several prominent themes embedded in the narrative to show that this approach has largely failed; and propose a wholesale reevaluation of the way forward in biomedical research…

Exploring Some Key Examples
In 1999, Collins envisioned a genetic revolution in medicine facilitated by the Human Genome Project and described 6 major themes:

common diseases will be explained largely by a few DNA variants with strong associations to disease,

this knowledge will lead to improved diagnosis;

such knowledge will also drive preventive medicine;

pharmacogenomics will improve therapeutic decision making;

gene therapy will treat multiple diseases; and

a substantial increase in novel targets for drug development and therapy will ensue.

These 6 ideas have more recently been branded as personalized or precision medicine. Similarly, there is the increasing interest in and expectation that:

stem cell therapy—a seventh theme—can treat common diseases.

To avoid the misconception that big ideas are all related to biological sciences, an eighth theme is:

the emphasis in the narrative on the clinical and research value of converting medical records to electronic formats.

As of April 2016, the Centers for Medicare & Medicaid Services had paid $34 billion in financial incentives to service providers for implementing electronic health record [EHR] systems. EHRs are an important aspect of this narrative because they are thought to provide the structural underpinnings of precision medicine. It has been suggested by some that some combination of these 8 big ideas will yield substantial cost savings for health care…
What they go on to say is that these big ideas haven't panned out, have consumed research funds well beyond any usefulness, have become inappropriately self perpetuating, and that it's time to put them on the shelf and move on to other pastures.
IF JOHN IOANNIDIS NEVER WRITES ANOTHER WORD FOR THE REMAINDER OF HIS DAYS, HE STILL DESERVES A SPECIAL SEAT IN HEAVEN FOR THIS ARTICLE.
In the early 80s when our new biologically oriented chairman was trying to convert me from my misbegotten ways as a psychotherapist, he suggested that since I was an Immunologist and also a psychiatrist, I should look into psychoimmunology. I had never heard those two words combined before. He went on to explain that the future was in brain scans, genetics, and biomarkers. In 2005, I read Dr. Insel's Psychiatry as a Clinical Neuroscience Discipline with its timetable, it said the same thing.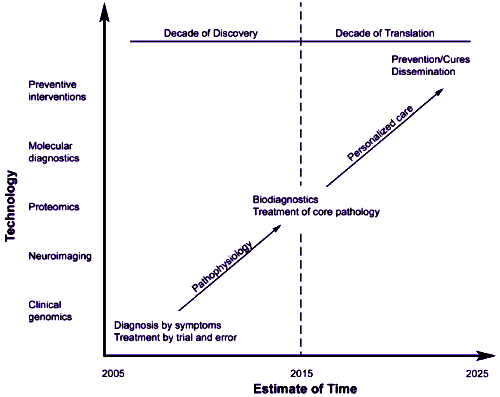 And looking back at Kupfer et al's 2002 A Research Agenda for the DSM-V, that's what it said too – speaking of entrenched ideas [2016 – 1980 = 36 years][and billions].
I'm sad to report that Electronic Medical Records [EMR] have come to my mountain clinic. It's a remarkably obtuse system that I can't figure out, so I put medications in with the notes and move on. I can't imagine that it's a good idea to look at a computer while seeing a patient, and entering stuff takes longer than seeing the patient [they're thinking about getting me a scribe]. Last week while I was working, the CMS site visitors were in town. I overheard a little piece of the "feedback session" and they were talking about the importance of the EMR. I snuck out of a side door and hightailed it for home. Even if the software were usable, it would be an interference. I once asked "who reads what's entered?" The answer: Inspectors.
Did I mention that:
IF JOHN IOANNIDIS NEVER WRITES ANOTHER WORD FOR THE REMAINDER OF HIS DAYS, HE STILL DESERVES A SPECIAL SEAT IN HEAVEN FOR THIS ARTICLE.