I don't know anything about Ketamine except what I read. It is an FDA Approved off-patent anesthetic by day, and a club drug by night [Special K]. We began to hear about it as an antidepressant around the time that it became apparent that PHARMA was abandoning CNS drug development in 2012. It's given iv and is a lightweight hallucinogen. The excitement was that the antidepressant effects seemed to persist for a variable period of time [days] after the druggie effects wore off [hours]. And in a modern world, there was another problem – it's generic – ergo no blockbuster potential in sight [or so I thought]. But then the cynical part of my mind got engaged when I saw commentaries by major KOLs suggesting caution[???] [full text on-line]:
These are
not
the kind of people who
suggest caution[???]
about drugs, and I freely admit that I was immediately suspicious that they were holding out for something PHARMA could market and downplaying Ketamine itself [call me paranoid? or call me wise?]. That last Nemeroff paper was a review article and I wrote about it in
a touch of paralysis…
. I did think they were talking up Rapastinel, a patented Ketamine analog and that the evidence base for that drug was beyond shaky [see
infomercials…
and
shame on us…
]. Then shortly after the Nemeroff article was published, another contender came on the scene from
Johnson and Johnson
– Esketamine. Esketamine and Ketamine are
enantiomers
– moleculers that have the same chemical formula but are mirror images that can't be superimposed on each other. There is some evidence that their properties as drugs differ, summarized
here
. In November 2015,
Johnson and Johnson
received a Breakthrough Therapy Designation for treatment resistant depression based on this report of a phase 2 clinical trial:
by Jaskaran B. Singh , Maggie Fedgchin, Ella Daly, Liwen Xi, Caroline Melman, Geert De Bruecker, Andre Tadic, Pascal Sienaert, Frank Wiegand, Husseini Manji, Wayne C. Drevets, and Luc Van Nueten

Biological Psychiatry. November 3, 2015. EPub ahead of print.

BACKGROUND: The purpose of this study was to assess the efficacy and safety and to explore the dose response of esketamine intravenous [IV] infusion in patients with treatment-resistant depression [TRD].

METHODS: This multicenter, randomized, placebo-controlled trial was conducted in 30 patients with TRD. Patients were randomly assigned 1:1:1 to receive an IV infusion of .20 mg/kg or .40 mg/kg esketamine or placebo over 40 minutes on day 1. The primary end point was change in Montgomery-Åsberg Depression Rating Scale total score from day 1 [baseline] to day 2. Nonresponders who received placebo on day 1 were randomly assigned again 1:1 to IV esketamine .20 mg/kg or .40 mg/kg on day 4. Secondary efficacy and safety measures were also evaluated.

RESULTS: Of the enrolled patients, 97% [29 of 30] completed the study. The least squares mean changes [SE] from baseline to day 2 in Montgomery-Åsberg Depression Rating Scale total score for the esketamine .20 mg/kg and .40 mg/kg dose groups were -16.8 [3.00] and -16.9 [2.61], respectively, and showed significant improvement [one-sided p = .001 for both groups] compared with placebo [-3.8 [2.97]]. Esketamine showed a rapid [within 2 hours] and robust antidepressant effect. Treatment-emergent adverse events were dose dependent. The most common treatment-emergent adverse events were headache, nausea, and dissociation; the last-mentioned was transient and did not persist beyond 4 hours from the start of the esketamine infusion.

CONCLUSIONS: A rapid onset of robust antidepressant effects was observed in patients with TRD after a 40-min IV infusion of either .20 mg/kg or .40 mg/kg of esketamine. The lower dose may allow for better tolerability while maintaining efficacy
But that was just for starters. They've been working on an intranasal delivery version for seven years, recently presented [reference: Canuso C, et al. "Esketamine for the Rapid Reduction of the Symptoms of Major Depressive Disorder, Including Suicidal Ideation, in Subjects Assessed to be at Imminent Risk for Suicide." Society of Biological Psychiatry 71
st
Annual Scientific Meeting.
May 12-14, 2016
.]. Now
Johnson and Johnson
has just been granted Breakthrough Therapy Designation for the
intranasal
version for both treatment resistant depression and major depressive disorder with imminent risk for suicide [Breakthrough Therapy Designation is essentially a fast-track FDA Approval process for promising and much-needed drugs].
Johnson and Johnson: Press Release

August 16, 2016

Janssen Research & Development, LLC, one of the Janssen Pharmaceutical Companies of Johnson & Johnson, announced today that the U.S. Food and Drug Administration [FDA] has granted a Breakthrough Therapy Designation for esketamine, an investigational antidepressant medication, for the indication of major depressive disorder with imminent risk for suicide. If approved by the FDA, esketamine would be one of the first new approaches to treat major depressive disorder available to patients in the last 50 years.

This also marks the second time esketamine has received a Breakthrough Therapy Designation from the U.S. regulatory authority. Esketamine was first granted this designation for treatment-resistant depression in November 2013. Breakthrough Therapy Designation is intended to expedite development and review timelines when preliminary clinical evidence indicates the drug may demonstrate substantial improvement on one or more clinically significant endpoints over available therapies for serious or life-threatening conditions.

The esketamine Phase 2 clinical trial data presented by Janssen in May 2016 at the Society of Biological Psychiatry 71st Annual Scientific Meeting in Atlanta, Georgia, provided preliminary clinical evidence to support the Breakthrough Therapy Designation for major depressive disorder with imminent risk for suicide.

About Esketamine

Esketamine for intranasal administration is an investigational compound being studied by Janssen as part of a global development program. Esketamine is a non-competitive and subtype non-selective activity-dependent N-methyl-D-aspartate [NMDA] receptor antagonist, which has a novel mechanism of action, meaning it works differently than currently available therapies for depression. The program in treatment-resistant depression is currently in Phase 3, with six ongoing clinical trials…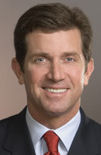 I'll have to admit that the notion of seeing a suicidal patient and offering them a sniff of some version of
Special K
as a treatment strikes me as borderline ludicrous, hard for me to say with a straight face – but stranger things have happened. That's not why I'm writing about it. Remember, this is
Johnson and Johnson
, the people who gave us TMAP and all of the Risperidal® sheenanigans. The CEO is still Alex Gorsky – West Point graduate and lifelong Boy Scout, who brought in Billions with all kinds of hanky-panky, flooding the literature with articles churned out by Excerpta Medica.
Johnson and Johnson
gladly paid the cost-of-doing-business fines of around $2.2 B – trivial in the face of their ill-gotten gains. And with Risperidal®, they were also first-on-the-market: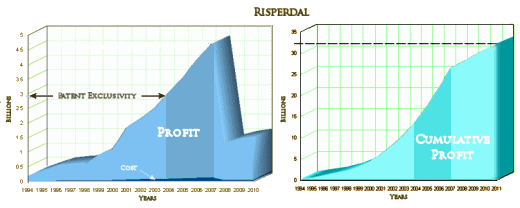 Here's a roster of their Esketamine clinical trials from clinicaltrials.gov. As you can see, they're going long on Esketamine. It's a hungry market and they're going after it. And then there's that old saying, "The best predictor of future behavior is past behavior."
NCT #

Title
Status
Phase
Start
NCT01394757
Network Dysfunction, Schizophrenia and Pharmacological Magnetic Resonance Imaging [phMRI]
Completed
–
08/2011
NCT00847418
Pharmacokinetics and Pharmacodynamics of Nasally Applied Esketamine
Completed
1
02/2009
NCT01780259
A Study to Assess the Pharmacokinetics, Safety, and Tolerability of Intranasally Administered Esketamine in Healthy Participants
Completed
1
12/2012
NCT02060929
A Study to Evaluate the Pharmacokinetics of Intranasal Esketamine Administered With and Without a Nasal Guide on the Intranasal Device
Completed
1
10/2013
NCT01980303
A Study to Assess the Pharmacokinetics of Intranasally Administered Esketamine in Healthy Japanese and Caucasian Volunteers
Completed
1
11/2013
NCT02129088
A Pharmacokinetic, Safety and Tolerability Study of Esketamine in Healthy Elderly and Adult Participants
Completed
1
03/2014
NCT02094378
A Study to Evaluate the Effect of Intranasal Esketamine on Cognitive Functioning in Healthy Subjects
Completed
1
06/2014
NCT02154334
Study to Assess the Effects of Allergic Rhinitis and Co-administration of Mometasone or Oxymetazoline on the Pharmacokinetics, Safety, and Tolerability of Intranasal Esketamine
Completed
1
06/2014
NCT02228239
Study to Assess the Effects of Esketamine on Safety of On-road Driving in Healthy Participants
Completed
1
09/2014
NCT02345148
Pharmacokinetic, Safety, and Tolerability Study of Intranasally Administered Esketamine in Elderly and and Healthy Younger Adult Participants
Completed
1
12/2014
NCT02343289
A Study to Evaluate the Absolute Bioavailability of Intranasal and Oral Esketamine and the Effects of Clarithromycin on the Pharmacokinetics of Intranasal Esketamine in Healthy Participants
Completed
1
01/2015
NCT02568176
Pharmacokinetic Study of Intranasal Esketamine and Its Effects on the Pharmacokinetics of Orally-Administered Midazolam and Bupropion in Healthy Participants
Completed
1
10/2015
NCT02611505
A Study to Assess the Effects of Hepatic Impairment on the Pharmacokinetics, Safety, and Tolerability of Intranasally Administered Esketamine
Recruiting
1
11/2015
NCT02606084
A Study to Assess the Effects of Renal Impairment on the Pharmacokinetics, Safety, and Tolerability of Intranasally Administered Esketamine
Recruiting
1
12/2015
NCT02846519
Pharmacokinetic, Safety, and Tolerability Study of Intranasally Administered Esketamine in Healthy Han Chinese, Korean, Japanese, and Caucasian Participants and the Effects of Rifampin on the Pharmacokinetics of Intranasally Administered Esketamine
Completed
1
02/2016
NCT02682225
Crossover Study to Evaluate the Abuse Potential of Intranasal Esketamine Compared to Racemic Intravenous Ketamine in Nondependent, Recreational Drug Users
Recruiting
1
03/2016
NCT02674295
A Mass Balance Study With a Microtracer Dose of 14C-esketamine in Healthy Male Participants
Recruiting
1
03/2016
NCT02737605
A Study to Evaluate the Effects of Esketamine on Cardiac Repolarization in Healthy Participants
Not yet recruiting
1
07/2016
NCT02857777
Pharmacokinetic, Safety, and Tolerability Study of Intranasally Administered Esketamine in Elderly Japanese, and Healthy Younger Adult Japanese Subjects
Not yet recruiting
1
08/2016
NCT01640080
A Study of the Efficacy of Intravenous Esketamine in Adult Patients With Treatment-Resistant Depression
Completed
2
06/2012
NCT01998958
A Study to Evaluate the Safety and Efficacy of Intranasal Esketamine in Treatment-resistant Depression
Completed
2
01/2014
NCT02133001
A Double-blind Study to Assess the Efficacy and Safety of Intranasal Esketamine for the Rapid Reduction of the Symptoms of Major Depressive Disorder, Including Suicidal Ideation, in Participants Who Are Assessed to be at Imminent Risk for Suicide
Completed
2
05/2014
NCT02417064
A Study to Evaluate the Efficacy, Safety, and Tolerability of Fixed Doses of Intranasal Esketamine Plus an Oral Antidepressant in Adult Participants With Treatment-resistant Depression
Recruiting
3
08/2015
NCT02418585
A Study to Evaluate the Efficacy, Safety, and Tolerability of Flexible Doses of Intranasal Esketamine Plus an Oral Antidepressant in Adult Participants With Treatment-resistant Depression
Recruiting
3
08/2015
NCT02422186
A Study to Evaluate the Efficacy, Safety, and Tolerability of Intranasal Esketamine Plus an Oral Antidepressant in Elderly Participants With Treatment-resistant Depression
Recruiting
3
08/2015
NCT02497287
A Long-term, Safety and Efficacy Study of Intranasal Esketamine in Treatment-resistant Depression
Recruiting
3
09/2015
NCT02493868
A Study of Intranasal Esketamine Plus an Oral Antidepressant for Relapse Prevention in Adult Participants With Treatment-resistant Depression
Recruiting
3
10/2015
NCT02782104
A Long-term Safety Study of Intranasal Esketamine in Treatment-resistant Depression
Recruiting
3
06/2016