When I left the faculty in the early 1980s in the wake of the medicalization of our department after the DSM-III revolution, I didn't think of it as leaving psychiatry [I sort of thought of it as psychiatry leaving me]. But circumstances were such that I got busy with my practice and teaching, drifting further and further from what was going on in psychiatry local [Dr. Nemeroff's department] and psychiatry at large. It was 25 years later when two things woke me from my slumber – the
revelations of widespread corruption in academic psychiatry [the KOLs] and volunteering in a clinic and being horrified at the medication regimens I found people on there. So I had a lot of catching up to do, luckily finding others who were willing to help. I think that the CROs [Contract Research Organizations], the Medical Writing Firms, that whole industry that entered the clinical trial scene must have been in its infancy about the time I was going into seclusion, because I didn't know about any of it, though part of my reason for leaving had to do with a new administration that was keen on teaming up with PHARMA [another unfamiliar term]. I think of the time from going into practice until five or six years into my retirement as my "Rip Van Winkle" period:
I periodically tell that story partly because I feel guilty for not noticing what was happening, and sometimes to explain why I never even heard terms like evidence-based medicine, RCTs, meta-analysis, systematic reviews, or even the word pharma until five or six years ago [I'm apparently a heavy sleeper]. This time, however, I have another reason. Research watchdog, John Ioannidis, has a new article. And it was a graph in his paper that led to my retelling that snippet of my history:
by JOHN P.A. IOANNIDIS

Milbank Quarterly. 2016 94[3]:485-514.

POLICY POINTS: Currently, there is massive production of unnecessary, misleading, and conflicted systematic reviews and meta-analyses. Instead of promoting evidence-based medicine and health care, these instruments often serve mostly as easily produced publishable units or marketing tools. Suboptimal systematic reviews and meta-analyses can be harmful given the major prestige and influence these types of studies have acquired. The publication of systematic reviews and meta-analyses should be realigned to remove biases and vested interests and to integrate them better with the primary production of evidence.

CONTEXT: Currently, most systematic reviews and meta-analyses are done retrospectively with fragmented published information. This article aims to explore the growth of published systematic reviews and meta-analyses and to estimate how often they are redundant, misleading, or serving conflicted interests.

METHODS

: Data included information from PubMed surveys and from empirical evaluations

of meta-analyses.

FINDINGS: Publication of systematic reviews and meta-analyses has increased rapidly. In the period January 1, 1986, to December 4, 2015, PubMed tags 266,782 items as "systematic reviews" and 58,611 as "meta-analyses." Annual publications between 1991 and 2014 increased 2,728% for systematic reviews and 2,635% for meta-analyses versus only 153% for all PubMed-indexed items. Currently, probably more systematic reviews of trials than new randomized trials are published annually. Most topics addressed by meta-analyses of randomized trials have overlapping, redundant meta-analyses; same-topic meta-analyses may exceed 20 sometimes… Many other meta-analyses have serious flaws. Of the remaining, most have weak or insufficient evidence to inform decision making. Few systematic reviews and meta-analyses are both non-misleading and useful.

CONCLUSIONS: The production of systematic reviews and meta-analyses has reached epidemic proportions. Possibly, the large majority of produced systematic reviews and meta-analyses are unnecessary, misleading, and/or conflicted.
The abscissa on the graph goes from 1986-2014 and the ordinate goes from 0-30,000 [articles/year!], red being systematic reviews and blue being meta-analyses [I wonder what the clinical trial graph would looks like?]. Ioannidis obviously takes a dim view of this epidemic. He's a smart guy, so I expect he knows what he's talking about.
But when I looked at Ioannidis' graph, I saw something else – a historical epoch of medicine. Is it any wonder that I didn't know about meta-analyses and systematic reviews? There weren't any at the time I went all Rip Van Winkle! That graph parallels a profound change in medicine – the age of evidence-based medicine, the age of managed care, the age of corporatization, the age of the clinical trial. Whatever you want to call it, it has been a distinct era. And it is hardly our finest hour.
Again, I don't miss Ioannidis' point, that many of these meta-analyses and systematic reviews can be a way for academics to rack up publications for academic advancement without doing any original bench research or clinical studies of their own. But it's also possible that one of the reasons for that is that research funding is so hard to come by these days – except from corporate sponsors [with strings attached]. And another reason for the burst of secondary publications might be that there's been so much questionable research[?] in this time frame that genuinely does need a critical second [or third] look.
So at least in psychiatry, I welcome the flurry of independent meta-analyses and systematic reviews. We've had a pipeline of psychotherapeutic agents steadily pouring into our landscape during the time under discussion, literally changing the direction of the specialty, and we still can't trust our literature to tell us about, either their safety or their efficacy: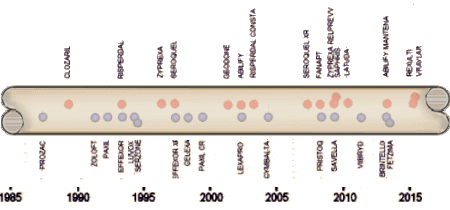 The meta-analyses and systematic reviews have been our only real window into any rational understanding of these drugs. And they still have a lot to tell us. Here's a very recent example:
by Ymkje Anna de Vries, Annelieke M. Roest, Lian Beijers, Erick H. Turner, Peter de Jonge

European Neuropsychophaemacology. 2016 Article in press.