I came to psychiatry from practicing Internal Medicine with something specific in mind to learn about – and it wasn't psychiatric patients. It was the subset of medical patients whose problems were clearly mental – and there were plenty of them. But in a psychiatry residency, that's not where you start. It's on the wards of a beleaguered City/County hospital populated with psychotic people and an emergency room called the Crisis Intervention Service [throw in that it was the end of the de-institutionalization period]. I found myself in the middle of interesting times, to say the least. By 1978, I was one year out of residency, in a psychoanalytic training program, in charge of that Crisis Intervention Service, and having a fine time. There was a book published that year that I didn't know about, but it was a harbinger of a really big change coming to psychiatry: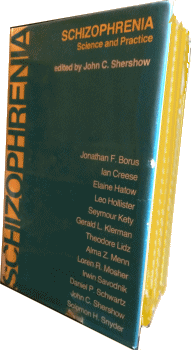 Schizophrenia: Science and Practice, Edited by J. C. Shershow. [Pp. 248]; Harvard University Press: Cambridge, Massachusetts. 1978. Chapter 5: The Evolution of a Scientific Nosology by Gerald Klerman.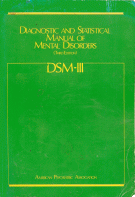 A couple of years later [1980], there was another book that nobody missed [the DSM-III], ushering in that big change – the medicalization of psychiatry.
I've quoted Klerman's neoKraepelinian Tenets frequently but never had the whole chapter in hand. Some time back, I ran across a dogeared copy of the Shershow book for $2.53 online and ordered it. In the holiday, post-election lull, I opened it up and ended up reading the whole book. It was a window into to state of psychiatry at the dawn of the new era, the dawn of my own psychiatric career. The Klerman chapter was a lot more that just the neoKraepelinian Tenets. I'm going to write about it some, but I thought others of you might want to read what he had to say, so I Scanned/OCR'd it, and it can be downloaded here as a .doc file.
Trust me. It's an interesting read [11 pages]…