Whatever you're reading right now [including this blog], you might just put a bookmark in it and read this paper. Besides it being written by luminaries [see
scathing indictments…
and
the hope diamond…
], it's an encyclopedic proposal that deserves everyone's attention:
by Marcus R. Munafo, Brian A. Nosek, Dorothy V. M. Bishop, Katherine S. Button, Christopher D. Chambers, Nathalie Percie du Sert, Uri Simonsohn, Eric-Jan Wagenmakers, Jennifer J. Ware, and John P. A. loannidis

Nature: Human Behavior. Published 10 January 2017. Open.

Improving the reliability and efficiency of scientific research will increase the credibility of the published scientific literature and accelerate discovery. Here we argue for the adoption of measures to optimize key elements of the scientific process: methods, reporting and dissemination, reproducibility, evaluation and incentives. There is some evidence from both simulations and empirical studies supporting the likely effectiveness of these measures, but their broad adoption by researchers, institutions, funders and journals will require iterative evaluation and improvement. We discuss the goals of these measures, and how they can be implemented, in the hope that this will facilitate action toward improving the transparency, reproducibility and efficiency of scientific research.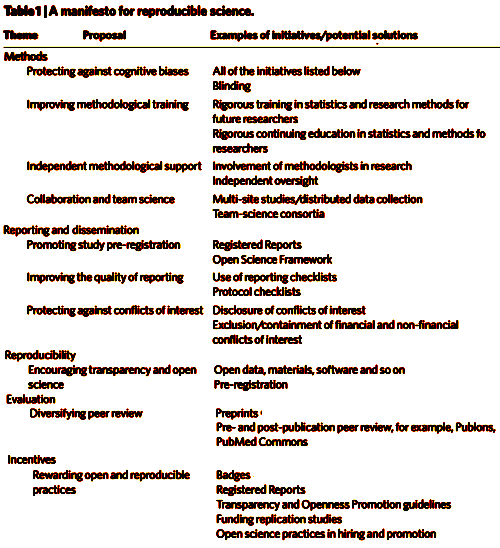 [abbreviated and reformatted from the paper]
From my perspective, there's nothing more important in Medicine right now than reclaiming the academic medical literature from its captivity by the paramedical industries and others who are called stakeholders. But the problem in academic science is bigger than just Medicine. In the other fields, it goes under the name, The Reproducibility Crisis.
This paper is too important to whip off a blog post. So I'm going to let it sit for a bit before commenting, and picking out the specific recommendations that have to do with my corner of the world – Randomized Clinical Trials of medications – specifically the medications used in psychiatry.