I spent a day with the article in the last post [A manifesto for reproducible science]. It lived up to my initial impression and I learned a lot from reading it. Great stuff! But my focus here is on a particular corner of this universe – the industry-funded Clinical Trial reports of drugs that have filled our medical journals for decades. And I'm not sure that this manifesto is going to add much. Here's an example of why I say that: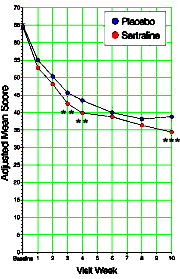 Looking at one of the clinical trial articles of SSRIs in adolescents, there was something peculiar [
Wagner KD. Ambrosinl P. Rynn M. et al. Efficacy of sertraline in the treatment of children and adolescents with major depressive disorder, two randomized controlled trials. JAMA. 2003;290:1033-1041.
]. What does it mean "two randomized controlled trials"? Well it seems that there were two identical studies that were pooled for this analysis. Why? They didn't say… The study was published in August 2003, and there were
several letters
along the way asking about this pooling of two studies. Then in April 2004, there was this letter:
To the Editor

: Dr Wagner and colleagues reported that sertraline was more effective than placebo for treating children with major depressive disorder and that it had few adverse effects. As one of the study group investigators in this trial, I am concerned about the way the authors pooled the data from 2 trials, a concern that was raised by previous letters critiquing this study. The pooled data from these 2 trials found a statistically marginal effect of medication that seems unlikely to be clinically meaningful in terms of risk and benefit balance.

New information about these trials has since become available. The recent review of pediatric antidepressant trials by a British regulatory agency includes the separate analysis of these 2 trials. This analysis found that the 2 individual trials, each of a good size [almost 190 patients], did not demonstrate the effectiveness of sertraline in treating major depressive disorder in children and adolescents.

E.Jane Garland, MD, PRC PC
Department of Psychiatry
University of British Columbia
Vancouver
So the reason they pooled the data from the two studies appears to be that neither was significant on its own, but pooling them overpowered the trial and produced a statistically significant outcome [see power calculation below]. Looking at the graph, you can see how slim the pickings were – significant only in weeks 3, 4, and 10. And that bit of deceit is not my total point here. Add in how Dr. Wagner replied to Dr. Garland's letter:
In Reply

: In response to Dr Garland, our combined analysis was defined a priori, well before the last participant was entered into the study and before the study was unblinded. The decision to present the combined analysis as a primary analysis and study report was made based on considerations involving use of the Children's Depression Rating Scale [CDRS] in a multicenter study. Prior to initiation of the 2 pediatric studies, the only experience with this scale in a study of selective serotonin reuptake inhibitors was in a single-center trial. It was unclear how the results using this scale in a smaller study could inform the power evaluation of the sample size for the 2 multicenter trials. The combined analysis reported in our article, therefore, represents a prospectively defined analysis of the overall study population…
This definition ["well before the last participant was entered into the study and before the study was unblinded"] is not what a priori means. It means "before the study is ever even started in the first place." And that's not what prospective means either. It also means "before the study is ever even started in the first place" too. She is rationalizing the change by redefining a priori's meaning.
The problem here wasn't that Pfizer, maker of Zoloft, didn't have people around who knew the ways of science. If anything, it was the opposite problem. They had or hired people who knew those science ways well enough to manipulate them to the company's advantage.
Why did they have two identical studies? Best guess is that they were going for FDA Approval, and in a hurry. You need two positive studies for FDA Approval.

Why would they decide to pool them somewhere along the way? Best guess is that things weren't going well and pooling them increases the chance of achieving significance with a smaller difference between drug and placebo.

How would they know that things weren't going well if the study was blinded? You figure it out. It isn't that hard.

Why would they say that a priori means "well before the last participant was entered into the study and before the study was unblinded" when that's not what it means? That isn't that hard to figure out either.

So why not just say that they cheated? Because I can't prove it [plausible deniability]
I'm not sure that the industry-funded Clinical Trials of drugs should even be considered research. They're better seen as product testing. And the whole approach should reflect that designation. Everyone involved is biased – by definition. The point of the enterprise isn't to answer a question, it's to say this in whatever way you can get there:
Conclusion The results of this pooled analysis demonstrate that sertraline is an effective and well-tolerated short-term treatment for children and adolescents with MDD.
And the only way to insure that the outcome parameters aren't changed is to require preregistration with a date-stamped certified Protocol and Statistical Analysis Plan on file before the study begins – a priori. What if they change their minds? Start a new study. Product testing may be science, but it's not research. And we may have more oversight on our light-bulbs and extension cords than we have on our medications.
---
And after all of that, the Zoloft study is still in Dr. Wagner's repertoire at the APA Meeting some 13 years later…
PsychiatricNews

by Aaron Levin

June 16, 2016

… As for treatment, only two drugs are approved for use in youth by the Food and Drug Administration [FDA]: fluoxetine for ages 8 to 17 and escitalopram for ages 12 to 17, said Wagner. "The youngest age in the clinical trials determines the lower end of the approved age range. So what do you do if an 11-year-old doesn't respond to fluoxetine?" One looks at other trials, she said, even if the FDA has not approved the drugs for pediatric use. For instance, one clinical trial found positive results for citalopram in ages 7 to 17, while two pooled trials of sertraline did so for ages 6 to 17.

Another issue with pediatric clinical trials is that 61 percent of youth respond to the drugs, but 50 percent respond to placebo, compared with 30 percent among adults, making it hard to separate effects. When parents express anxiety about using SSRIs and ask for psychotherapy, Wagner explains that cognitive-behavioral therapy [CBT] takes time to work and that a faster response can be obtained by combining an antidepressant with CBT. CBT can teach social skills and problem-solving techniques as well. Wagner counsels patience once an SSRI is prescribed.

A 36-week trial of a drug is too brief, she said. "The clock starts when the child is well, usually around six months. Go for one year and then taper off to observe the effect." Wagner suggested using an algorithm to plot treatment, beginning with an SSRI, then trying an alternative SSRI if that doesn't work, then switching to a different class of antidepressants, and finally trying newer drugs. "We need to become much more systematic in treating depression," she concluded.