Posted on

Thursday 2 April 2015

Living in the UK in the1970s practicing in an a US Air Force Hospital near one of the UK's primo Hospitals [Addenbrooks, in Cambridge] was interesting. Suffice it to say that our systems and expectations are very different. I never quite 'got it' – except to say 'very different' and 'interesting.' I think I understand the term, 'service users' in the papers I'm about to discuss. It means, 'people who rely on the National Health Service' for their health care – according to Wikipedia, that's 92%. If I understand correctly, NICE [National Institute for Health and Clinical Excellence] sets treatment guidelines one of which is to offer CBT [16 sessions] to service users with Schizophrenia, but it's not really available through the NHS. That adds a commercial element to the issues brought up by the BPS report [or I could've misread the whole thing].

Three years ago, there was a hot and heavy debate about including the Attenuated Psychosis Syndrome in the DSM-5. There were two major groups working on trying to identify 'prepsychotic states' and preventing 'overt psychosis' – Patrick McGorry in Australia and Anthony Morrison in Manchester UK:

At the time, I felt this was a worthy endeavor, but like most worried that it would open a door to even more over·medication. As it turned out, this move died out primarily because the initial excitement about identifying "prepsychotic" patients just didn't pan out. But I recall thinking that Dr. Morrison was giving it a yeoman's try with CBT and CBT+Medications.
There was the phenomenal work of Anthony Morrison, who is the first researcher to empirically show that psychotherapy can be effective with individuals diagnosed with schizophrenia, even when they choose to not take psychotropics. Although many know this intuitively, the scientific community is not really interested in intuition; for him to show this repeatedly through empirical data is profound.
Recognizing the name, I thought I'd take a look:
by Morrison AP, Turkington D, Pyle M, Spencer H, Brabban A, Dunn G, Christodoulides T, Dudley R, Chapman N, Callcott P, Grace T, Lumley V, Drage L, Tully S, Irving K, Cummings A, Byrne R, Davies LM, and Hutton P.

Lancet. 383[9926]:1395–1403

BACKGROUND: Antipsychotic drugs are usually the first line of treatment for schizophrenia; however, many patients refuse or discontinue their pharmacological treatment. We aimed to establish whether cognitive therapy was effective in reducing psychiatric symptoms in people with schizophrenia spectrum disorders who had chosen not to take antipsychotic drugs.

METHODS: We did a single-blind randomised controlled trial at two UK centres between Feb 15, 2010, and May 30, 2013. Participants aged 16-65 years with schizophrenia spectrum disorders, who had chosen not to take antipsychotic drugs for psychosis, were randomly assigned [1:1], by a computerised system with permuted block sizes of four or six, to receive cognitive therapy plus treatment as usual, or treatment as usual alone. Randomisation was stratified by study site. Outcome assessors were masked to group allocation. Our primary outcome was total score on the positive and negative syndrome scale [PANSS], which we assessed at baseline, and at months 3, 6, 9, 12, 15, and 18. Analysis was by intention to treat, with an ANCOVA model adjusted for site, age, sex, and baseline symptoms. This study is registered as an International Standard Randomised Controlled Trial, number 29607432.

FINDINGS: 74 individuals were randomly assigned to receive either cognitive therapy plus treatment as usual [n=37], or treatment as usual alone [n=37]. Mean PANSS total scores were consistently lower in the cognitive therapy group than in the treatment as usual group, with an estimated between-group effect size of -6.52 [95% CI -10.79 to -2.25; p=0.003]. We recorded eight serious adverse events: two in patients in the cognitive therapy group [one attempted overdose and one patient presenting risk to others, both after therapy], and six in those in the treatment as usual group [two deaths, both of which were deemed unrelated to trial participation or mental health; three compulsory admissions to hospital for treatment under the mental health act; and one attempted overdose].

INTERPRETATION: Cognitive therapy significantly reduced psychiatric symptoms and seems to be a safe and acceptable alternative for people with schizophrenia spectrum disorders who have chosen not to take antipsychotic drugs. Evidence-based treatments should be available to these individuals. A larger, definitive trial is needed.
Throughout the article, Morrison et al caution that this is a Pilot study that needs to be confirmed with a full definitive study. And that's to their credit, since there are a number of methodological problems along the way. The primary outcome variable was the PANSS total score [PANSS positive + PANSS negative]. There were two groups of 37 subjects each: CT – treated with weekly Cognitive Behavior Therapy and TAU - treatment as usual. I've summarized their results here [I don't have their raw data, so my results are on the observed cases without the adjustments to deal with missing values]. The statistical tests are mine: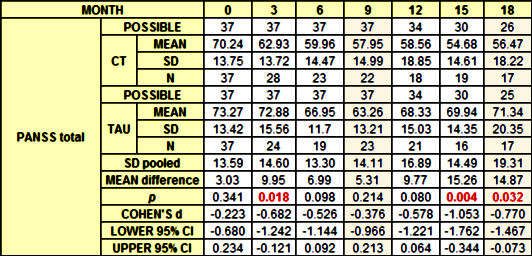 The rows labeled "POSSIBLE" require some explanation [and here's a graphic that may or may not help]: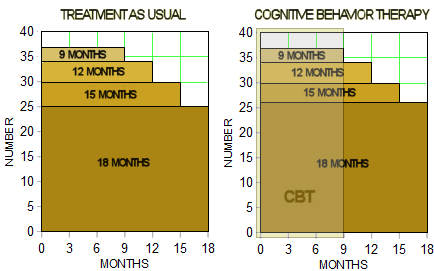 The CBT Treatment was in the first 9 months, however:
Participants allocated to cognitive therapy received a mean of 13.3 sessions [SD 7.57; range 2–26], with each session lasting roughly 1 h [these figures do not include the four booster sessions that were available]. Adherence to cognitive therapy was reasonably good, with no patients not attending any sessions, and 30 [82%] having at least six or more sessions.
The subjects weren't all in the study for a year and a half. Here's the explanation [see the graphic above]:
… 74 individuals were randomised to the cognitive therapy plus treatment as usual group [n=37], or the treatment as usual alone group [n=37]. We stopped before the target of 80 individuals in accordance with our recruitment timeline, on the basis of restricted resources, to ensure that we had the possibility to obtain 9 month data for all participants. Baseline characteristics were similar between groups.
That means that 68% were in the study for all 18 months, 81% were in the study for at least 15 months, 92% for at least 12 months, and 100% for at least 9 months. Looking back at the table, two of the significant differences are at 15 and 18 months as the cohort is dwindling. Now another graph: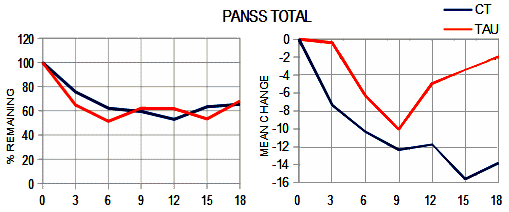 On the left, the dropouts appear similar, but it's the number remaining ÷ the number POSSIBLE, and it goes up[?] Then on the right, it's the change in scores from BASELINE for the two groups, and it makes no sense at all to me. The differences between the TAU group and the CT group are because the TAU scores went up[?] I have no clue what that means. Why would the untreated group get worse after the treated group was through with treatment? Since the change is coincident with the premature cutoff of the study, I thought it might have something to do with that, but again I can't figure how. They reported their results in a very different way in their Table 3, a single effect estimate that I didn't understand:

It's there for the looking for the stats-types among you. They also queried a categorical variable, responders [a fall in PANSS total > 50%]:
By examination of the proportion of participants achieving good clinical outcomes in each disorder [defined by use of an improvement of >50% in adjusted PANSS total scores], we noted that, at 9 months, seven [32%] of 22 participants in the cognitive therapy group, and three [13%] of 23 from the treatment as usual group had achieved good clinical outcomes. At 18 months seven [41%] of 17 receiving cognitive therapy and three [18%] of 17 receiving treatment as usual had achieved good clinical outcomes.
By my calculation: 9 months [p=0.30 Fishers 2 tail NNT=5.3] and 18 months [p=0.31 Fishers 2 tail NNT=4.3]. So while I can see that the CT scores are lower that the TAU scores, I can't find much in the way of statistical confirmation that there's a difference using the only tools I have without the actual data. And so I'm going to have to go with his caution that this is a Pilot Project rather that the conclusion in the abstract: "Cognitive therapy significantly reduced psychiatric symptoms and seems to be a safe and acceptable alternative for people with schizophrenia spectrum disorders who have chosen not to take antipsychotic drugs." And speaking of antipsychotic drugs – there were some after all:
With regards to use of antipsychotic drugs throughout the lifetime of the trial, ten [4%] of 37 participants in the cognitive therapy group were prescribed antipsychotics after randomisation [eight during the treatment window and two during the follow-up phase] as were ten [4%] of 37 in the treatment as usual group [nine during the treatment window and one during the follow-up phase].
I apologize for the rough tools I've used here. But that's the whole point of the
AllTrials
campaign. We can't really know what we're seeing in a published paper on a Clinical Trial without some access to the raw data prior to manipulation. Both the British Psychological Society and NICE have signed the
AllTrials
petition, and I would hope that when there is a definitive version of this study, Morrison et al will publish their full data as a data supplement so that all of us can see what they see.
So in-so-far as I'm able to vet this study, I would see it as a pilot project showing a signal that deserves repeating, but I can't confirm the opening quote above, the article's conclusion, or the commentary on the article. Here's the thing of it, my bias is on the side of confirmation. I support psychotherapeutic intervention in Schizophrenia. I'm not sure I would've picked CBT, but I'm not an CBT-er, and from what I can read, Morrison et al have adapted the technique to be used in this condition.
On the other hand, we've just been through a period where the Clinical Trial literature has been problematic to a fault, and many of the results have molded to the wishes of the sponsors rather than the data itself. The fight for Data Transparency has been long and hard, and is anything but over. And if we are to apply the standard of outside replication of analyses to the industry sponsored drug trials, we need to apply it to all trials, including a study like this. I've come the personal conclusion that a published article is only a proxy for the actual data [
proxies…
][see also
Study Report, Study Reality, and the Gap Between
].
hat tip to 1boringyoungman