Posted on

Monday 2 January 2017

hat tip to James O…

by Moore TJ and Mattison DR

JAMA Intern Medicine. Dec 12, 2016. [Epub ahead of print]
That report they summarized is a bear, but they've pared it down into two tables that are manageable. First, how widespread is the use of prescribed psychiatric medication [expressed as % of the population]?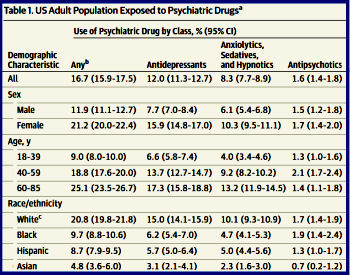 Next, which drugs are being used?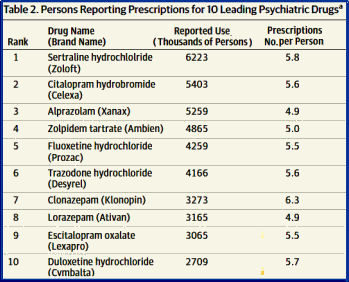 If you work in a public clinic like I do, none of that will come as any great shock. The only thing that surprised me was that Zoloft® and Ambien® are so high up on the list. I prescribe neither so it was just a surprise. Reasons? I had no success with Zoloft® at all, and later, when I looked at the FDA approval documents, they looked beyond shaky to me [
zoloft: the approval I…
,
zoloft: the approval II…
,
zoloft: the approval III…
,
zoloft: beyond the approval I…
,
zoloft: beyond the approval II…
,
zoloft: the epilogue…
]. Ambien®? When the second patient showed up with bruises from falls while sleepwalking on Ambien®, it came off of my formulary for good. But otherwise, no big surprises. However, the authors went further and took a reasonable stab at quantifying something that I've thought about [and struggled with] ever since I started at the clinic about 8 or 9 years ago –
long term use of these medications
. Here are a few quotes from their letter:
"Long-term use was defined as 3 or more prescriptions filled in 2013 or a prescription started in 2011 or earlier…"

"Most psychiatric drug use reported by adults was long term, with 84.3% [95% Cl, 82.9%-85.7%] having filled 3 or more prescriptions in 2013 or indicating that they had started taking the drug during 2011 or earlier. Differences in long-term use among the 3 drug classes were small. The long-term users filled a mean [SE] of 9.8 [0.19] prescriptions for psychiatric drugs during 2013…"

"These data show 1 of 6 US adults reported taking psychiatric drugs at least once during 2013, but with 2- to 3-fold differences by race/ethnicity, age, and sex. Moreover, use may have been underestimated because prescriptions were self-reported, and our estimates of long-term use were limited to a single survey year…"

"Among adults reporting taking psychiatric drugs, more than 8 of 10 reported long-term use…"
Having taken something of a 25 year long sabbatical from mainstream psychiatry after leaving academia for a private psychotherapy practice, I started volunteering in local charity clinic after I retired. I was unprepared for the psychiatry I encountered there. I expected that I'd have to bone up on my psychpharmacology [and I did], but I sure didn't care for what I found. It seemed like over·medication, poly·pharmacy, inappropriate drug choices, continual use of time·limited medicines, all were standard operating procedures. So I started reading the clinical trials and learned about ClinicalTrials.gov, Drugs@FDA, PubMed, and the push·back – the blogs and literature that were developing around these topics [and I started this one of my own].
This report by Moore and Mattison well documents what I found returning to general psychiatry. I still find the figures staggering, but the one that makes the least sense is that these medications are being taken long term. Depression, even in its mest malignant format is time limited for the most part. There's evidence that in some depressions, maintenance medication can be a relapse preventive, but hardly in 80% of the cases. All of this has happened in a period where psychiatry has been telling itself and the rest of the world that it's medicalizing, but there's nothing about those figures that's medical. It's contaminated by profiteering, plain and simple, and at the expense of patients who've come for help.
I hear from patients who are caught up in a carousel of medications trying unsuccessfully to find something that helps but getting nowhere or even seeing their symptoms worsening:
"… insanity is doing the same thing over and over again expecting different results"
There was a time that the best advice would be to forget what they've been told to date and start over, tapering any medication that isn't clearly helping. Check out the hardware [a medical condition or medication that might be contributing]; likewise with the firmware [a major psychiatric syndrome like Melancholia or Manic Depressive Illness]; and then the software [find a reputable therapist to help them explore their lives, past and present, looking for the tangles]. That's the same advice they would have gotten forty years ago. And it's still good advice.
This coin has another side. While the figures quoted in this article telegraph the clear message that these medications have been over·promoted and over·prescribed, they also raise another potential concern. When we became disappointed with mental hospitals, we shut them down rather that right-size them. When we were disillusioned with antipsychotic medication and community care, we did the same thing [and filled our jails]. Similarly, when the various psychotherapies didn't live up to their early promises, they were vilified. And while we currently remain in a situation where the medications on that list are over·prescribed, that's not to say that there aren't a significant number of patients who are genuinely benefiting from taking them. Something about the:
"… baby with the bathwater"