Posted on

Saturday 6 September 2014

Last time around [

note to self…

], I mentioned a Cochrane Review [also published in the Lancet] of head to head studies of the antidepressants. This same group also did a meta-analysis for each of the major antidepressants. This is the one they did for

Zoloft®

[Sertraline]:
by Cipriani A, La Ferla T, Furukawa TA, Signoretti A, Nakagawa A, Churchill R, McGuire H, and Barbui C.

Cochrane Database Systematic Reviews. 2010 [4]:CD006117.

BACKGROUND: The National Institute for Health and Clinical Excellence clinical practice guideline on the treatment of depressive disorder recommended that selective serotonin reuptake inhibitors should be the first-line option when drug therapy is indicated for a depressive episode. Preliminary evidence suggested that sertraline might be slightly superior in terms of effectiveness.

OBJECTIVES: To assess the evidence for the efficacy, acceptability and tolerability of sertraline in comparison with tricyclics [TCAs], heterocyclics, other SSRIs and newer agents in the acute-phase treatment of major depression.

SEARCH STRATEGY: MEDLINE [1966 to 2008], EMBASE [1974 to 2008], the Cochrane Collaboration Depression, Anxiety and Neurosis Controlled Trials Register and the Cochrane Central Register of Controlled Trials up to July 2008. No language restriction was applied. Reference lists of relevant papers and previous systematic reviews were hand-searched. Pharmaceutical companies and experts in this field were contacted for supplemental data.

SELECTION CRITERIA: Randomised controlled trials allocating patients with major depression to sertraline versus any other antidepressive agent.

DATA COLLECTION AND ANALYSIS: Two review authors independently extracted data. Discrepancies were resolved with another member of the team. A double-entry procedure was employed by two reviewers. Information extracted included study characteristics, participant characteristics, intervention details and outcome measures in terms of efficacy [the number of patients who responded or remitted], acceptability [the number of patients who failed to complete the study] and tolerability [side-effects].

MAIN RESULTS: A total of 59 studies, mostly of low quality, were included in the review, involving multiple treatment comparisons between sertraline and other antidepressant agents. Evidence favouring sertraline over some other antidepressants for the acute phase treatment of major depression was found, either in terms of efficacy [fluoxetine] or acceptability/tolerability [amitriptyline, imipramine, paroxetine and mirtazapine]. However, some differences favouring newer antidepressants in terms of efficacy [mirtazapine] and acceptability [bupropion] were also found. In terms of individual side effects, sertraline was generally associated with a higher rate of participants experiencing diarrhoea.

AUTHORS' CONCLUSIONS: This systematic review and meta-analysis highlighted a trend in favour of sertraline over other antidepressive agents both in terms of efficacy and acceptability, using 95% confidence intervals and a conservative approach, with a random effects analysis. However, the included studies did not report on all the outcomes that were pre-specified in the protocol of this review. Outcomes of clear relevance to patients and clinicians were not reported in any of the included studies.
Looking at the full meta-analysis, I was awed with the detail and precision [as I always am with a Cochrane Systematic Review]. Everything possible is documented. It's an all volunteer army of independent scientists and as far as I'm concerned, it's on the side of truth, justice, and the scientific way. As I looked it over, I started making some notes and got a bit carried away – producing my first ever 1boringoldman meta-meta-analysis. I make no claim of thoroughness. They had 59 studies and looked at everything possible. I dropped the ones on drugs I'd never heard of and ended up with only 42. I only looked at one parameter, the Odds Ratio that compared "Responders" in each study [in the OR column, a value <1 favors Zoloft® and a value >1 favors the Comparator drug]. The p column is the significance of the OR for that study. The Funding column is who funded the study – if it could be determined. That's it [maybe I ought to call it a mini-meta]: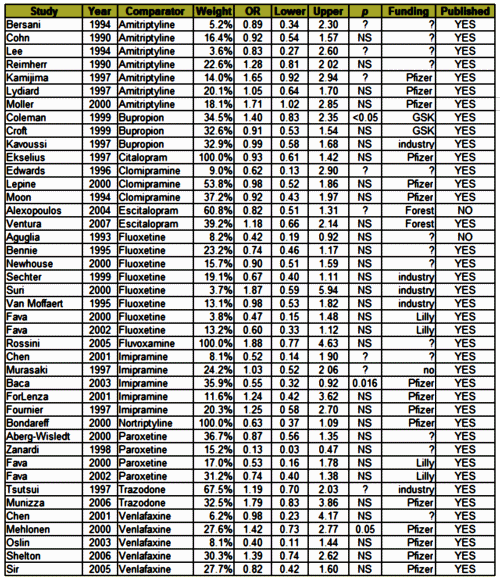 So, first off, why did I do a mini-meta-analysis? In order of importance: It rained all afternoon. The one television program we'd scheduled to tape didn't [tape]. And I wanted to chase my questions from
before
– "
Am I suggesting that the ghostwritten literature on Zoloft® is extensive enough or distorted enough to skew a meta-analysis of all published head-to-head clinical trials? I don't know that, so I guess the answer is currently unknown.
" and "
There has to be some explanation for the discrepancy between the lackluster FDA Approval data and its glowing performance in the literature [and in the marketplace]
". So my plan was simple – I would look at the industry funded studies compared to the others to see if that explained the difference. Pretty clever in my opinion. The problem was that there wasn't any
other
category. That was a myth in my mind. My tally was:
Pfizer 15/42, "?" 13/42, "industry" 5/42, Lilly 4/42, GSK 2/42, Forest 2/42, "none" 1/42
The "?"s were ones where neither the authors nor I could figure out the funding. The ones that say "industry" were ones that the authors had copies of but I couldn't get to. A lot of the "?"s were in the Journal of Clinical Psychiatry so I think it would be a good guess they were industry funded [but I was being good like the Cochrane people]. Reading the abstracts of the "?"s and "industry"s, one could easily guess the funding source [but again, I was being good]. So one thing I learned from doing this is that my fantasy that at some magic year in the past they started requiring declarations of funding source was more wishful thinking than reality. Nowadays, if the study is registered on clinicaltrials.gov, you can figure out funding. But many of these trials antedate clinicaltrials.gov.
On my first run through, I didn't have the p column. But even though the Sertraline studies won the OR face off 64% of the time, those weren't very impressive numbers. So I went back and added the p values of the Odds Ratios. Well that was instructive:
3/42 were significant, 8/42 were unknown, and 31/42 were NOT significant [p<0.05]
I was kind of surprised. I guess that's why Cipriani et al said, "a trend in favour of sertraline over other antidepressive agents." I didn't compile the Adverse Events or much look at the other efficacy measures. But I'd had enough. The biggest lesson in my little exercise is right there at the end of the abstract, "Outcomes of clear relevance to patients and clinicians were not reported in any of the included studies." 42 studies with eight or nine thousand subjects, and they were jockeying for market share [apparently successfully]…