Posted on

Wednesday 22 May 2013

The DSM-5 Task Force and its antics have dominated and embarrassed psychiatry for several years now, and like the swirling winds in Oklahoma, left a swath of destruction in its wake that will be long remembered. It has certainly been the noisiest DSM Revision effort in history, but is substantively of almost no consequence. While APA President Dr. Jeffery Lieberman calls it a "gold standard," it's hard to see that it's very different from the DSM-IV of 1994. The messiness of the Depression and Anxiety categories is, if anything, messier. There are some silly additions like renaming Dr. Biederman's Bipolar Child as Disruptive Mood Dysregulation Disorder, the invention of Somatic Symptom Disorder, and other made up place holders that won't lead to any deeper understanding of human experience or biology. So I guess the only "gold" involved that I can see is the $25 M they left along the way.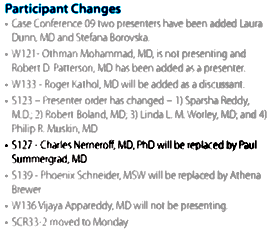 Looking over the meeting schedule and the daily bulletins, if you subtract all the DSM-5 goings-on, there wasn't much left. A new CEO I've never heard of with a lot of administrative background. A lot of politically correctness – LGBT disaster studies, bullying, gun control, minorities, prevention – things that matter but not much in the way of scientific teeth. There were lots of "advances in…" and "overview of…" and less "neurobiology of…" than usual. Drs. Alan Schatzberg and John Rush were there with an update on iSPOT [without Dr. Nemeroff]. Dr. Nemeroff had only one session on aging, whoops – replaced by the incoming APA President, Dr. Paul Summergrad [right].
There was not much about this meeting that caught my attention one way or another other than following the DSM-5 launch, and even going over the schedule of sessions and symposia, it all seemed pretty bland. Maybe I'm just getting old and hard to engage, but maybe not. Maybe there just wasn't a lot there. It felt like a wake. On the other hand, all week long I've had an odd non-evidenced-based feeling – one that surprised me. The feeling is, "It's over" – something of a relief feeling. I'm going to have to cogitate on what "It" really means. First shot is that "It" is the strangle-hold that a particular group of highly placed industry-affiliated psychiatrists have had on the specialty for several decades that has finally begun to play itself out. You can all name the ones I'm talking about. Their names fill the posts of this blog [but not the APA program].
My intuition, real or imagined, doesn't change what a debacle the DSM-5 has been or negate the RDoC fantasy-land discussions. It doesn't mean that Dr. Trivedi isn't trying to introduce some new SSRI-like antidepressant. But somehow, it feels like the junk-scientists are headed for the margins where they belong and psychiatry is about to be in a position for some rational reappraisal, if there's anyone still around that can bring it off. Unless Dr. Lieberman meets the Buddha on the road, he's not the one to do it. But for whatever it's worth, I'm allowed to report on my "It's over" feeling. After all, it's only a blog…