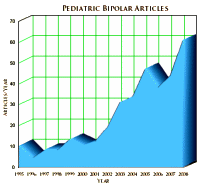 We've already discussed the J&J Center for Pediatric Psychopathology Research at Mass General [harvard for sale…] that started in 2002, and noted the dramatic increase in publication by Biederman's group at Harvard. But the interest wasn't just in Boston, the notion of the Bipolar Child caught the interest of the whole international psychiatric community. Beyond the medical articles [right] and conferences, there was an outpouring of books [above] on the subject for the parents of the afflicted. As Dr. Allen Frances discussed later, Pediatric Bipolar Illness took on all the hallmarks of being a "fad." And like many such topics, there were enthusiasts and skeptics, but not many who had no opinion at all.
In 2003, Dr. Biederman got an NIMH Grant [~$100K/yr for 5 years] to host a yearly conference for researchers to get together and share the up-to-date research:
Project Number:
1U13MH064077-01A1
Contact Principal Investigator:
BIEDERMAN, JOSEPH
Title:
COLLABORATIVE PEDIATRIC BIPOLAR DISORDER CONFERENCE
Awardee Organization:
MASSACHUSETTS GENERAL HOSPITAL

---

DESCRIPTION (provided by applicant): We are proposing a multi-year conference grant which seeks to establish a forum for researchers to pursue collaborative studies of pediatric bipolar disorder. This application was conceived in response to a recent roundtable discussion convened by the NIMH's Director, Dr. Steve Hyman, in collaboration with the Developmental Psychopathology and Prevention Research Branch and the Child and Adolescent Treatment and Preventive Intervention Research Branch. Despite controversy, the notion that pediatric bipolar disorder is exceedingly rare has been challenged by case reports and emerging research findings that suggest that this disorder may not be rare but, rather, that it is difficult to diagnose. It is also quite clear that, despite debate over nosological issues, many clinicians recognize that a sizable number of children suffer from a severe form of psychopathology associated with extreme irritability, violence, and incapacitation that is highly suggestive of bipolar disorder. Since a sizable clinical population currently exists for which relatively little systematic information is available, efforts that increase the pace and utility of research are desperately needed. Thus, an appropriate mechanism designed to facilitate regular communication among investigators and clinicians is needed as a first step to build collaborative research and guide clinical efforts that will foster a more efficient and streamlined approach to the understanding and treatment of this perplexing disorder. The main aim of the proposed conference grant is to overcome the hurdles to collaboration by establishing yearly conferences among investigators studying pediatric bipolar disorder. Subgoals of these conferences are: (1) to define the boundaries of the bipolar spectrum phenotype and determine if children who technically meet criteria for bipolar disorder actually have this disorder or are affected with another condition.; (2) to standardize data collection methods across different centers to facilitate pooling of diagnostic data and validation of the disorder; (3) to facilitate joint submissions of large collaborative projects that will enable the study of a broad spectrum of scientific questions including genetic, imaging and therapeutic protocols; and (4) to create a mechanism for pooling samples so that potential findings from one group may be cross-validated on pooled data from other groups. Although scientific projects studying pediatric bipolar disorder are likely to be funded in the coming years, these efforts will likely take many years to unfold. This scientific void and ongoing diagnostic and therapeutic uncertainties calls for immediate action to foster contact and dialogue among interested parties in the clinical and scientific community. While the field faces a dearth of information, more and more children and families are being referred to clinics for evaluation and treatment. Thus, steps that increase the identification of children with bipolar spectrum disorder and the development of initial therapeutic approaches to help them is of high clinical, scientific and public health importance. While the proposed conference does not intend to solve all outstanding problems associated with pediatric bipolar disorder, it will provide a forum to begin formulating a solution.
Over the course of the years between 2000 and 2008, Biederman's group reported 9 clinical trials [among their 78 articles]. I included this table because I was surprised at how thin it was – seven small open label trials, one retrospective analysis [of someone else's Janssen financed double blind study], and only one double blind trial of their own. With all the noise they were making, I would've expected more:
2008 Risperidone treatment for ADHD in children and adolescents with bipolar disorder
[open label, n=31, ages 4-15] Improvement in ADHD symptoms was contingent on improvement in manic symptoms. These results suggest that that treatment with risperidone is associated with tangible but generally modest improvement of symptoms of ADHD in children with bipolar disorder.
"This work was supported by grants from Janssen Pharmaceutica (JB), the Stanley Medical Research Institute (JB) and NIH (KO1 MH065523; EM)."
2007 A prospective open-label treatment trial of ziprasidone monotherapy in children and adolescents with bipolar disorder
[open label, n=14, 8 week, ages 6-17] …associated with a significant short-term improvement of symptoms of pediatric bipolar disorder.
"This study is supported by a grant from Pfizer, Inc."
2007 Olanzapine versus placebo in the treatment of adolescents with bipolar mania
[double-blind, randomized placebo-controlled trial, n=161, 3 week, ages 13-17] Olanzapine was effective in the treatment of bipolar mania in adolescent patients. Patients treated with olanzapine, however, had significantly greater weight gain and increases in the levels of hepatic enzymes, prolactin, fasting glucose, fasting total cholesterol, and uric acid.
"Sponsored by Eli Lilly and Company."

2007 An open-label trial of aripiprazole monotherapy in children and adolescents with bipolar disorder
[open label, n=15, 8 week] …beneficial in the treatment of mania in youth with bipolar disorder.
"This research was supported by Bristol-Myers Squibb."
2006 Risperidone for the treatment of affective symptoms in children with disruptive behavior disorder: a post hoc analysis of data from a 6-week, multicenter, randomized, double-blind, parallel-arm study
[double blind, n=110, 6 week] The results of this post hoc analysis of affective symptoms of DBDs using data from a previously published randomized, double-blind clinical comparison of risperidone and placebo in the treatment of children with DBDs and subaverage intelligence suggest that risperidone was effective in treating the factors of explosive irritability; agitated, expansive, grandiose; and depression.
"Janssen Pharmaceutica Inc."
2005 Open-label, 8-week trial of olanzapine and risperidone for the treatment of bipolar disorder in preschool-age children
[open label, n=31, 8 week, age 4-6] …suggests that treatment with risperidone or olanzapine may result in a rapid reduction of symptoms of mania in preschool children with BPD. Because of substantial residual symptomatology and adverse effects, however, a pressing need exists to identify additional safe and effective treatments for the management of BPD in this high-risk population.
"This work was supported by a center grant from the Stanley Medical Research Institute. Aspects of this work were presented at the National Institute of Mental Health (NIMH) Pediatric Bipolar Disorder Conference held in Boston, April 2–3, 2004. The conference was supported in part by NIMH Grant S U13MH64077-03."
2005 An open-label trial of risperidone in children and adolescents with bipolar disorder
[open label, n=22, 8 week, age 6-17] Weight increased significantly from baseline and there was a four-fold increase in prolactin levels from baseline. Open-label risperidone treatment was associated with a significant shortterm improvement of symptoms of pediatric bipolar disorder.
"This project was supported by a grant from Janssen Pharmaceutica."
2002 An open-label trial of divalproex in children and adolescents with bipolar disorder
[open label, n=40, 8 week, age 7-19] This study provides preliminary support for the safety and effectiveness of divalproex in the treatment of bipolar disorder in youths.
"Support for this study was provided by Abbott Laboratories."
2001 A prospective open-label treatment trial of olanzapine monotherapy in children and adolescents with bipolar disorder
[open label, n=22, 8 week, age 5-14] Body weight increased significantly over the study. Open-label olanzapine treatment was efficacious and well tolerated in the treatment of acute mania in youths with bipolar disorder
"This study was supported by a grant from Eli Lilly and Company and by National Institute of Mental Health Clinical Scientist Award K08-MH-01573 to the primary author."
Earlier, I quoted Dr. Biederman from a 2000 Issue of
Biological Psychiatry
on Bipolar Disorders [
Pediatric mania: a developmental subtype of bipolar disorder?
]. By 2005,
Biological Psychiatry
had an issue devoted just to Childhood Bipolar Disorders, introduced by none other than Dr. Biederman himself. He used that forum to respond to criticisms that his bipolar kids weren't "manic" – they were "irritable" – quoting articles in the issue by his associates]:
Advances in the Neurobiology of Pediatric Bipolar Disorder
by Joseph Biederman and Regina Smith James
Biological Psychiatry 2005 58(7):515-516.

…Much of the contemporary diagnostic controversy surrounding pediatric BPD has focused on the diagnostic utility of irritability as a legitimate mood abnormality in the disorder. Two articles deal with this issue. In the first one, Dr. Mick and associates (2005) tackle the thorny issue of irritability in the diagnosis of pediatric BPD. To this end they used data from a large of sample of 274 ADHD children who were administered the Kiddie Schedule for Affective Disorders and Schizophrenia-Epidemiologic Version (KSADS-E) structured diagnostic interview. From this instrument, they identified irritability in three of its modules: Oppositional Defiant Disorder (ODD), Major Depression and Mania. Results showed that while the irritability ascertained from the ODD module was very common in all ADHD subjects, it was the least impairing and did not increase the risk of mood disorders. In contrast the irritability associated with major depression (mad/cranky irritability) was more impairing and was predictive of unipolar depression and the irritability ascertained from the mania module (Super angry/grouchy/cranky irritability) was the most impairing and was predictive of both unipolar depression and bipolar disorder. These results indicate that although irritability is highly heterogeneous, it's most extreme form is selectively associated with bipolar disorder in children.

In the second article, Wozniak et al (2005) evaluated whether hypothesized cardinal symptoms of euphoria and grandiosity result in differences in clinical correlates in bipolar youth ascertained with no a priori assumptions about cardinal symptoms. They studied 86 youth satisfying DSM-IV criteria for bipolar disorder with and without proposed cardinal symptoms of euphoria and grandiosity. They found that severe irritability was the predominant abnormal mood rather than euphoria in the overwhelming majority of subjects (94% vs. 51%). They also found that among grandiosity was not uniquely overrepresented in youth with mania, nor did the rate of grandiosity differ whether irritability or euphoria was the abnormal mood symptom. Neither symptom profile, patterns of comorbidity nor measures of functioning differed related to the presence or absence of euphoria or grandiosity. These findings support the clinical relevance of severe irritability as the most common presentation of mania in the young…
[I just couldn't resist "
Super angry/grouchy/cranky irritability
"]. But, alas, all good things must come to an end. When Senator Grassley began to investigate Biederman, he first looked into Biederman's personal finances and under-reportingo of his income [
Researchers Fail to Reveal Full Drug Pay
] in June 2008. Then he questioned the ghost-writing of an article [
Research Center Tied to Drug Company
] in November of 2008. Finally, in March 2009, Grassley sent a
63 page report
to Harvard questioning Biederman's behavior at the
J&J Center for Pediatric Psychopathology Research
. Part of that document referred to a set of Biederman's slides Grassley had obtained during his investigation: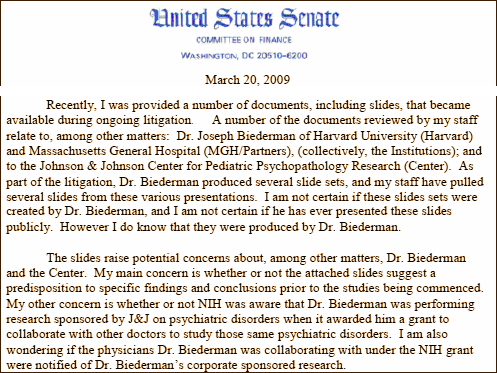 Lest there be any question about whether the J&J Center for Pediatric Psychopathology Research was a front-end for J&J's marketing plans, Biederman's slides erase any doubt: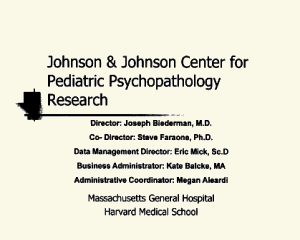 Some of this might even make good comedy if it weren't such a serious topic. This saga actually speaks for the decade and a half it spans. It resulted in the unnecessary medication of lots of kids with potent and potentially toxic medications; it furthered our profession's reputation as riddled with crooks; it so muddies the water that we have no idea if the resulting library of literature on childhood affective disorder has any meaning at all; and it did little for the prestige of Harvard University. All it really did was jack up the cost of health care and inflate corporate sponsor's annual reports. There's nothing to be proud of here…