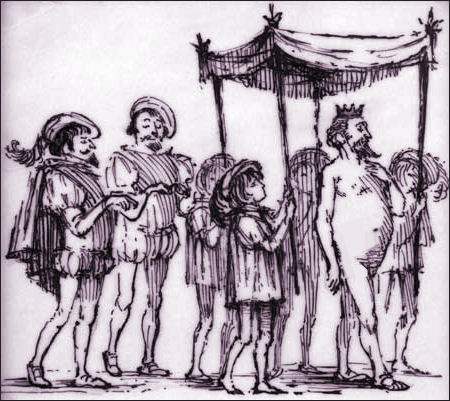 In the course of time, there are sometimes moments of clarity that change things forever. An alcoholic decides to finally wander into an AA meeting. A patient who's had years of therapy realizes something that makes it all worth it. A Rosa Parks has had a long day and just says "no" when asked to move to the back of the bus. Sometimes it's a private moment that changes one life a little bit. Sometimes it's the nidus for a movement that changes the world, as in the case of Ms. Parks. Such a moment of clarity is the moral of the children's book, the
Emperor's New Clothes
[adding an ironic twist to the story of Study 329]. The reviewers at the JAMA and the JAACAP located the flaws in Study 329, but they didn't quite say what Drs. Jureidini and Tonkin said in their letter to the JAACAP about this article in 2003:
We believe that the Keller et al. study shows evidence of distorted and unbalanced reporting that seems to have evaded the scrutiny of your editorial process. The study authors designated two primary outcome measures: change from baseline in the Hamilton Rating Scale for Depression [HAM-D] and response [set as fall in HAM-D below 8 or by 50%]. On neither of these measures did paroxetine differ significantly from placebo. Table 2 of the Keller article demonstrates that all three groups had similar changes in HAM-D total score and that the clinical significance of any differences between them would be questionable. Nowhere is this acknowledged. Instead:

The definition of response is changed. As defined in the "Method" section, it has a nonsignificant p value of .11. In the "Results" section [without any explanation], the criterion for response is changed to reduction of HAM-D to below 8 [with a p value of .02]. By altering the criterion for the categorical measure of outcome, the authors are able to claim significance on a primary outcome measure.

In reporting efficacy results, only "response" is indicated as a primary outcome measure, and it could be misunderstood that response was the primary outcome measure. Only in the discussion is it revealed that "Paroxetine did not separate statistically from placebo for…HAM-D total score," without any acknowledgment that total score was one of the two primary outcome measures. The next sentence is a claim to have demonstrated efficacy for paroxetine.

Thus a study that did not show significant improvement on either of two primary outcome measures is reported as demonstrating efficacy. Given that the research was paid for by Glaxo-Smith-Klein, the makers of paroxetine, it is tempting to explain the mode of reporting as an attempt to show the drug in the most favorable light…
Except for the first and last sentences, it is otherwise a matter-of-fact critique that cuts to the heart of the matter by pointing out the obvious fallacies in the article. The letter may not have changed the world,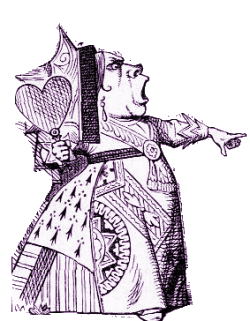 but it should have. And it did come at a time when clarity about the pharmaceutical invasion of our peer reviewed literature was belatedly beginning to rise into our collective consciousness. They may not have known about the Sally Ladens or the Jim McCaffertys of the world, but they saw their footprints. Jureidini and Tonkin said "
evidence of distorted and unbalanced reporting
", "
evaded the scrutiny of your editorial process
", "
an attempt to show the drug in the most favorable light
." All of that is true. In response to their request to see the author's reaction, the editor of JAACAP who had accepted this article, Dr. Mina Dulcan, responded with a
nasty-gram
for all times [see
retract study 329…
]: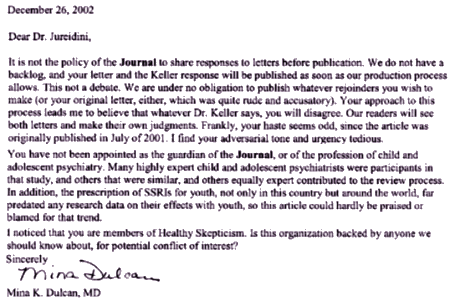 Dr. Dulcan's letter says, "Many highly expert child and adolescent psychiatrists were participants in that study, and others that were similar, and others equally expert contributed to the review process." And when interviewed by Panorama, she said, "We rank, and this is a worldwide ranking, we rank number one in child mental health and number two in paediatrics" and "Oh I don't have any regrets about publishing at all. It generated all sorts of useful discussion which is the purpose of a scholarly journal."
And here's the ironic part, the last paragraph of the author's published response in the JAACAP to Jureidini's and Tonkin's letter makes a surprising choice of metaphors. There was apparently some disagreement among the principals about whether to include this final sarcastic paragraph addressing
the covert message
. The letter was
penned
by author Neal Ryan [and perhaps Martin Keller] and endorsed by others [Strober, Weller, McCafferty, Hagino, Birmaher, and Wagner], but GSK's James McCafferty wanted to leave it out
[1][2]
. He obviously lost. They said:
Drs. Jureidini and Tonkin argue that the reviewers failed to understand and appropriately critique the article [and by extension that the editor was not up to the task] and that the authors of the original article swerved from their moral and scientific duty under the influence of the pharmaceutical industry. By extension, of course, they covertly argue that the reader who agrees with them is intellectually and morally superior while a reader who does not agree with their position shares the cognitive and/or moral failing of the rest of us. We say that this article and body of scientific work is a matter for thoughtful and collegial discussion and say, in addition, that their emperor has no clothes.
So we come to another of the lessons of Study 329. There is no royalty in medicine.
We don't really know what lead Dr. Dulcan or her editorial board to decide to publish this article, or for that matter, even why it was submitted to her
Journal of the American
Academy of Child and Adolescent Psychiatry
when it was headed to the
American Journal of Psychiatry
. What we do know is that it wasn't because of the value of the article itself. It is misguided science, deceitfully written, and reaches an unsupportable conclusion. It certainly wasn't published because of rave reviews from the journal's peer reviewers – they panned it. The most benign answer is that Dr. Dulcan was taken with having an article by the chairman of a prestigious university's psychiatry department and many "
highly expert child and adolescent psychiatrists
" in her journal [that ranks "
number one in child mental health and number two in paediatrics
"]. It brings to mind an exchange Dr. Dulcan had with
Danny Carlat
at the 2010 APA convention in New Orleans:
She took a look at my name tag, and said, "Oh, I've heard about you."


Since her expression was somewhere between stern and outright hostile, I queried, "In a good way or a bad way?"
"In a bad way, to tell you the truth." And then she was off on a high volume rant that went something [if memory serves] like this:
"How DARE you write an article in the New York Times saying that your therapy training at Mass General was terrible, and then later having this GREAT AWAKENING that" – she made a religious hand waving gesture – "'Oh, it's important to understand my patients,' and then you write an article in order to sell your new book and your newsletter. How are you any different from the drug companies? I was outraged by your article and showed it to my colleagues. What a disservice you have done to psychiatry." And it went on from there…
That Healthy Skepticism and Dr. Carlat both felt called to post tongue lashings they received from Dr. Dulcan, and that in both cases, her rants were about not showing proper respect to important people in psychiatry is telling – suggesting that she is an elitist who starts with the name tag [in both directions]. That may seem a harsh hypothesis for why she published this paper, but the other options are worse. There is no sensible, straightforward reason that I can see. And this just isn't going to do – "It generated all sorts of useful discussion which is the purpose of a scholarly journal." The only useful discussions that I know of generated by this article were in senate hearings, depositions, and settlement negotiations where the topics were ghost-writing, false advertising, conflicts of interest, off-label prescribing, hiding adverse effects, patient harm, etc.
At the time Study 329 was published, our psychiatric literature was being flooded with pharmaceutical industry funded and managed articles turning barely significant drug effects into clinical wonder drugs using sleight of hand, the reputations of the psychiatric royalty with their prestigious universities, and our time-honored scientific journals to certify the transformations. To wit: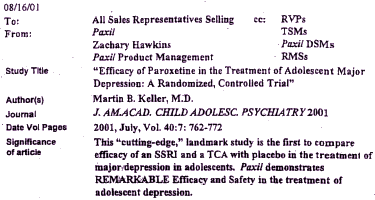 Study 329 is now infamous, not because it is unique for the era. It wasn't. This kind of article was then, and is now, far too common. Study 329's notoriety comes from the fact that it went too far in bending the science, it opportunized on the plight of children, and there were enough people who persisted in chasing the truth [Healthy Skepticism, Alison Bass, David Healy, Eliot Spitzer, Senator Grassley, Paul Thacker, many others] against the gradient of psychiatric royalty and industrial influence. The question that remains is what to do with the lessons learned…

hat tips to annonymous, dida, healthy skepticism