J&J Hid Risks Risperdal Makes Boys' Breasts Grow: Lawyer
Bloomberg News
By Jef Feeley and Margaret Cronin Fisk
September 24, 2012

Johnson & Johnson officials knew the antipsychotic drug Risperdal could cause boys to grow female breasts and hid those risks from doctors and patients, a lawyer for a Texas teen-ager suing the company told a jury. J&J executives knew Risperdal could cause increased hormone levels that prompted female breast development in males and trained salespeople to downplay or hide that fact in marketing calls on doctors, Bob Hilliard, a lawyer for Andrew Bentley, told a state-court jury in Philadelphia in the first case over the claims to go to trial. "A drug that was never meant for kids was illegally marketed to kids," Hilliard said in opening statements today. "Johnson & Johnson knew about this side effect, did not warn about it and actually covered up evidence about it."

Bentley's case is one of about 420 lawsuits against J&J and its Janssen unit that allege personal injuries caused by Risperdal, the company said in a regulatory filing last month. The teen was able to bring his case in Pennsylvania because J&J has operations in the state. The 17-year-old Houston resident claims he took Risperdal to treat problems related to Asperger's Syndrome during times when federal regulators hadn't approved the drug for use in children, according to court filings. His lawyers argue J&J illegally marketed the pills to rack up more than $1 billion in sales.

Normal Development
J&J's lawyer countered today that Bentley's breast development was normal for a teen going through puberty and Risperdal played no role in it. Bentley's breast growth "was totally consistent with" the idea that the teen developed breasts as part of puberty, Laura Smith, one of the company's attorneys, told the jury. She said that the company denied illegally marketing the drug…
While breast development does occur in pubertal males more than most of us realize, "Risperdal played no role in it" is going to be hard to sell to a jury. J&J had this to say around the time this boy was started on Risperdal [~ 2000±]:


[07/02/1999 – Package Insert]
But by 2011, the FDA had required this [with the warning, 5.6]:
[reference]
5.6 Hyperprolactinemia
As with other drugs that antagonize dopamine D2 receptors, RISPERDAL elevates prolactin levels and the elevation persists during chronic administration. RISPERDAL® is associated with higher levels of prolactin elevation than other antipsychotic agents… Galactorrhea, amenorrhea, gynecomastia, and impotence have been reported in patients receiving prolactin-elevating compounds…

[reference]

Hyperprolactinemia, Growth, and Sexual Maturation
RISPERDAL® has been shown to elevate prolactin levels in children and adolescents as well as in adults [see Warnings and Precautions (5.6)]. In double-blind, placebo-controlled studies of up to 8 weeks duration in children and adolescents (aged 5 to 17 years) with autistic disorder or psychiatric disorders other than autistic disorder, schizophrenia, or bipolar mania, 49% of patients who received RISPERDAL® had elevated prolactin levels compared to 2% of patients who received placebo. Similarly, in placebo-controlled trials in children and adolescents (aged 10 to 17 years) with bipolar disorder, or adolescents (aged 13 to 17 years) with schizophrenia, 82–87% of patients who received RISPERDAL® had elevated levels of prolactin compared to 3-7% of patients on placebo… In clinical trials in 1885 children and adolescents, galactorrhea was reported in 0.8% of RISPERDAL®-treated patients and gynecomastia was reported in 2.3% of RISPERDAL®-treated patients.

[09/24/2011 – Package Insert]
The questions of causality may be central to the trial, but J&J's behavior is an issue for all of psychiatry. In Mr. Gorsky's deposition, they discussed an email/business plan exchange [
trial 93: a very bad penny…
]:
Q. Turn to the top of the next page, please, page 261. See where it says "RISPERDAL use in the child/adolescent population is exploding"? Is that correct?
A. That's what it says, yes.
Q. Then down below it says, "Key Base Business Goals — well, strike that. I'm sorry. "RISPERDAL use in the child/adolescent population is exploding," but in this time frame, 2001/2002, Risperdal is not indicated by the FDA for any pediatric use, is it?
A. Again, we did not have the specific indication, as we discussed earlier, until 2006. I don't remember exactly what the labeling said regarding use in children, but as I discussed earlier, there was a significant — there appeared to be a significant increase in the recognition of this condition in children and adolescents during this time, which was substantiated by data and its occurrence. And physicians have an opportunity to use a treatment that they perceive to be appropriate and effective in a particular patient population, and that's clearly what we were seeing happening in this area.
Q. Look down at the heading that says "Key Base Business Goals and Objectives." Do you see that?
A. Yes.
Q. And the fifth of the Key Base Business Goals says "Grow and protect share in child/adolescents." Is that right?
A. Yes, that's correct.
But their eye was on the Child and Adolescent market much earlier. In 1998, they had done a clinical trial on retarded children specifically targeting disruptive behavior [
trial 93: a bad penny…
], published in 2002. It was used in an application for FDA Approval for behavior control in disruptive children, but turned down in 2002. When Dr.. Biederman came along, he signed on to a rewrite of that same data published in 2006 – this time to support Risperdal in the treatment of Bipolar Disorder:
How do we know this last paper under Dr. Biederman's name was ghost-written? For one thing, the ghost-writing firm around the corner from J&J copyrighted the article they wrote [Excerpta Medica]! And what about the relationship of behavior control to Childhood Bipolar Disorder? There's this totally remarkable exchange in Dr. Biederman's deposition: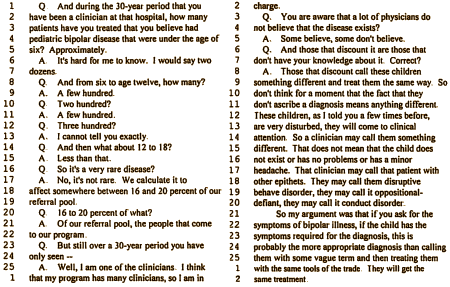 Mid-Post Editorial Comment:
I feel apologetic for going into such detail with this. The first time through it a year or so ago, I was mostly incredulous at the behind the scenes intrigue – the wheeling and dealing – and I focused on the trees without seeing much of the forest. I feel older and less naive now, and I'm more interested in how it all sews together.
First, I don't think we've yet grasped the magnitude of TMAP and the devious way J&J turned Risperdal into a gold-mine at government expense. Nor have we really gotten our minds around how their ghost-writers Excerpta Medica were flooding the psychiatric literature with Risperdal articles. That part is all in the Rothman Report which never made it into that Texas Courtroom this January. And then J&J came at the Child and Adolescent Market with Risperdal as a Behavior Control drug. There are lots of retarded or otherwise dispuptive children and J&J aimed for Risperdal to be the treatment of choice with Aman's 2002 study – an industry funded experimercial, to borrow Dr. Carroll's term. When it didn't fly, they courted and won Dr. Biederman [or vice versa], and what I call Biedermania [The Bipolar Child] was born. His comments in that deposition confirm what a lot of us think – that calling his identified patients "Bioplar" was a way to justify the treatment of disruptive kids with antipsychotics. I doubt that many people who see these kids haven't felt the temptation because Risperdal does work. But besides the aversion to something like the old "chemical straight-jacket" concept, treating these kids is a long term affair and the likelihood of adverse effects as in the case at hand is quite high [gynecomastia, obesity, diabetes, EPS, etc.]. With Dr. Biederman, J&J found a way to legitimize what they couldn't bring off with the disruptive child meme.
We tend to get lost in the outrage at their hiding side effects or playing with graphs and statistics to make their products look better than they were. But standing back a few feet, there's something more ominous in these stories. In the case of J&J, they've actively and successfully found a way to actually direct how medicine [psychiatry] is practiced on a major scale. With TMAP, they made Risperdal [the Atypicals] the standard of care for Texas, the largest Mental Health system in the country, then spread it to a third of the States, and had it on the way to Washington as Teen Screen. With the use of Risperdal in children and adolescents, they shaped the treatment of a large cohort of children nation-wide by child psychiatrists and pediatricians. And in this second case, they did it without even gaining FDA Approval. They used active and intense direct off-label promotion by their sale representatives. And then there was the deal with OmniCare targeting the elderly! Johnson & Johnson and subsidiary Janssen became a director of medical practice in America – not physicians, not psychiatrists, not medical organizations.
"She said that the company denied illegally marketing the drug…"
That's an amazing thing to say! Sitting in the Texas Trial, we heard deposition after deposition of Sales Representatives talk about that. While some were hostile and others were more forth-coming, there was no question that detailing Risperdal to Child Psychiatrists was a top priority in a time before there was Approval for any use of Risperdal in kids. There were pages of call-notes to back that up. Then there was the testimony of Tone Jones:
He answered the questions in an unemotional, matter-of-fact way – and his answers were quietly damning, famously saying, "You can't be a billion dollar drug in a 1% market." They showed a training memo from his top Sales Rep, Laura Haughn, that said: "Child and Adolescent Psychiatrists", "Provide with treatment under 13", "Most diagnosed with behavior disorders or mood disorders", "No indications!!!", "Sell on symptoms not diagnosis". Did they target Medicaid? "Yes". Why? "Big Payer". Did they target the Drug Utilization Board? "Yes". Did they target the Pharmacy and Therapeutics Committee? "Yes". Did he recruit speakers? "Yes". Did they downplay the incidence of Diabetes? "Yes". Even after the warning letter? "Yes". How often? "On every call". Were all sales messages approved by Janssen? "Yes". Were these sales directives local or national? "National". They showed him an organizational chart of the Janssen Sales Department and an email chain about selling Risperdal for children that traveled all the way to the top and down again. His testimony was delivered quietly, but it was devastating [and sounded truthful].

"You can't be a billion dollar drug in a 1% market."
Actually, billion dollar drug doesn't cover the field. On the left is the familiar Risperdal yearly profit. On the right is a graphic integration to show the running total: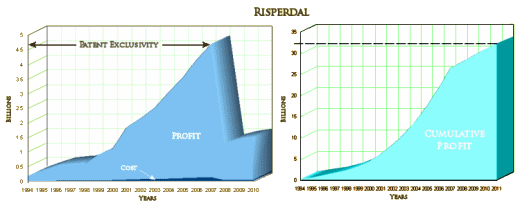 So it's closer to a $33 billion dollar drug!
End-of-post Editorial Comment:
The story is much bigger than this trial, or for that matter, the sum of their trials. It's a story about a massive and successful scheme to actually control the practice of psychiatry in the country in order to profit from the sale of Risperdal. The target populations were people with Schizophrenia or others in the States' public mental health systems, disturbed children many of whom were also under some form of government supervision, and the elderly in nursing care facilities. The saying, "It's like taking candy from babies," comes to mind. It netted them something close to $33 B over the life of the drug. And in 2006, they were still at it in the period after the patent expired before a generic came on the market. They were pushing Risperdal to augment antidepressants in depression:
Effects of risperidone augmentation in patients with treatment-resistant depression: Results of open-label treatment followed by double-blind continuation.
by Rapaport MH, Gharabawi GM, Canuso CM, Mahmoud RA, Keller MB, Bossie CA, Turkoz I, Lasser RA, Loescher A, Bouhours P, Dunbar F, and Nemeroff CB
Neuropsychopharmacology. 2006 31(11):2505-13.
[full text on-line]
ultimately exposed as a failed study [ANTIPSYCHOTIC DRUGS FOR DEPRESSION?].
By looking at the various pieces of J&J's Risperdal saga, it's easy to miss the fact that a pharmaceutical company was able to direct the practice of psychiatry for over a decade, harvesting billions. When does that go on trial?